Monday, July 6
"Germany says new reports of U.S. spying harm security ties"
Germany says new reports of U.S. spying harm security ties
MICHAEL NIENABER and LESLEY WROUGHTON
Thomson Reuters
July 2, 2015 - 3:31PM
Germany is taking seriously the latest reports about U.S. spying on senior government ministers and they are putting strains on vital security cooperation between the two countries, Chancellor Angela Merkel's spokesman said on Thursday.
German media have reported that the U.S. National Security Agency (NSA) bugged several senior government members, including the economy and finance ministers, as well as Merkel.
The reports are the latest twist in a long-running scandal triggered by revelations by former NSA contractor Edward Snowden of wide-ranging U.S. espionage spying on close allies.
Privacy is an especially sensitive issue in Germany after the extensive surveillance by Communist East Germany's Stasi secret police and by the Gestapo in the Nazi era.
"Such repeated events strain German and American intelligence cooperation which is essential for the safety of our citizens," spokesman Steffen Seibert said in a statement.
Earlier, in an unusual move, Merkel's chief of staff Peter Altmaier summoned the U.S. ambassador and demanded an explanation for the reports. Altmaier told the envoy that German law must be respected and violations punished, Seibert said.
In Washington, a State Department spokesman confirmed the meeting but declined to elaborate. He denied the latest reports have had a negative impact on the two countries' relations.
"What I can tell you is that nothing's changed about the strong relationship that we have and will continue to have with Germany," spokesman John Kirby said.
Germany's Sueddeutsche Zeitung daily and broadcasting network ARD reported that the NSA had targeted 69 telephone and fax numbers in the German government administration. They based their reports on documents released on the Wikileaks website.
Among the officials targeted were the economy minister and as well as several deputy ministers, the reports said.
Asked about the reports, Economy Minister Sigmar Gabriel -- who is also Germany's Vice Chancellor -- said he was most worried by the risks of industrial espionage, particularly given the links his ministry has to companies.
"It is an absurd carry-on," Gabriel told ARD television.
Interior Minister Thomas de Maiziere, who is responsible for security issues, said Germanywould look at the latest allegations.
"We have become more distrustful," he said.
The role of Germany's spies has also been in the spotlight since reports surfaced earlier this year that its BND foreign intelligence agency had cooperated with the NSA.

(Additional reporting by Andreas Rinke in Berlin and Doina Chiacu in Washington; Editing byGareth Jones)
As much as 80 percent of India's surface water may be polluted but Indians shouldn't worry! Smart cities are on the way!
The two following reports, one from TNN, one from The Washington Post, are being added to my file titled, "Maybe it's not something
in
the water making so many people crazy,
maybe humans are meant to drink beer.
"
80% of India's surface water may be polluted, report by international body says
Sushmi Dey
June 28, 2015 - 04.35AM IST
TNN via The Times of India
NEW DELHI: Even as India is making headlines with its rising air pollution levels, the water in the country may not be any better. An alarming 80% of India's surface water is polluted, a latest assessment by WaterAid, an international organization working for water sanitation and hygiene, shows.
The report, based on latest data from the ministry of urban development (2013), census 2011 and Central Pollution Control Board, estimates that 75-80% of water pollution by volume is from domestic sewerage, while untreated sewerage flowing into water bodies including rivers have almost doubled in recent years.
This in turn is leading to increasing burden of vector borne diseases, cholera, dysentery, jaundice and diarrhea etc. Water pollution is found to be a major cause for poor nutritional standards and development in children also.
Between 1991 and 2008, the latest period for which data is available, flow of untreated sewerage has doubled from around 12,000 million litres per day to 24,000 million litres per day in Class I and II towns.
The database defines Class I towns as those with a population of more than 1 lakh [1 lakh = 100,00], whereas towns with population ranging between 50,000 to 1 lakh are classified as Class II.
The report, titled 'Urban WASH: An Assessment on Faecal Sludge Management (FSM) Policies and Programmes at the National and State Level', is likely to be released next week.
According to the report, inadequate sanitation facilities, poor septage management and a near absence of sanitation and waste water policy framework are primary reasons responsible for the groundwater and surface water pollution in the country.
Experts say there are glaring gaps not just in treatment of sewerage water but also in case of water treatment itself, used in supply of drinking water as well as for kitchen use etc.
"Though there are standards, the enforcement is very low. Even the amount of water, which is treated, is also not treated completely or as per standards. And there is no civic agency accountable or punishable for that because we do not have stringent laws," says Puneet Srivastava, manager policy- Urban WASH & Climate Change at WaterAid India.
Findings of the report show nearly 17 million urban households, accounting for over 20% of total 79 million urban households, lack adequate sanitation.
"Among those with access to improved sanitation facilities, a vast majority relies on on-site sanitation systems, such as septic tanks and pit latrines. Today, these septic tanks and pit latrines have become a major contributor to groundwater and surface water pollution in many cities in the country," the report said.
However, the report acknowledges that India has of late started focusing on the problem of septage management, which is one of the most immediately implementable solutions to address urban waste water.
But there is an urgent need to focus on infrastructure as well as enforcement, says Srivastava.
"Most of the sewerage treatment plants are performing under their capacity as these utilities do not have enough money to run full capacity," says Srivastava pointing at dearth of human resource, improper management etc.
Estimates show there were 269 sewage treatment plants across the country, with 211 in Class I cities, 31 in Class II towns, and 27 in other smaller towns.
"At the policy level, sanitation was not prioritized until the early 1990s and became an important policy concern only around 2008. It was not until the inception of the National Urban Sanitation Policy (NUSP) in 2008, that urban sanitation was allotted focused attention at the national level," the report said.
Indian officials want 100 'smart cities.' Residents just want water and power.
By
Rama Lakshmi
June 26, 2015
The Washington Post
AJMER, India — Ajmer's famous 13th-century Sufi shrine draws millions of pilgrims from around the world every year. The city recently launched a new Web site called "
Amazing Ajmer
." But life in this ancient city of 550,000 people in northern India is anything but amazing.
Running water is available for just two hours every two days. Only 130 of 125,000 homes in the city are connected to the sewage system. Dirty water flows in open drains in cramped neighborhoods. Stepwells and lakes have become garbage dumps. Illegal buildings and slums dot the city. And only two traffic lights work.
But soon, Ajmer could be transformed into a 21st-century "smart city" — an urban-planning term for the gleaming metropolises of the future that Prime Minister Narendra Modi wants to
create
by 2022.
These modern marvels would be connected by grids in which water, electricity, waste removal, traffic, hospitals and schools are seamlessly integrated with information technology to run them more efficiently.
The government has set aside $7.5 billion to make it happen, and Modi officially launched the program Thursday. But it's a grand vision that the residents of Ajmer — one of the 100 cities designated for the modernization — are not quite ready for.
Even as it becomes a
buzzword
, many people here are unclear about what it means to be a smart city. And others question whether Modi's fascination with smart cities in South Korea, China and Abu Dhabi can be duplicated in India.
The ambitious project also signals a marked shift in Indian politics, analysts say. For decades, the village dominated the country's political and economic decisions, a stubborn legacy that dates to Mahatma Gandhi's constant refrain that "India lives in its villages." But now the pace of urbanization is so
rapid
that policymakers can no longer look away.
More than 350 million Indians live in cities. According to a McKinsey Global Institute
report
, urban expansion will grow in the next few years "at a speed quite unlike anything India has seen before." By 2030, more than 600 million Indians will live in crowded cities crumbling with
creaky
infrastructure.
In a radical departure from the previous government's rural focus in the past decade, Modi wants to boost cities as engines of economic growth. By 2030, officials say, 70 percent of India's economic output is expected to come from the cities.
"Cities in the past were built on riverbanks. They are now built along highways. But in the future, they will be built based on availability of optical-fiber networks and next-generation infrastructure," Modi
said
last year, shortly after taking office.
In the past eight years, the smart-cities rubric has become fashionable among global urban planners who want to use digital technology and big data to create surveillance-heavy intelligent systems that control how people live, consume energy, go to work, and stay healthy and safe.
India's program involves radical renovation of deteriorating cities as well as constructing new municipalities from scratch, similar to a Wall Street-like financial
hub
called the GIFT city in Modi's home state of Gujarat — where the
progress
is nowhere near its promised hype.
When Modi and President Obama met in Washington in September, U.S. companies selected three Indian cities, including Ajmer, to become smart cities. Last month, IBM, Oracle and several other companies met officials in Ajmer to discuss using smart technology to solve some of the city's challenging water, traffic and waste problems.
"While we are trying to bring 21st-century technology, we also need to sort out some 19th-century challenges in Ajmer," said Mukesh Aghi, president of the U.S.-India Business Council, which organized the meeting. "Basic services like sanitation, health, roads and electricity have not kept up with the pace of growth in these old cities. We can leverage smart technology to leapfrog some of these problems."
Aghi said that the U.S. companies are considering a pilot project to install smart electricity meters that will help consumers track consumption and promote conservation on their own.
Ajmer's residents have already posted a billboard in the heart of town declaring themselves a smart city. But many wonder whether the initiative is just an urban fantasy of technology and real estate companies that is being imposed on Ajmer.
"Can we first work toward becoming a functioning city before aspiring to be a smart city? We lack even the
basic
services that a city should typically provide," said Suresh Mathur, a retired schoolteacher who runs a city cleanliness drive called "My Clean School."
Other critics have dismissed Modi's smart-cities plan as a 21st-century urban utopia, as a distant Neverland and Orwellian. They say that the idea is more suitable for richer nations whose citizens can afford to take basic urban services such as drinking water, toilets or electricity for granted.
"The Western definition of the smart city is spineless, if not altogether redundant in India — a mere glossing over of civic services and infrastructure," Gautam Bhatia, an architect and author on urban design,
wrote
in The Hindu newspaper.
Some worry about damaging or destroying Ajmer's famous cultural heritage.
"We can't import a first-world concept of a smart city and plant it here. It has to be culturally appropriate," said Onkar Singh Lakhawat, chairman of Heritage Preservation and Promotion Authority of Rajasthan.
Officials have held 22 meetings with residents in the past five months to convince them of the merits of the smart-city plan.
"Before you take part in the Olympics, you engage in warm-up exercises, build your stamina, physical fitness and change your attitude," said Dharmendra Bhatnagar, divisional commissioner. As first steps, his office is arranging a flower show and a photography contest.
The big challenge, Aghi said, is figuring out where the funding for the program will come from. Most city corporations in India are severely cash-strapped. Modi wants Indian and foreign companies to invest in the program, but there is no estimate yet.
One idea is that private companies charge residents a fee to recover their investment. But that could be problematic. Last year, when a private company in Ajmer received a contract to collect and recycle trash, residents protested in the streets and refused to pay.
"There is a mind-set among people that the government should give everything free," said the city's mayor, Kamal Bakolia.
In the cramped and labyrinthine lanes leading to Ajmer's Sufi shrine, there is plenty of chatter and jokes about Ajmer's new designation. One pilgrim covers his nose with his scarf near an open drain and asks a resident, "When will your city become smart?"
Earlier this year, before Ajmer was chosen for smart-city status, Modi had also included it in a list of 12 "heritage cities" he planned to develop. And a few years ago, the government launched a program to make Ajmer a "slum-free city."
"Real estate prices have shot up since all this talk of smart city began," said Syed Munawwar Hussain, the shrine custodian. "We are a world-renowned city, but we are still waiting to become a world-class city."
Read more
India is building millions of toilets, but that's the easy part
Activists tell Indians to clean up their cities
Rama Lakshmi has been with The Post's India bureau since 1990. She is a staff writer and India social media editor for Post World.
[END REPORT]
"Then the fire did something no one here had seen before." Washington state experiences California-type wildfires for the first time
See also:
The dire situation in the Olympic Mountains is hurting Washington farmers and businesses
, July 1, The Wall Street Journal
Sitting on the tailgate of a pickup truck in front of what had been her home of 18 years, Sharon Cooper marveled Wednesday that all of the precautions she and her husband, Nick, had taken through the years did no good against the Sleepy Hollow fire.
Not the concrete shingles. Not the backyard fire hose with high-pressure water. Not the regular efforts to whack away the brush.
A Chelan County Sheriff's deputy races to make sure residents had left their houses as flames approach Quail Hollow Lane in Wenatchee, Wash. (Don Seabrook / Wenatchee World) via The Los Angeles Times
By MARIA L. LA GANGA
reporting from Wenatchee, Washington
July 4, 2015 - 3:30 AM
The Los Angeles Times
The Sleepy Hollow fire raced down the crisp Sage Hills, straight toward the Broadview neighborhood in the apple capital of the world. Flames shot high into the night, torching 29 homes and causing hundreds of people to flee. Then the fire did something no one here had seen before.
Embers flew more than a mile Sunday night, into the hardworking heart of this small city. They ignited four industrial buildings, most involved in fruit packing, at the start of the busy summer agriculture season.
The flames sent a terrifying message: Normally soggy Washington — nicknamed the Evergreen State for good reason and home to the wettest town in the Lower 48 — has never been hotter or drier at this point in the year, officials say, and the fire season has never begun so early or so fiercely.
"It's more reminiscent of Southern California and the brush fires fed by the Santa Ana winds," said Peter Goldmark, head of the state Department of Natural Resources. "Now it's up here in the state of Washington, where this kind of behavior is unseen. It's heralding a radical change in the kinds of fires we're going to see."

The Pacific Northwest has long been a magnet for California transplants, but none have been more fearsome than the most recent arrival: the Golden State-style wildfire.

The timing couldn't be worse. The snow pack is gone. Heat records are being broken statewide. More than three-quarters of Washington's rivers and streams are running at below-normal levels, nearly half of them at record lows. Trees and grasses — wildfire's favorite fuel — are as dry throughout the state as they normally would be in August.

Seattle, where conventional wisdom has it that the sun does not appear until July 5, endured its hottest June on record and its driest May and June combined. As the famously overcast region was sweating its way toward Independence Day, the National Weather Service placed the greater Puget Sound area under a heat advisory until Sunday night.

Many officials don't believe that this is a temporary phenomenon. Increasingly, they are convinced that this is the kind of early fire season that the Pacific Northwest can expect as the century unfolds.

"This is a stress test for 2070," said Cliff Mass, a professor of atmospheric sciences at the University of Washington. "We're being tested now with the warmth and lack of snowpack that will be typical at the end of the century. How do we get through it?"

Climate experts say the current conditions in the Pacific Northwest are part of a short-term climate phenomenon, but they warn that temperatures are rising everywhere. In Seattle, for example, that means warmer, wetter winters and warmer, drier summers.

State climatologist Nick Bond calls the Emerald City's weather pattern increasingly "Mediterranean." It is not good news. Such conditions augur an anorexic snowpack, worse winter flooding and scarcer water supplies during increasingly hot summers.

"We won't have the snowpack to get us through the dry season like we are used to," Bond said. "It's not going to completely go away, and it's not going happen in the next few years. But I look at it as a wake-up call and a chance to learn from this short-term climate event about how we adapt to what the future decades will bring us."

The National Interagency Fire Center in Boise ranked all of Washington and Oregon at above-normal threat for wildfires in July, along with northern and coastal California and western Montana and Idaho. By August, the threat should diminish some in Northern California, center officials say. The Pacific Northwest is not so lucky.

Two months ago, Democratic Gov. Jay Inslee declared a statewide drought emergency, a snowpack drought rather than a precipitation drought. At the time, state officials warned that the 2015 fire season could be earlier and fiercer than Washington has ever seen.

Now that it has begun in earnest, "it's worse than I feared," Goldmark said.

No one in Broadview would even think of disagreeing with him. They're the ones who have lived through Wenatchee's record-hot June, who saw the flames racing down the hills toward their well-kept homes on the hottest day ever recorded here — 109 degrees Fahrenheit as measured at the airport.

Sitting on the tailgate of a pickup truck in front of what had been her home of 18 years, Sharon Cooper marveled Wednesday that all of the precautions she and her husband, Nick, had taken through the years did no good against the Sleepy Hollow fire.

Not the concrete shingles. Not the backyard fire hose with high-pressure water. Not the regular efforts to whack away the brush.

"We were having a quiet day inside because it was so hot," Cooper recounted, as her husband wandered through the rubble. "We watched two movies and then we smelled smoke. We got our financial papers prepped. We grabbed that rifle that didn't fit in the gun safe and one handgun.

"I would have grabbed a lot of stuff, but it was so fast," Cooper said, describing a blaze "like a wave of water."

Cooper moved to the Wenatchee Valley 40 years or so ago. She remembers how smoke from last year's Carlton Complex fire — the biggest in Washington state history and just miles away — choked her town. She's never seen weather like this, she says. Her father-in-law's corn is a month ahead of schedule. The Wenatchee River is scarily lower than normal. And the entire state has been declared a drought area.

"This is August kind of stuff," Cooper said, mourning the community's loss, wondering whether she and Nick would rebuild. "Even sometimes the Fourth of July is rainy and yucky here. ... Everything's changing."

By Friday, the Sleepy Hollow fire was 98% contained, good news that couldn't come fast enough for the state's weary firefighters.

Goldmark, the head of the Department of Natural Resources, says he fears the summer ahead. He said he had asked the state Legislature for $4.5 million for fire engines, staff, helicopters and training "so we can be better prepared for this kind of wildfire season, which is much more intense and commonplace."

The Legislature budgeted $1.2 million, he said.

"I'm very short-handed in terms of staff and equipment to meet the current threat," Goldmark said. "I've got a whole state to protect, a big one and a very fire-prone one, with tremendous amounts of fuel, and population that's located close to the fuel. It's not a good mix."

At a briefing Wednesday morning, Chelan County fire Chief Mike Burnett was blunt, beseeching residents to do everything they could to keep fire danger at a minimum as the year's most incendiary holiday [July 4] approached.

"Our resources are strapped," Burnett told reporters. "We don't have what we need to fight any more large fires popping up right now. People are tired, and we're working hard to suppress the fires that we have.

"Please, everyone be careful out there."
Sunday, July 5
"Saskatchewan is burning" - 1,000 troops to help battle more than 100 wildfires
Saskatchewan to get military to help fight wildfires as thousands evacuated


July 05, 2015 - 6:20 PM UTC
Associated Press via (Minneapolis) Star Tribune
REGINA, Saskatchewan, Canada – Close to 1,000 Canadian military personnel are on their way to help fight wildfires in the western Canadian province of Saskatchewan where thousands of residents have been evacuated.

Duane McKay, commissioner of emergency management with the province, said Sunday that he military will bolster their ability to fight the fires. Provincial officials say about 741,000 acres (300,000 hectares) ares burning in Saskatchewan this year — around 10 times what's normal.
The Alberta government is preparing to receive up to 5,000 people evacuated from La Ronge, Saskatchewan. Saskatchewan officials say 1,136 had registered in La Ronge and were transported to Cold Lake, Alberta, on Saturday night, while thousands of others were traveling out of the community on their own and would likely stay with friends or family.
Wildfires mapped: Saskatchewan is burning
Josh Elliott, CTVNews.ca
Published Sunday, July 5, 2015 6:14PM EDT
Last Updated Sunday, July 5, 2015 9:57PM EDT
[See the website for video detailing Saskatchewan's request to firefighters in other Canadian regions for help; several are responding and on Monday there will be an updated announcement of all responding fire departments.]

Fire crews are struggling to put out more than 100 wildfires ripping through the northern region of Saskatchewan, where 51 communities have been evacuated ahead of the billowing smoke and devastating flames.

Saskatchewan's Buffalo Narrows and La Ronge regions are the hottest wildfire spots at the moment, but there are also 10 uncontained blazes tearing through the province's Prince Albert region, further to the south.

The province has now recorded 565 fires so far this season, more than tripling last year's seasonal total of 184.
More than 12,000 residents have been told to evacuate from their homes ahead of the choking smoke and flames, with many flocking to shelters in Saskatoon, Regina and Fort Battleford, while others take up refuge with friends or family living in other parts of the province. Neighbouring Alberta is also accepting evacuees in Cold Lake.

Several main highways in Northern Saskatchewan have been closed due to the fires.

Saskatchewan's latest wildfire map is shown below.
Drones come to American farms; their use will save much water and chemicals -- and manpower
... agriculture could account for 80 percent of all commercial drone use.
Chilcott is optimistic that the technology to scout out problem spots so precisely will be transformative because farmers can limit spraying just to those places. "In five years we won't have to blanket a field with chemicals," he says.
Geske may not be able to use drones efficiently to monitor all the irrigation pipes on his 2,100 acre Missouri farm if he has to keep them within sight. He's still interested, though. The men he hires now use a lot of fuel and their trucks tear up his land and roads.

"You can wait forever on advancing technology," Geske says.
By MARY CLARE JALONICK, AP
July 5, 2015 - 2:37pm EDT
Associated Press va PBS NewsHour
[...]

Farmers are eager for the technology.

The small, relatively inexpensive vehicles could replace humans in a variety of ways around large farms: transmitting detailed information about crops to combines and sprayers, directing them very precisely to problem spots and cutting down on the amount of water and chemicals that a farmer needs to use in those areas.

The Association for Unmanned Vehicle Systems International, a trade group, says agriculture could account for 80 percent of all commercial drone use.

Agricultural use of drones is about to take off after being grounded for years by the lack of federal guidelines. The Federal Aviation Administration has approved more than 50 exemptions for farm-related operations since January.

Companies with those exemptions say business has grown, helped by quick advances in the technology.

Bret Chilcott of Kansas-based AgEagle, which sells unmanned aerial vehicles and the software to help operate them, says his company took its first orders last year. Now it has a backlog of several hundred orders. He says the technology has transformed the market during that short period.

"Last year users had to land their aircraft and then take the data to the computer," he says. "Now the data appears on your iPad or hand-held device a few minutes after flight."

That data could be pictures, 3-D images of plants, thermal readings of crops or animals or other observations that a drone could make while in the air. Information that in the past took days to collect – or could not have been collected at all – can be gathered now in minutes or hours and, in some cases, integrated with separate data collected from other high-tech farm machinery.

Chilcott is optimistic that the technology to scout out problem spots so precisely will be transformative because farmers can limit spraying just to those places.

"In five years we won't have to blanket a field with chemicals," he says.

Still, most farmers cannot legally fly the vehicles yet.

[...]

Plenty more in the report, which also details concerns about guidelines for using drones.
Russia's new super defense weapon: if it works, the best news this century
Of course every other country will have to get hold of the same weapon for it to be really good news for the entire human race. But if I understand the description correctly the Russian weapon will make long-range nuclear weapons obsolete. As for neutralizing the short-range nukes -- Russian techies have probably chained themselves to the drawing board, to which I would add, "Faster! Faster!" And no vodka until you've figured it out. On second thought, more vodka.
The bad news is the new weapon system isn't operational yet. It still needs to be tested. Yet consider what this could mean if the tests are successful.
One thing is clear: we can't go on as we've been going, with every tinpot regime on the planet now able to buy its own nukes, and lunatics in Washington talking about 'limited' nuclear war as the way to settle Russia's hash and Russia in retaliation talking about dusting off its 'limited' nukes.
Do you realize what else this new weapon means? Vladimir Putin could walk off with the Nobel Peace Prize yet. In 2013 I wrote that Putin wasn't God; that he couldn't save Americans from themselves a second time. Maybe I was wrong. Maybe he can do it twice.
Russia claims to have super weapon that disables western satellites and long range arms
Daily Record and Sunday Mail (U.K.)
Russian weapon can zap satellites and switch off long range weapons

Russia is boasting a major advance in electronic warfare technology enabling Vladimir Putin's armed forces to zap foreign military satellites, and "switch off" enemy weapons.

The new system will muzzle the guidance systems of Western cruise missiles and other high-precision arms, it is claimed.

Its Russian makers say it is a "fundamentally new electronic warfare system" which can be mounted on ground-based as well as air- and sea-borne carriers.

Russia's Radio-Electronic Technologies Group (KRET) deputy chief Yuri Mayevsky said: "The system will target the enemy's deck-based, tactical, long-range and strategic aircraft, electronic means and suppress foreign military satellites' radio-electronic equipment."

"It will not be based on satellites as this is prohibited by international rules and we comply with this rule."

The Russian hailing of its new super weapon comes as relations with the West are at their lowest ebb since the collapse of the Soviet Union, with fears of a new Cold War.

[Pundita note: The new Cold War is at least a decade old; right now the fear among sane people is of a hot war with Russia.]

President Vladimir Putin has invested heavily in rebuilding his country's military might, which has lagged behind the West since the end of the Soviet era.

The new technology "will fully suppress communications, navigation and target location, and the use of high-precision weapons", said Mikheyev, who did not give further details of the claimed military breakthrough.

[END REPORT]
Saturday, July 4
Mexican gang criminality worsens in new ways
"They're not just fighting over drug routes, or distribution points, but increasingly over Mexico's natural resources. That's been going on for a while, but the situation is increasingly out of control."
"Perhaps drug organizations no longer threaten the state, at least not the way they once did ... But they do threaten millions of Mexicans in a much more direct way. The old narco model is dead, that of the Santa Claus figure who generated jobs, infrastructure improvements and were seen as OK by local authorities as long as they all shared the profits and society was left alone. These days, extortions, kidnappings are at epidemic proportions."
"May was the worst month for violence since since October 2013 ... and 2015 appears on track to surpass the estimated 20,000 drug-related homicides in 2014."
"The real question is why do we continue to elect these rats and tolerate this mess? When will we learn?"
This is a very important report. It's doubly important because the information Corchado passes along from a slew of experts has been suppressed on the national news level in the United States. It's also suppressed by Mexico's government:
"The style, form, narrative is different from Calderón, but the outcome is the same," said Luis Astorga, an expert on organized crime at Mexico's National Autonomous University, or UNAM, and author of What Did You Want Me To Do? — an expression once used by Calderón.
"The big difference is that under Peña Nieto, there is more control of information and less transparency for the public."
"The bottom line in all of this," said James Creechan, a sociologist in Toronto and author of the coming book Encyclopedia of Mexican Cartels, "is a vacuum of data useful for measuring the impact of the drug war."
The lack of information frustrates U.S. officials, who complain of a lack of intelligence-sharing with their Mexican counterparts.
"They want to keep us in the dark," one senior U.S. official said.
Yet enough intelligence is being shared by various state governments in Mexico to be greatly alarming.
See also Reuters June 4 report on Mexico's June midterm elections,
Mexico murders blight elections as government fails on security
; at least 7 candidates were murdered -- a female mayoral candidate was beheaded -- with 20 others forced out of electoral campaigns because of death threats, and at least 9 officials murdered in different parts of the country.
"These are the dirtiest elections since the advent of democracy in Mexico," Said Raul Benitez, a security expert at the National Autonomous University of Mexico.
And see Alfred Corchado's
May 31/June 1 report
on the violence-filled election campaign -- and the increasing desperation of Mexican citizens about their government:
Fifty percent of eligible voters are expected to turn out, but that number is considered low for Mexico, where voters are losing faith in the main political parties, said analyst Jaime Rivera, a political scientist at the University of Michoacán in Morelia.
"Voters believe less and less in political parties, but they still want to believe in their institutions

" said Rivera, who is also a state electoral adviser.
[...]
Peña Nieto and his PRI party were voted in three years ago in large part because of concerns over violence. But those concerns remain intact as public opinion has soured on every political party, including the conservative National Action Party, the left-leaning Party of the Democratic Revolution, as well as the PRI and the president himself. All have been tainted with allegations of corruption.
In a February poll by Reforma, some 85 percent said they don't trust Peña Nieto, and 60 percent say corruption has increased since he took office. The president has been questioned over houses built for his family by a government contractor.
Still, analysts expect the PRI to keep the upper hand in these elections as it turns out its large base.
That's what happened. See Reuters
June 13 report
on the election results:
Mexico's ruling party and its allies in the lower house of Congress extended their slim majority in last weekend's elections, according to a preliminary estimate from the National Electoral Institute (INE).
And this deeply ironic observation in the report:
Pena Nieto is not expected to rely on Congress as much in his last three years, having fulfilled the bulk of his main legislative pledges, including measures to end the state oil and gas monopoly and open up the telecoms sector to competition.
The system of government in Mexico is broken. Its judicial system is broken. Its law enforcement institutions are broken. The political system is broken. Its society is under siege; the only order is provided by thousands of Mexican troops who patrol the streets in key cities and by vigilante groups.
But by gum Peña Nieto has made foreign investors happy.
Is there a way out of the nightmare? Not until Mexicans wake up to the fact that
industrialized remittances
are killers of democratic societies. The billions of dollars in remittance payments provide just enough money to allow elected governments to keep avoiding the kind of reforms that bring in decent governance.
It would be cold comfort, I know, but Mexicans who look on helplessly are not alone in the nightmare. In June the United Nations
released a report
documenting that democracy is collapsing and authoritarianism is on the rise in more than 96 of its 193 member nations. You can trace the rise of state-sanctioned remittances starting in 2004 and concomitant decline in democracy during the past decade.
Pandora's Box. They opened Pandora's Box when they industrialized remittances.
********
Thursday, July 2
Red moon over Iowa. Smoke from wildfires in drought-stricken western Canada pours into US Midwest
"As the sun comes up on July, 356 wildfires are burning in western Canada"
Smoke from Canadian wildfires turns moon over Iowa red


Smoke from fires in western Canada is steered south into the U.S. by the jet stream in a satellite image acquired June 29, 2015


UPDATED 9:38 PM CDT Jun 30, 2015
[See website for photos of red moon in addition to one above and hazy sun]
DES MOINES, Iowa —It's not just our view of the sun and moon being affected by the smoke from the Canadian wildfires, now our air quality at the surface is being impacted.


[...]




Smoke from wildfires in Canada is pouring south into Minnesota, the Dakotas and Iowa.
Lightning sparked about 40 wildfires in forests in northern Saskatchewan, upping Canada's fire total to 113 in the province. [...]
July 1, 2015 12:00 PM
AG Web Powered by Farm Journal
The drought parching fields across parts of Canada risks triggering a shortfall in global wheat exports, according to Australia and New Zealand Banking Group Ltd., which said the event was being compared to dryness in 2002.
Continuing drought in Canada may create a 12 million metric ton shortfall in wheat exports, Senior Agricultural Economist Paul Deane wrote in a report on Wednesday. Forecasts offered little relief, with a strong, high-pressure system set to bring high temperatures and little rain that would add to crop stress and may cause irreversible yield loss, he wrote.
Wheat futures in Chicago rallied to the highest level since December on Tuesday amid dry weather in Canada as well as parts of Europe and excess rains across the U.S. Canada's spring-wheat prospects have been hurt by drought, Whitefish Bay, Wis.-based Martell Crop Projections said last week, citing deficient rainfall in Saskatchewan and Alberta. [...]
Signs of drought appear to be in Western Canada for the long term
Mark Hume
The Globe and Mail
Published Sunday, Jun. 14, 2015 9:33PM EDT
Last updated Monday, Jun. 15, 2015 12:56PM EDT
(Vancover) High in the Rocky Mountains along the British Columbia-Alberta divide, John Pomeroy is seeing signs of the changing climate that has brought a crippling drought to the U.S. West.
The director of the Centre for Hydrology at the University of Saskatchewan monitors 35 remote observatories in the mountains from Kananaskis, west of Calgary, to the Athabasca glacier, 100 kilometres south of Jasper.
And the data he is collecting – which show snowpacks vanishing at record speed – point to dramatically reduced river flows across B.C., Alberta and Saskatchewan this spring. With recent record dry spells in some areas, the shortage of runoff water could lead to drought across a vast region of Western Canada. [...]
Scorched Earth Is Big Climate Concern in Alaska Wildfires
by Brian Kahn
July 1, 2015
Alaska and its neighbor to the east, Canada, have kicked off wildfire season in a major way. Blazes have raged across the northern stretches of North America, sending smoke streaming down into the Lower 48 and leaving the landscape charred.
[...]
This summer, a number of factors have lined up to make Alaska a tinderbox. A dry winter left little snow on the ground and record heat in May, with the state's average temperature running 7.1°F above average, melted what little snow there was.
Similarly warm conditions stretched across a large portion of western Canada in late May and set the stage for extreme wildfire conditions. Over the period of June 18-24, the Bureau of Land Management lightning network recorded more than 71,000 lightning strikes in Alaska, igniting a large swath of fires.
As the sun comes up on July, 356 wildfires are burning in western Canada and another 297 are active in Alaska. For the year-to-date, wildfires have burned 3.2 million acres in western Canada and 1.8 million acres in Alaska.
Both numbers are well above the long-term average and in the case of Alaska, are in record territory for the amount of acreage burned for this time of year. Similar stories have played out in Siberia in 2013 and Canada's Northwest Territories in 2014.
[...]
For all the drama of trees lighting up like matchsticks, it's what lurks below the forest that could be a major wildcard for future warming. Large reserves of peat make up a large portion of the soil, swamps and bogs in the northern reaches of the globe.
Flannigan refers to it as "legacy carbon," an accumulation of centuries of plant matter that sequesters vast amounts of carbon from the atmosphere.
Despite covering slightly less area than tropical forests, boreal forest soil stores three times as much carbon as its tropical counterpart. They currently operate as carbon sinks, taking up more carbon than they emit each year. Wildfires could flip the script, though, turning boreal forests into sources of carbon emissions as fires burn through the vast reserves of carbon locked in the trees and soil (something already happening in California). If that happens, it could rapidly warm the climate.
"Up until about 10 years ago, the prevailing dogma was peatlands just didn't burn," Merritt Turetsky, an ecologist at the University of Guelph, said. "They were way too wet and fire played little to no role in these ecosystems. Over time, we've seen that just isn't true."
As warming dries out forests and precipitation patterns change, the water table is dropping in once swampy areas. That makes peat susceptible to burning and when it does catch fire, centuries' worth of carbon can burn up in the span of a few hours if fires are intense enough.
[...]
********
More Musings
Guess where the rain fell?
BBC, June 29, 2015
Villagers in drought-affected northern Thailand have used a toy of a popular cartoon cat to perform a rain ritual - in case anyone complained about them using a real animal, it's reported.
Ordinarily, a live cat would be used as part of the ritual to pray for rain, but locals were worried about being accused of animal cruelty, the Thai Rath website reports. Instead, they turned to the Japanese manga character Doraemon - a time-travelling robotic cat - which was duly loaded into a wooden cage and carried around the village in Phrae province. Farmers in the area grow corn, but a lack of rain means many are struggling to irrigate their crops.
Doraemon was chosen because nobody could find a more realistic cat toy, the report says. The ritual involved the toy being taken to sacred sites around the village, and ended with a ceremony at a nearby monastery, according to the Bangkok Post.
But so far the villagers' prayers have gone unanswered, and Thailand's drought persists. As well as causing problems for farmers, the dry spell is also starting to affect tap water supply in some places. The country's rainy season usually begins in May and lasts until November.
Japan: Evacuation advisories issued for 370,000 Kyushu residents amid heavy rain
The Japan Times News, June 11, 2015
KUMAMOTO – Heavy rain hit Kyushu on Thursday, with local authorities advising 370,000 residents in 14 municipalities to evacuate the area due to an increased risk of landslides. Alerts were issued for most parts of Kumamoto Prefecture and the cities of Unzen and Minamishimabara, Nagasaki Prefecture. ...
JR Kyushu suspended some train runs on the Hisatsu Line, the Misumi Line and the Kagoshima Line due to the heavy rain, according to local media reports. Meanwhile, South Korea's Asiana Airlines canceled two round-trip flights Thursday between Seoul and Kumamoto.
According to the Meteorological Agency, the amount of rainfall in the 24 hours through 11:40 a.m. Thursday came to 280 millimeters at Mount Unzen in Nagasaki Prefecture, 219.5 mm in the Misumi district in Uki, and 213 mm in the Hondo area in Amakusa, Nagasaki.
The agency warned that 180 mm of rain could fall in northern Kyushu and 120 mm could fall in southern Kyushu during the 24 hours ending at noon Friday.
(Iran) Press TV, May 5, 2015
"520 cities in the country are facing the crisis of drinking water shortage," Esmaeil Najjar, who is also head of Crisis Management Organization, said.
"Over the past two decades, the scourge of drought has struck our country," he said, adding that Iran lies on an "arid belt" on Earth.
Iran's Energy Ministry, which is in charge of regulating the water sector, announced recently that about 60 percent of the reservoirs of major dams are already empty. The ministry further said there has been a decrease of 16 percent in inflow of water into dam reservoirs from the start of autumn.
North Korea has asked Iran for urgent humanitarian aid to help survive what the North Korean government has called "the worst drought in 100 years."
"[Iran] is duty bound to render humanitarian aid to all countries," the head of the Iranian Red Crescent, Amir Hossein Ziaee, said, according to the Iranian state news agency IRNA. After meeting with the North Korean ambassador to Iran on Tuesday, Kang Sam Hyon, Ziaee said Iran will "spare no efforts," though no details of the aid package were yet announced.
The North Korean state news agency KCNA issued a report that more than 30 percent of rice paddies around the country were "parching up" because of a lack of rain.
Say, how much water does it take to run a nuclear reactor?
One U.S. Nuclear Reactor Uses as Much Water as All of D.C.
Wired, April 13, 2011
It takes the same amount of water required by a city of 5 million to fuel a typical U.S. nuclear power plant for one hour: 30 million gallons ...
Lar dam, a major source of water supply to Tehran, is nearly dry
If you're not terrified of Mexico's government after reading this, you need to re-read
Mexico City: water torture on a grand and ludicrous scale
Kurt Hollander
[...]
Mexico City uses more water each day than any other city in the world. With its own water sources overexploited, an increasingly large part of its water must be brought in from outside the Mexico City valley.
So when I turn on the tap in my flat, the liquid that flows into my sink now mostly comes from distant bodies of water. Given that Mexico City is a mile-high mountain valley, bringing water up and into the city requires some pretty heavy duty machinery. Beginning in 1951, the Lerma river, located in the Toluca valley about 40 miles (70km) from the city, was the first outside water system to be tapped for use by residents of Mexico City.
The Lerma waterworks located in Chapultepec Park, equipped with pumps and pipes that connected the city to this distant water source, was an incredible engineering feat, acclaimed by the federal government (even though dozens of workers were killed in the process) and graced by the world's first underwater mural – Water, The Origin of Life, by Diego Rivera.
For decades, the Lerma contributed up to 15% of Mexico City's water. Over the last few decades, however, it has largely been sucked dry. What's left of this once-great waterway is forcefed 170,000 tonnes of toxic slime from the factories, industrial parks and irregular cities located along the banks of the river.
As the Mexico City population has grown exponentially, other water sources have had to be tapped to meet the increasing demand. And as its pipes suck up water from further and further away, its water costs have increased exponentially.

The Cutzamala river, twice as far away as the Lerma, now supplies up to one-third of Mexico City's water needs. The fact that local communities are being deprived of their own water sources in order to service the capital is a cause of discontent.
The Mazahua Indians who have lived around the Cutzamala for centuries now lack access to their own river water, and violent protests have resulted. In addition, as water sources tend to be interconnected, by overexploiting the river to supply drinking water to Mexico City residents, the Chapala lake in the very distant state of Jalisco is drying up.
Lack of rainfall and higher temperatures lead to lower levels in the main water sources outside the city (dams in Cutzmala have recently been as low as 30% of their capacity), and the quality of water pumped in from the bottom of these dams is poor. In extreme cases, such as the widespread death of fish due to increased temperatures, these water sources can be poisoned.
Although Mexico City as a whole depends on Cutzmala for only 30% of its water, some areas, such as the Santa Fe neighborhood in the south of the city, depend completely on water from this source and suffer droughts when its water levels sink.
Pumping more and more water up and into Mexico City requires more and more electricity.
To meet this increased demand, more and more dams have been built on the country's rivers. These dams monopolise the local use of the water and often force whole towns to move from their homeland, in turn leading to a flood of migrants into Mexico City.
Many of the millions of urban land invaders in Mexico City over the past few decades are farmers who fled rural areas impoverished from an inadequate access to water.
The new, haphazard cities these forced immigrants have created creep up and cover the mountains surrounding the city, destroying the trees and forests that normally replenish oxygen and protect the soil from becoming unusable dirt and dust. The lack of trees in turn puts these areas at risk of flooding and mudslides that claim human lives each year.
In addition, the new cities populated with millions of inhabitants that have sprung up around the periphery of Mexico City over the past couple of decades have put an added strain on the city's water supply.

Water has long ceased to be a free, readily available natural resource. Paying for a natural substance like water seems unnatural, which is perhaps why a good percentage of people and companies in Mexico City don't pay their water bills.
If the city government should decide one day to end the subsidies and make customers pay the real cost of the poor quality liquid that comes out of their taps, blood would flow instead of water.
The demand for water in Mexico City doubles every 20 years, twice as fast as the population growth. For each square metre of new urban construction, 50 gallons of recoverable rainfall are lost each year, while for each acre of land occupied by humans the water that could be destined for more than 3,000 families is lost.
With the relentless urbanisation of every part of the Mexico City valley, water is becoming less and less a renewable resource and more and more a scarce commodity. [...]
I assure you Hollander is just getting warmed up. Next he picks up from where he started, which was discussing the quality of Mexico City's water. Which, frankly, makes Diego Rivera's sculpture of the Aztec rain god Tlaloc sprawled on his back and looking queasy quite the coda.
The good news is the Holllander's writing finally explains why so many Mexicans have fled their country. It's not the violence, it's not poverty. It's the certain knowledge that their government is run by completely insane people.
********
Monday, June 29
Musings
T
his is no way to spend a vacation but I've realized that unless I make some effort to keep up I'll face a huge pile of reports when I return on July 7. Okay, the real story is that I've been up all night thinking about what might be inevitable.
Bloomberg Business presented data on June 24 showing an overwhelmingly certain correlation between the warming global temperature and manmade greenhouse gas emissions, then concluded by asking what we're going to do about it.

Well, what I'm going to do about it is take Bloomberg Business financial analyses with a large grain of salt going forward. I figure if they're that credulous about climate data they can easily be duped by fast talking Wall Street wizards.

Here is Robert Zimmerman's latest discussion of climate science: More evidence NOAA has tampered with climate data (March 10, 2015). He's not credulous; he can't afford to be. He's had to spend many years analyzing American and Russian discussions of their government space exploration programs. Unfortunately he doesn't give financial advice.
The terror is that hyperfocus on reducing greenhouse gases has diverted attention and vast amounts of money from crises that have relatively simple fixes --ony it takes more time than we might have to implement them.
Environmental reporter Abrahm Lustgarten began investigating the water crisis a year and a half ago for the ProPublica series Killing the Colorado. He tells Fresh Air's Dave Davies that he initially thought the water crisis was the result of climate change or drought.
Instead, Lustgarten says, "It's the policy and the management that seem to be having a greater effect than the climate."
The Golden State needs 150% of average rain and snowpack to beat drought ... If El Niño continues to gather momentum, California may get what it wished for -- lots of rain. But if it turns out to be weaker than expected, as was the case in 2014, California's drought is likely to extend into a fifth year.
"I'm not counting on anything as El Niño has no guarantees. We have had dry as well as wet El Niño years. The odds of a wet year increases with a stronger El Niño but again no guarantees," said Jan Null, certified consulting meteorologist at Golden Gate Weather Services. ...
California's drought is breaking all records since the state began monitoring rainfalls and temperatures in 1895. 2013 was the driest on record for the state and 2014 was the warmest, while snowpacks, an important source of water as they melt, were the lowest on record at only 5% of the 28-inch average this year, Anderson said.
Odd comment on the report in the Market Watch comment section:
Daniel A. Prohonic: "If you want to refill the lakes, rivers and aquifers in California and western ends of Utah and Nevada, try turning off or covering the solor [sic] panels in those states 6 months before expected arrival of El Nino. Also shut off wind farms; they're heating the air too much, causing the rain clouds to rise and hold their water until they're passing the Rocky Mtns."
Your guess is as good as mine about whether there's anything more than hot air to his observation about solar panels. But his comment about wind farms might have been inspired at least in part by a February 2014 Scientific American article
Wind Power Found to Affect Local Climate
: "Wind farms can alter the nearby rainfall and temperature, suggesting a need for more comprehensive studies of future energy systems."
This wind farm is in Palm Springs. I thought windmills were supposed to be placed in coastal areas
The money quote in the Scientific American article (which features the above photo):
The disadvantage is that the model of climate behavior may not correspond exactly to what happens in reality.
The observation holds true across the entire of climate research and indeed all modern science, which relies increasingly on modeling. But pile up many small inexactitudes in your models of reality and you can end up with hopelessly skewed conclusions.
Moving along --
Drones Flying Over Huge California Fire Hindered Firefighters: Officials - 6/26; NBC News
All fire-fighting planes had to be grounded (temporarily) because a couple drone hobbyists wanted a lookee-see at the fire.
800 Overnight Lightning Strikes Spark 3 Dozen New Wildfires In Northern California - 6/28, 2:08 PM EDT; CBS San Francisco/Associated Press
Provides update on firefighting efforts against wildfires started earlier in the state. The lightning seems to be "dry." See Freedman's discussion below.
Cool weather, rain aid fight against Interior Alaska wildfires; burn ban still in place - 6/27 last updated 11:56 AM ;Newsminer, The Voice of Interior Alaska
... instead of sunny skies lasting late into the night, like June usually brings, the air over much of the state has been filled with eye-burning smoke, with more than 300 individual fires burning as of Thursday ... More than 428,000 acres have gone up in smoke so far this season, according to a report from the Alaska Interagency Coordination Center, which is an area larger than the city of Los Angeles. ...
The fires are connected to weather conditions dating back to the winter, when much of the state saw a profound lack of snow and unusually mild temperatures. The absence of snow cover starved the lands of much-needed moisture to fend off fires ignited by human activities, such as building campfires, and natural sources, like lightning. ...
Following the anemic snow covering large swaths of the state came a warm spring, with May setting a record for the warmest such month the state has seen since records began there 91 years ago. ...
The wildfires are burning across central and southern portions of the state, and have been increasing over time as summer thunderstorm season gets underway, touching off storms that deliver little rain but lots of lightning.

These storms are known as dry thunderstorms, and they're a major cause of fires from Alaska to Canada and across the parched Western U.S.
The fires are far above average for this time of year, and are in keeping with a long-term trend toward more frequent fires and larger fires in the "Frontier State."
... Temperatures have hit 45 degrees Celsius in recent days, prompting Prime Minister Nawaz Sharif to declare a national emergency this week. The blistering heat is exacerbated by chronic electricity shortages, forcing water pumping stations - the chief source of potable water - to come to a standstill, with residents also unable to seek relief from fans or air-conditioners. ...
This shortfall is the result of the failure, over successive governments' tenures, to invest enough to expand power system capacity," said a new report by the U.S. Institute of Peace (USIP), an independent and nonpartisan group. ...
I'd say the heat has exposed the power issues even more; they've been famously known for many years. The issues boil down to the fact that Pakistan is a military with a civilian society tacked on as an afterthought. That concept of a country made for huge problems going in all directions when the population skyrocketed and many were crammed into one city -- Karachi.
Korean Peninsula Faces Worst Drought in More Than a Century - 6/26' VOA News
... North Korean news reports on Tuesday said more than 20,000 hectares of cropland have been destroyed in Hwanghae province alone, and said regional water reservoirs are empty. ... 80 percent of [South Korea] is facing extreme drought. ... In Seoul, South Korean Prime Minister Kim Hwang-sik warned of looming price hikes for produce and cuts in water supplies. ...
Is Pyongyang just dialing for dollars and euros again? Well, if the governments starts to panic:
North Korea's historic drought expected to cause famine, U.N. says - 6/25; CNN
... "Over the last two years," he explains, "the North Korean government has been implementing a new and remarkably efficient policy which is based on the household responsibilities. So farmers' households are given 30% of the harvest instead of the fixed rations they used to receive in the past. And as a result, they work much better, and over the last two years North Korea had really good harvests. Essentially they produced enough food to feed themselves."
Lankov worries if the drought is as bad as some are predicting, the government will once again force farmers to hand over all of their food, in the name of the greater good. ...
Brian Davis, chief of the Freeport Fire and EMS Department, said extensive flooding earlier this month caused the overflow of septic tanks and waste treatment plants.
"The simple truth is that all of that is running down the river," said Davis, who said the bacteria can turn Gulf water into almost toilet water. ... The Freeport Fire Department sent out an advisory warning of "medium" bacterial levels at Bryan Beach. In Galveston, levels tested even higher. The Galveston County Health District is now advising people to avoid swimming in some beaches altogether because of what's in the water.
In the Small Planet category of news reports, here's one I missed a couple months ago:
Hazy Western Washington skies caused by Siberia wildfires - 4/19 - King 5 News and Associated Press
Not just Washington state, the entire American northwest got hit with a haze from the Siberian fires mixed with some "Asian dust" -- toxic yellow or red dust to be specific, blowing off the Gobi and mixing with China's infamous industrial pollution.
Just a timely reminder for those cute people in Washington, DC's defense establishment who've forgotten that fallout from a nuclear weapon explosion travels fast and far.
Go figure:
Irrigation most likely to blame for Central California warming (2007)
Computer models used to forecast climate change also typically predict that in California the effects of global warming due to increased carbon dioxide levels should warm temperatures in the Sierra Nevada mountains faster than in the nearby valleys. The UAH study, however, found that from 1910 to 2003 night and daytime temperatures in the nearby mountains did not climb.
Does irrigation in the desert, on the massive scale it's been done in the California's Central Valley, significantly influence the weather? It must have some effect, as the earlier study (above) shows, but how much and in the way the lead researcher on the second study (Famiglietti) believes -- I don't understand the arguments well enough to take a guess.
Anthony Watts, who runs WUWT --"The most viewed site on global warming and climate change" -- discusses both studies (see links above) and presents data he collected, which supports the conclusion in the first study.
See also the page listing all WUWT articles on drought. The titles of several entries look interesting although I haven't made time to read them yet. This one from May 22, 2014 is an eyebrow raiser:
Interesting graph – Fraction of the Globe in Drought: 1982-2012
Unless my eyes deceive me, it looks like there is no net change in global drought area for 30 years. The graph shows the proportion of the planet in drought, by intensity, 1982-2012. The graph comes from a paper in a new Nature publication called Scientific Data and is open access.
The finding if correct wouldn't surprise me; what we're really seeing with all the horror tales of drought across the globe is a runaway increase in the number and intensity of hydrological droughts. That is, droughts caused by decades of bad water management that are now catching up with societies as megapopulations and water-intensive industries and agribusiness draw down water tables faster and faster.
Add a period of sparse rainfall and that's a recipe for catastrophe -- cascading catastrophes, as populations fleeing water scarcity move into regions that have very limited and fast diminishing water supplies. Just last week it was reported that the Dominican Republic came within a month of its entire water supply collapsing.
Did the dwindling water resources in the country have anything to do with the government's decision to deport (over time) more than 200,000 Haitians? From this 6/25 VOA report it seems the issue has been brewing for years:
A 2013 Dominican citizenship law aims to cut off more than 200,000 Haitians who were born in the country to undocumented Haitians

.
Many of these could be children of parents who fled Haiti after the country's catastrophic earthquake in 2010. But the question would be how many Haitians fled to the Dominican Republic during Haiti's droughts in 2013 and in the country's northeast in 2014. Haiti has suffered one natural disaster after another since the earthquake; add to this the country's water infrastructure is a disaster.
One could ask the same question about the "anti-foreigner" riots in South Africa. That country is when last I checked facing drought -- and bad water management. May 2015: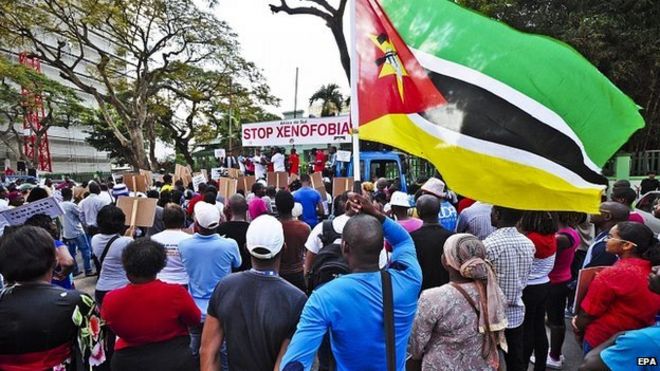 Mozambicans protested outside the South African embassy in Maputo against xenophobic attacks
Water shortages loom for SA: worst drought in two decades
(Bloomberg) — South Africa is facing water shortages after the worst drought since 1992 cut dam levels by 12 percent from a year earlier as most of the country enters its four-month dry season.
Drought in eastern and central South Africa around the turn of the year has slashed corn and sugar output and may trigger water shortages for homes and businesses. Weaker river flow also threatens water quality. South Africa is the 30th-driest nation on Earth, according to the government, which expects water demand to outstrip supply as early as 2025.
"Water will definitely be at a premium over the next few months," said Sputnik Ratau, a spokesman for the Department of Water Affairs. Toward the end of the dry season "we will be in an even more dire situation in terms of available water." ...
The May 2015 Beeb report on the riots focuses on the jobs issue for South Africans:
South Africa has deported more than 400 Mozambicans, weeks after anti-foreigner violence in Durban and Johannesburg left several people dead.
The move follows a police operation that uncovered hundreds of undocumented migrants.
Many unemployed South Africans accuse foreigners of taking their jobs in a country where the unemployment rate is 24%. ...

Mobs targeted workers from Zimbabwe, Nigeria, Mozambique and other African countries.
Correspondents say that although South African authorities condemned the violence, they have also sought to address complaints about foreigners working illegally in the country. ...
The government will have more than illegal job-takers to worry about when Mozambique is hit even harder than it was last year by its boom and bust cycle of drought and floods. 300.000 Mozambicans faced famine in 2014.
Meanwhile, Mexico's government has finally grown a brain:
Mexico takes lead to stem migrant wave, deports more Central Americans than the United States - June 5, Associated Press
Human rights activists are upset, but they need to stop thinking as if the year is 1982. Today the huge migrant waves descend on cities that have stressed water supplies not to mention stressed power and sanitation infrastructures.
There is a kind of sugar cube syndrome generated by the mega-cities that's accelerating. Put a cube of sugar on a desert floor and first hundreds then thousands of ants emerge from the ground and descend on the cube. Within moments it's gone.
The syndrome isn't limited to urban areas. Building rural roads, as the Brazilian government learned the hard way decades ago, doesn't only facilitate transporting produce to urban centers. The roads also facilitate fast migration.
One day the government turned around and saw huge areas of the Amazon rainforest had gone up in flames. Farmers had used the roads to quickly migrate deep into the Amazon to create new farmland by the traditional slash and burn method.
Which is to say that many of the best development ideas, implemented in the 1980s, are now turning on us. What happened with the rainforest was the harbinger and now the leitmotif of the present era.
********