Saturday, May 30
No, the deluges in the Great Plains didn't help Washington State
SPOKANE, Wash. (AP) - The drought conditions in Washington that prompted Gov. Jay Inslee last week to declare a [statewide] emergency are likely to grow worse because of a strengthening El Nino tropical weather pattern in the Pacific Ocean, a weather researcher for Washington State University said Thursday.



El Nino, an ocean-warming phenomenon, may bring some relief in drought-stricken California, but it's more likely to bring more heat and dryness to the Northwest, researcher Gerrit Hoogenboom said.
El Nino typically brings rainfall to central and southern California, but leads to warmer weather and less precipitation in the Pacific Northwest.

The National Oceanic and Atmospheric Administration recently announced that El Nino has been building strength since March, and that there is a greater than 80 percent chance its climatic conditions will persist through the rest of the year.



"El Nino probably has not yet hit its peak," Hoogenboom said. "It's likely that it will be stronger in autumn and winter."



That's bad news for a state facing an already historically low mountain snowpack and depleted water levels in rivers and reservoirs, mainly east of the Cascade Range.
I still don't have clarity on the answer because at least one weather authority has stated that the Great Plains deluges were connected with El Nino. And the fact that rainfall is "typically" connected with parts of California doesn't mean the pattern couldn't drift to the Great Plains, but again, I just don't know.
Anyhow, from the AP report, Washington is definitely cut out of whatever bounty El Nino can bring. Yet the state's precipitation situation is strange -- the strangest on record. From Think Progress, May 18, in a report filed by Natasha Geiling:
Washington State Is In A Drought 'Unlike Any We've Ever Experienced'
Citing historically low snowpack, falling river levels, and rising temperatures, Gov. Jay Inslee (D-WA) declared a statewide drought emergency for Washington on Friday.
"We're really starting to feel the pain from this snowpack drought. Impacts are already severe in several areas of the state," Inslee said. "Difficult decisions are being made about what crops get priority water and how best to save fish."
Sectors that rely heavily on melting snowpack, like agriculture and wildlife, are expected to be hit hardest by the drought, with the Washington Department of Agriculture anticipating $1.2 billion in crop losses this year.

Statewide, snowpack levels are currently 16 percent of normal, ten percent lower than the last time a statewide drought emergency was declared in 2005. Of 98 snow sites measured at the beginning of the month by the Natural Resources Conservation Service (NRCS), 66 were snow free — 11 of them for the first time in history.
Along with record low snowpack, the NRCS found that 17 of 34 long-term measuring sites recorded their earliest peak on record, occurring on average 48 days earlier than normal.

"This drought is unlike any we've ever experienced," Maia Bellon, director of the Washington Department of Ecology, said.
"Rain amounts have been normal but snow has been scarce. And we're watching what little snow we have quickly disappear."
[...]
There's plenty more in the report and the AP one, for those who want to keep track of Washington's extraordinary situation.
********
AccuWeather warns India's monsoon could be disrupted
Associated Press reported today (12:02 PM) that the killer heat wave had broken in much of India after killing about 2,000 people. The relief could be short-lived if the Accuweather prediction, which AP mentions, pans out. The prediction was announced yesterday, Friday. According to AP:
[...] A strong thunderstorm brought some relief from the stifling heat to Anantapur, a town in Andhra Pradesh, though the storm uprooted trees and electricity poles and cut power in some areas.
People also heaved sighs of relief in the Telangana state capital of Hyderabad and Telangana's Mehubnagar district, which recorded 1 centimeter (.39 inch) of rain.
However, at least four districts — Guntur, Krishna and East Godavari in Andhra Pradesh, and Nalgonda in Telangana — were still in the grip of the heat wave, the meteorological department said, adding that they would likely get some relief in the next 24 hours due to rain in nearby areas.
Cooling monsoon rains are expected next week in southern India before gradually advancing north. The monsoon season will last until the end of September.
Forecasting service AccuWeather warned Friday of prolonged drought conditions in India, with the monsoon likely to be disrupted by a more active typhoon season over the Pacific.
********
Yup, much urban flooding is "pavement" spelled backward
U.S. 290 Freeway at 610 Loop, Houston. Texas
"We really do need to think about continuing to develop the way we have been developing – that is, sprawling cities, lots of concrete, lots of blacktop," he says. "We're putting in so much impervious surface that water runoff becomes one of the major problems we have to address."
Cities in Texas are already curbing development along waterways, while other areas are increasingly taking steps, especially in terms of building codes. But the current floods point to a need to inject fresh energy into such efforts, some say.
Spotts was quoting Walter Peacock, director of the Hazard Reduction and Recovery Center at Texas A&M University in College Station. Texas, I learned from the report, is especially flood prone:
"We can get three, four, five inches in a span of an hour or two," says Philip Bedient, a hydrologist at Rice University in Houston. That rate makes parts of the Lone Star State ground zero for some of the most intense bursts of rainfall in the United States.
For this reason government officials, developers, and community leaders in Texas are very much aware of the need for flood control measures:
Progress in reducing vulnerability to floods is evident in many places around the state, notes Walter Peacock ... Cities are curbing development along waterways, while areas outside city limits are increasingly taking steps, especially in terms of building codes.
"Positive things are happening," he says. "They just are not happening as quickly as many would like."
I'm sure things will be happening more quickly in the wake of flooding that crippled major Texas cities this past week.
There's lots more in the instructive report, which will be of interest to, well, any city dweller who's had bail water, evacuate, or retreat to the roof during a heavy rainstorm.
Every time we've called for more highway or an overpass to ease traffic congestion, or supported a new commercial or housing development, we didn't stop to think how much paving the projects included, and what all that impermeable paving amounted to when it rained hard.
Now we're learning the hard way what it means.
This situation has been going on for a long time; the difference today is that many cities became gigantic to accommodate burgeoning populations and business enterprises -- and transport routes. So it's like a horror movie; all the paving that went with development began turning into a death trap and a very expensive trap when deluges had nowhere to go.
Flood waters cover Memorial Drive along Buffalo Bayou in Houston, Texas May 26, 2015
The photo is from a
Reuters report
datelined today at 11:55 AM EDT about the latest news on the flooding in Texas. The really interesting part, as it relates to this post, is how little rain is now causing floods. The ground is so saturated, and so many streets are already flooded, that an inch or less of rain can translate into an evacuation notice.
Meanwhile, volunteers in Texas
continue to search
for people swept away in the state's floodwaters.
******
Friday, May 29
There's been enough rain in Texas in May to cover the entire state 8 inches deep
That's over 35 trillion gallons of water. One observer noted he'd never seen Texas this green. So there go the Hurricane Ike comparisons out the window. The rain in Texas is unprecedented. Part of the reason for the heavy rains is that the storm systems have been very slow-moving, but the biggest story right now is that there may be no end in sight this summer, and that the above-average precipitation is predicted to be across a broad swath of the USA. In one way that's great; it could take several states out of the drought or dry category, but of course flooding carries its own big problems.
Graphic from the
Houston Chronicle
; the green indicates above-average rainfall; forecasters are saying it could go into the fall or even winter, according to the Chronicle.
Texas Dept. of Transportation spokespersons
held a press conference
that concluded at 3:45 PM to update state residents on the flooding situation, which has generated so many reports that even AP is having trouble keeping up. They've taken to simply
'live-blogging
' reports on the storms and flooding as they gather them. This is a TV story, not one for print media including the blogosphere. The Weather Channel's ratings must be in the stratosphere.
But the latest from AP (4:30 PM CDT) is that Arkansas is trouble:
Latest on flooding: Arkansas counties deemed disaster areas
Arkansas Gov. Asa Hutchinson has issued disaster declarations for five counties hit hard by recent storms and flooding.
Hutchinson toured flooded parts of the state on Friday. On his return to Little Rock, he applauded first-responders.
Arkansas highway officials have closed a pair of roads in southwestern Arkansas because of flooding, and the Pig Trail Scenic Byway is closed north of Cass because part of the roadway has washed away.
Much of the state is on alert for high water, and the Storm Prediction Center posted a tornado watch for western Arkansas and adjoining parts of Oklahoma and Missouri until 7 p.m.
Even the snakes may be seeking higher ground, according to one advisory. Meanwhile over in Texas:
The mayor of a city about 60 miles southwest of Houston has ordered the evacuation of about 300 flood-threatened homes near the Colorado River.
Paula Favors, a spokeswoman for the city of Wharton, says the mayor ordered those homes evacuated by 5:30 p.m. Friday. She says many residents had already left when the evacuation was voluntary.
The river is expected to crest in the area at just over 43 feet on Saturday morning. Favors says that would likely flood several residential streets in low-lying areas of Wharton, a city of about 8,500 residents.
[...]
And for those who can't get enough Texas flood stories, there's
Rain is a Good Thing But Here Come the Insects
from NBC News today, which includes a video of flooding in Houston.
All right, that does it for me. Barring Biblical flooding, from now on I'm going to leave updates to TV reporters and energetic staff writers at AP. That is, until I see a report that tots up the dollar damage from the flooding.
********
India arrests pigeon on suspicion of spying for Pakistan
Not exactly Aldrich Ames
There are two stories here. One is that pigeon racing is huge around the world, including
Pakistan
, and an
absolute mania
in China. In 2013 the Belgian government had to spring a Belgian pigeon named Bolt after a Chinese businessman paid $400,000 for the champion racer, obviously obtained for sale under questionable circumstances. Which is to say the writing stamped in Urdu on the suspected spy could be nothing more than provenance.
The other story is that birds are used as spies.
India arrests pigeon accused of spying for Pakistan
Alleged spy bird was carrying a 'stamped message' written in Urdu
Police in India this week arrested a pigeon on charges of spying for Pakistan. As
BBC News reports
, the pigeon was taken into custody on Thursday after a 14-year-old boy found it in a historically tumultuous region along the India-Pakistan border. The bird, whose name has not been disclosed, reportedly had a "stamped message" on its body that was partially written in Urdu. The message also included a Pakistani phone number. An X-ray of the bird didn't show anything out of the ordinary, but police have nevertheless registered it as a "suspected spy" and are keeping it in custody.
"This is a rare instance of a bird from Pakistan being spotted here," police superintendent Rakesh Kaushal told
The Times of India
. "We have caught a few spies here. The area is sensitive, given its proximity to Jammu, where infiltration is quite common."
This isn't the first time that a bird has been caught in the middle of an international dispute. In 2008, Iranian authorities
arrested two pigeons
accused of spying on a nuclear facility, and a
stork was detained
in Egypt two years ago after being spotted with a mysterious device attached to its feathers. Others have been targeted as potential terrorists. Last year, Chinese officials
probed 10,000 pigeon anuses
amid fears that they may be carrying bombs.
No word yet on whether the pigeon arrested this week has hired a lawyer.
By turning bees into farm equipment aren't we destroying their very advanced civilization?
Amazing but true a big part of bee civilization is the complex, drawn out process bees use to decide where to start a new hive. The process is detailed in a 2007 National Geographic article titled
The Genius of Swarms
. Oddly the author, Peter Miller, characterized the decision process as an example of 'swarm intelligence' but from the description it's anything but. Substitute pacing and finger shaking for fevered dancing and wing flapping and you have a typical heated debate during a human policy meeting.
In short, bees tasked with finding the best location for a hive have to defend their choice and this requires much debate. If no one argument wins out, then a consensus has to be reached. More brain sweat.
All that is taken away from bees that have been turned into agro-business machines; the human handlers completely control the hive locations and truck the colonies from one field to another to pollinate crops.
And
for what
?
Bee populations are so low in the US that it now takes 60% of the country's surviving colonies just to pollinate one California crop, almonds. And that's not just a west coast problem -- California supplies 80% of the world's almonds, a market worth $4 billion.
All that, so humans can swill huge amounts of almond milk and stuff their guts with almond-sprinkled granola.
For what? A small handful of almonds is all anyone could possibly need daily to get the nutritional benefit of nuts.
So I don't agree with a farmer in Fresno California named Ryan Jacobson who's quoted by the Economist (
All the Leaves are Brown
; May 30):
Mr Jacobsen asks where Americans would get their fruit and vegetables without the bounty of the Central Valley. "Farmers are just borrowers of water. The consumers of their products are the ultimate beneficiaries," he says, "and the scale on which we do things here means that middle-class people can afford to buy them."
Oh, please. This isn't about food choices for the middle class. This is about gluttony and blind consumption, as blind as pigs feeding at a trough but here I insult pigs. As blind as automatons at a trough.
As to where things stand now with the bees: From NBC News, May 13, 2015,
More Than 40 Percent of Bee Hives Died in Past Year: Study
:
More than two out of five American honeybee colonies died in the past year, and surprisingly the worst die-off was in the summer, according to a federal survey.
Since April 2014, beekeepers lost 42.1 percent of their colonies, the second highest loss rate in nine years, according to an annual survey conducted by a bee partnership that includes the U.S. Department of Agriculture.
"What we're seeing with this bee problem is just a loud signal that there's some bad things happening with our agro-ecosystems," said study co-author Keith Delaplane at the University of Georgia.
But not to worry. The bees' human masters are in control:
But it's not quite as dire as it sounds. That's because after a colony dies, beekeepers then split their surviving colonies, start new ones, and the numbers go back up again, said Delaplane and study co-author Dennis vanEngelsdorp of the University of Maryland.
What shocked the entomologists is that is the first time they've noticed bees dying more in the summer than the winter, said vanEngelsdorp said. The survey found beekeepers lost 27.4 percent of their colonies this summer. That's up from 19.8 percent the previous summer.
Seeing massive colony losses in summer is like seeing "a higher rate of flu deaths in the summer than winter," vanEngelsdorp said. "You just don't expect colonies to die at this rate in the summer."
As to what's killing the bees,
maybe they're dying of broken hearts
but we must be Scientifical, so here's the Scientifical guesses:
In 2013
Treehugger quoted
below from two August 19, 2013 TIME magazine reports by Bryan Walsh on decline of bee populations. (
The Plight of the Honeybee
and
The Trouble with Beekeeping in the Anthropocene
):
So what's killing the honeybees? Pesticides — including a new class called neonicotinoids — seem to be harming bees even at what should be safe levels. Biological threats like the Varroa mite are killing off colonies directly and spreading deadly diseases.

As our farms become monocultures of commodity crops like wheat and corn — plants that provide little pollen for foraging bees — honeybees are literally starving to death.
The reality is that honeybees are very useful to human beings, and species that are very useful to us—think domesticated animals and pets—tend to do OK in the increasingly human-dominated world we call the Anthropocene.

But other wild species aren't so lucky—and that includes the thousands of species of wild bees and other non-domesticated pollinators.

Bumblebees have experienced recent and rapid population loss in the U.S., punctuated by a mass pesticide poisoning in Oregon this past June [2013] that led to the deaths of some 50,000 bumblebees.

A 2006 report by the National Academies of Science concluded that the populations of many other wild pollinators -- especially wild bees -- was trending "demonstrably downward."

The threats are much the same ones faced by managed honeybees: pesticides, lack of wild forage, parasites and disease. The difference is that there are thousands of human beings who make it their business to care for and prop up the populations of honeybees. No one is doing the same thing for wild bees.
From Quartz July 25 (H/T Tree Hugger),
Scientists discover what's killing the bees and it's worse than you thought
by Todd Woody:
[...]
[I]n a first-of-its-kind study
published today in the journal PLOS ONE
, scientists at the University of Maryland and the US Department of Agriculture have identified a witch's brew of pesticides and fungicides contaminating pollen that bees collect to feed their hives. The findings break new ground on why large numbers of bees are dying though they do not identify the specific cause of CCD [colony collapse disorder], where an entire beehive dies at once.
When researchers collected pollen from hives on the east coast pollinating cranberry, watermelon and other crops and fed it to healthy bees, those bees showed a significant decline in their ability to resist infection by a parasite called Nosema ceranae. The parasite has been implicated in Colony Collapse Disorder though scientists took pains to point out that their findings do not directly link the pesticides to CCD.
The pollen was contaminated on average with nine different pesticides and fungicides though scientists discovered 21 agricultural chemicals in one sample. Scientists identified eight ag chemicals associated with increased risk of infection by the parasite.
Most disturbing, bees that ate pollen contaminated with fungicides were three times as likely to be infected by the parasite. Widely used, fungicides had been thought to be harmless for bees as they're designed to kill fungus, not insects, on crops like apples.
"There's growing evidence that fungicides may be affecting the bees on their own and I think what it highlights is a need to reassess how we label these agricultural chemicals," Dennis vanEngelsdorp, the study's lead author, told Quartz.
Labels on pesticides warn farmers not to spray when pollinating bees are in the vicinity but such precautions have not applied to fungicides.
[...]
In recent years, a class of chemicals called neonicotinoids has been linked to bee deaths and in April regulators
banned the use of the pesticide for two years
in Europe where bee populations have also plummeted. But vanEngelsdorp, an assistant research scientist at the University of Maryland, says the new study shows that the interaction of multiple pesticides is affecting bee health.
"The pesticide issue in itself is much more complex than we have led to be believe," he says. "It's a lot more complicated than just one product, which means of course the solution does not lie in just banning one class of product."
The study found another complication in efforts to save the bees: US honey bees, which are descendants of European bees, do not bring home pollen from native North American crops but collect bee chow from nearby weeds and wildflowers. That pollen, however, was also contaminated with pesticides even though those plants were not the target of spraying.
"It's not clear whether the pesticides are drifting over to those plants but we need to take a new look at agricultural spraying practices," says vanEngelsdorp.
[END REPORT]
So it seems the Environmental Protection Agency's project to help the bees is behind the curve of research findings, or maybe they think it's the best they can do:
May 28, 2015
If honeybees are busy pollinating large, blooming croplands, farmers wanting to spray toxic pesticides will soon have to buzz off, the Environmental Protection Agency says.
A federal rule proposed Thursday would create temporary pesticide-free zones when certain plants are in bloom around bees that are trucked from farm to farm by professional beekeepers, which make up the majority of honeybees in the U.S.
The pesticide halt would only happen during the time the flowers are in bloom and the bees are there, and only on the property where the bees are working, not neighboring land.
The rule applies to virtually all insecticides, more than 1,000 products involving 76 different chemical compounds, said Jim Jones, EPA's assistant administrator for chemical safety and pollution prevention. It involves nearly all pesticides, including the much-debated class of pesticides called neonicotinoids, he said.
The idea is "to create greater space between chemicals that are toxic to bees and the bees," Jones told The Associated Press. This is part of a new push by the Obama administration to try to reverse dramatic declines in bee populations.
Related: Feds Unveil Strategy for Bees and Butterflies
The new rule "doesn't eliminate (pesticide) exposure to honeybees, but it should reduce it," said University of Illinois entomologist May Berenbaum. "It may not be ideal, but it's the best news in about 120 years. In concept, in principle, this is a big policy change."
The EPA proposal doesn't apply to residential pesticide use, nor home beekeeping. If all goes according to plan, new rules and new pesticide labels will be ready for spring 2016, Jones said.
Meanwhile, our nation's landscape suppliers leaped to get out ahead of the EPA. From NBC News, April 9, 2015
Lowe's to Stop Selling Neonic Pesticides Linked to Bee Deaths
Lowe's plans to stop selling pesticides linked to the massive decline of honeybees around the world. The home improvement chain announced on Thursday that it would phase out products containing neonic pesticides over the next four years.
[...]
Lowe's announcement comes after the EPA said last week that it would stop issuing new permits to use the pesticides. On Wednesday, a report from an influential European scientific council warned that neonicotinoids were more harmful to the environment than previously thought.
Lowe's also said that it would work with growers to "eliminate the use of neonic pesticides on bee-attractive plants we sell."

Home Depot announced last summer that it would label plants treated with neonicotinoids. Both companies have been the target of protests by environmental activists. The environmental group Friends of the Earth said it was "pleased Lowe's is listening to consumer concerns" and the "growing body of science telling us we need to move away from bee-toxic pesticides."
[END REPORT]
If all that sounds Draconian -- landscapers frequently ignore the instructions on the label, which is how 50,000 bees died in a Target parking lot.
********
No letup: "Texas Floods: Dozens Rescued as State Struggles With Record Rain"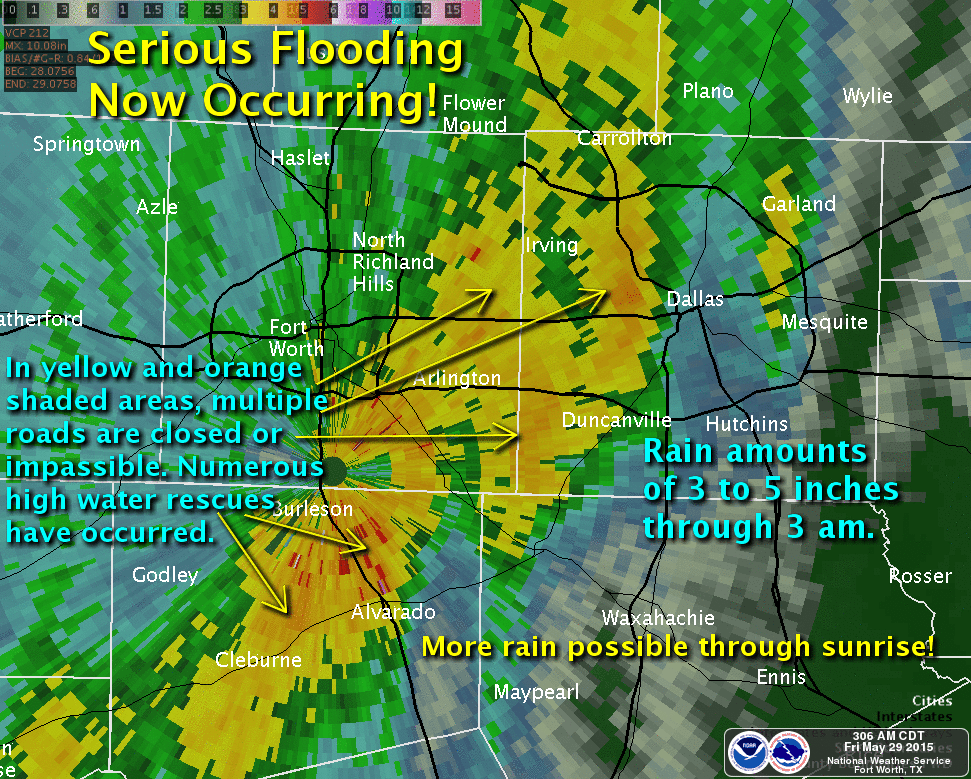 National Weather Service Tweet accompanying graphic: Serious flooding ongoing from Johnson into SE Tarrant and Dallas Co. Very dangerous situation!
NBC breaking news 6:19 AM:
Dozens of people were rescued from flash flooding in central Texas early Friday, as emergency responders throughout the state struggled to cope with the wettest May on record.
Flood alerts extended nearly 800 miles from southern Texas to central Missouri, according to The Weather Channel's Justin Abraham. He highlighted "major flash flooding issues around Dallas" after up to 6 inches of rain fell overnight.
[...]
Officials in Johnson County, about 54 miles south of Dallas, said they had evacuated about 12 people caught in flooding overnight — including some rescued from "homes inundated with water."

Other incidents involved vehicles and authorities instructed residents to stay off the roads for their own safety.
Johnson County emergency management coordinator Jamie Moore told NBC News that 45 roads had been closed in the area by 3:30 a.m. (4:30 a.m. ET). About an hour earlier, his agency tweeted that "rescue requests continue to flow in."
[...]
Lots more in the report.
Quake hits California: Wow, that crazy Dutch astrologer Hoogerbeets came close!
The scientists snickered at hs prediction, Slate
laughed at him
. He was a few hours and points on the Richter scale off, but by gum there was an earthquake:
Quake Hits N. California; No Reports of Problems
REDDING, Calif. — May 29, 2015, 5:36 AM ET
Associated Press via ABC News
A moderate earthquake struck in Northern California but authorities say there are no reports of any problems.
The U.S. Geological Survey says the magnitude-5.1 temblor hit at 12:05 a.m. Friday and was centered 25 miles northwest of Redding, in neighboring Trinity County.
Both the Shasta County and the Trinity County sheriff's offices say they were advised of the temblor, but they had no reports of damage or of people feeling it.
A quake of that magnitude is capable of causing considerable damage under some circumstances.
From
Tribune Media Wire
, May 28, 2015, 7:49 AM:
Dutch man predicts 8.8 magnitude earthquake will hit California Thursday
SACRAMENTO — A Dutch man is telling Californians to be prepared.
In a video posted to YouTube and viewed by hundreds of thousands of people, Frank Hoogerbeets predicts the planets will align Thursday and at 4 p.m. PT, an 8.8+ magnitude earthquake will rattle the western shore of the United States.
"I believe I know when exactly it is going to be. I hope I am wrong," Hoogerbeets told KTXL Wednesday, adding that he has no science degree but is an enthusiast.
"It really comes together May 28, 2015," he said in the video.
But seismologists say there is no way to predict the time and date of an earthquake. Regardless, the staff at the Sacramento Office of Emergency Services says they're ready.
"We are always prepared for an earthquake [and all other disasters]," Mary Jo Flynn said.
Flynn said the staff at OES were not aware of the viral video.
"'I trust the science from the [USGS] scientists we work with," she said.
Still, what if there is a sliver of possibility that Hoogerbeets is right?
Hoogerbeets claims he came within two days of predicting the Nepal earthquake, which killed nearly 8,800 people last month. An unedited Facebook post on his profile confirms he did predict an earthquake that same week.
The USGS estimated in March 2015 that there is a 7 percent chance of an 8.0 magnitude earthquake occurring in the next 30 years in California.
[END REPORT]
Thursday, May 28
Flood evacuation warnings in Texas: They did everything but send out carrier pigeons
"Disaster experts suggest that the heavy human toll in Texas should sound a warning to county and state emergency managers, universities, and media to not over-rely on technology in the face of disaster."
Quote is from Christian Science Monitor's in-depth report on attempts to warn Texas residents in the path of flooding to evacuate. Yet the report makes clear that they didn't only rely on technology. Police also went from house to house, to the extent they could, to warn.
The report is fascinating and highly instructive; I didn't know before that the US early warning system has become a model globally, which has saved countless lives. Here is the report in its entirety. I've taken notes.
'It's coming': Did stern Texas flood warnings go unheeded, or unheard?
May 27, 2015
Christian Science Monitor

Emergency officials in Texas sent out warnings hours before the Memorial Day weekend floods. But 21 deaths [last count, 23] have them asking what more they could or should have done.
Emergency officials in Texas are struggling with the fact that they appeared to do everything by the book – and yet 21 people are still confirmed dead from torrential Memorial Day weekend flooding.
On Wednesday, authorities performed hundreds of water rescues and searchers continued to look for 13 missing people as more rain fell across the hills and gullies of the Texas hill country, where a stubborn five-year drought has given way to full lakes and soils that can't absorb more water. More rain is in the forecast.
But on Saturday night, hours before the height of the flood, the National Weather Service was trying to get the message out in every way possible: "MOVE TO HIGHER GROUND NOW."
It pinged almost every cellphone within range of a cell tower in the warning area. It went out over television and radio. Police went door to door. But in one tragic case, 12 people in a local vacation rental reportedly got the warning only when it was delivered in person by the homeowner. By then, the flood waters had risen so high that they could not be crossed on foot. The house was swept from its pilings.
What could have been done differently?
The United States has, in fact, dramatically improved its warning technology since hurricane Katrina killed more than 1,000 people in 2005, creating what some say is a global model for giving citizens time to get to safety in the face of disaster. It's impossible to know the true impact of such improvements, but the number of lives saved by improved and increasingly ubiquitous alerts, officials say, is likely in the thousands.
Last weekend's Texas flooding, however, might have exposed several weak links in the system, such as making visitors aware of the dangers and convincing hardy locals that they shouldn't just "ride it out." Addressing those gaps means education, experts say – teaching residents when they need to be tuned in, alert, and ready to act.
"Modern technology has brought us the greatest level of warning dissemination in our lifetime, but even with all that said there's always going to be that situation where people may not be aware of what's going on around them," says Walt Zaleski, the warning coordinator at the National Weather Service's southern region headquarters in Fort Worth, Texas.
Houston saw six deaths and hundreds of motorists stranded, some overnight, as culverts turned into torrents. Wimberley, Texas, a scenic bed-and-breakfast town, was arguably hardest hit as a wall of water crashed into the river town late Saturday night and early Sunday morning, damaging and destroying hundreds of homes.
Officials in Houston acknowledge that the warning system may have failed to alert many residents to the potential severity of the situation. And in Wimberley, county emergency officials want to know whether visitors in town for the Memorial Day festivities, in particular, may have missed alarms sent out at 8:23 p.m., about four hours before the height of the flood.
"One issue was [that it] was after dark, people were already starting to prepare for the evening and settling down, putting them in the most vulnerable position of the day, even with all the warning mechanisms out there," Mr. Zaleski said.
He added that regular flooding is the "nature of the beast in that area this time of the year. Residents always have to be on guard because of the flashy-ness of the rivers, creeks and streams that, due to geography, don't require much for the water to quickly rise. So, this is not out of the normal, this is the way of life in the hill country."
Yet the sheer scope of the torrent challenged even seasoned hill country dwellers. A
2013 study by the State University of New York at Buffalo
found that personal experiences with "riding out" storms and floods can lead to complacency. Post-disaster surveys, the study pointed out, also showed that many people lack awareness of the seriousness of a situation even when they hear warnings.
"Wimberley had seen floods before, but they were usually slow and widespread, inching into residents' homes and soaking carpets, but not much else,"
writes USA Today's Rick Jervis
from the scene. "The rush of water that descended into town caught everyone by surprise, including those measuring the height of the river.… [T]he river was measured at 44 feet before the river gauge ripped away in the current…."
By some accounts, the alerts did get out to many people.
"We were kept posted, posted, posted," Gay Sullivan, a Wimberley homeowner,
told WFAA-TV
. "They were frantic, telling us it was coming … move to higher ground … it was coming."
In the past decade, the US has dramatically improved disaster detection and warning efficacy, with lead times for tornado warnings growing from four to 13 minutes, a fact that likely saved lives in the 2013 Moore, Okla., tornado. Much of the progress has come from the increased processing capacity of computers and the ability to integrate very granular radar data with on-the-ground observations. The modes of disseminating alerts have also improved.
In Wimberley, local officials used an emergency system to call landline phones with warnings. Meanwhile, a national wireless emergency alert system created in 2012 pumped out flood alarms, as well. Nearly all cellphones under three years old are equipped with the service, which intercepts basic radio transmissions and sounds a special ping. The service has been credited with saving hundreds of lives, says Mike Gerber, the leader of the Emerging Dissemination Technologies Program at the National Oceanographic and Atmospheric Administration.
"Warnings are put into a special format that we push to FEMA's integrated public alert and warning system, and from there it goes out to wireless carriers, who basically broadcast the alert from cell towers within the warning polygon," says Mr. Gerber. "If your cell phone is in range of that cell tower, you get the alert."
As Saturday evening wore on and it became apparent that up to four inches of rain that fell in the Blanco River watershed would create a dramatic rise, the National Weather Service stepped up its alarm. At 11:24 p.m. local time, the weather service sent out its most severe warning, a flood emergency alert: "Rescues are ongoing … Move to high ground now. Act quickly to protect life. Be especially cautious at night when it's hard to recognize dangers of flooding. Escape to high around to escape flood waters," the warning read.
Some visitors, however, may have missed out on the local warnings, or misjudged their seriousness, officials say. The fact that some people got caught flat-footed by the powerful flood will "most definitely … be part of our discussion" going forward, Hays County Commissioner Will Copley told the Associated Press.
Disaster experts suggest that the heavy human toll in Texas should sound a warning to county and state emergency managers, universities, and media to not over-rely on technology in the face of disaster.
"The difficulty is that warning is a process where the warning system itself is really a technological function, but the communication doesn't occur unless the person on the other side not only receives it, but understands the importance," says Louise Comfort, director of the Center for Disaster Management at the University of Pittsburgh. "What has happened in the US is that much more importance has been placed on putting into place the best technological warning systems and less on educating the people and making them aware of the suddenness of the risk and the lack of time that they've got. The capacity of people to take action in response to warning is what saves lives."
She says that university extension services and local newspapers, especially, have a role to play in connecting the dots between alarm and action. Those institutions, she says, need to provide the equivalent of "Grandfather telling you stories of floods in the '30s and '40s that make families aware of the potential danger."
[END REPORT]
"The weather whiplash"
That's what they're calling the historic storms that within a couple days ended a years' long drought.
Brad Rippey / USDA via University of Nebraska–Lincoln
Rains That Caused Deadly Texas Floods Also Ended Historic Drought
by JON SCHUPPE
NBC News
May 28 2015, 7:14 PM ET
"It seems that we have good water resources that will hopefully provide enough water for at least a year"
With 23 people dead so far in Texas flooding, and more rain on the way, it is easy to overlook an important development: the deluge has nearly brought the end of a historic four-year drought.
Many reservoirs are now
at or near capacity
. Underground aquifers are slowly being replenished. And lakes are filling up. As of Tuesday, just five percent of Texas, encompassing about 218,000 people in central and northern pockets of the state, was under moderate drought conditions,
according to government data
.
That was before more rain hit those areas this week.
"It seems that we have good water resources that will hopefully provide enough water for at least a year," said Fouad Jaber, a water management researcher at Texas A&M University who researches water management.
Even if forecasts for a wet 2015 turn out to be wrong and the rains suddenly disappear, it would take a sustained dry period of about two years to wipe out the gains made in the past few weeks, Jaber said.
Much of the turnaround has to do with the same rains that have caused so much destruction. May has been the wettest month on record for Texas, culminating with violent storms last weekend that triggered sudden floods that washed away cars and pulled homes from their foundations.
[...]
A year ago, things were much different. At that point, the drought was three years old, and 90 percent of Texas was suffering from dangerously dry conditions.
While Texas is a place of weather extremes, the recent whipsaw is unusual. This week marked the third time in a century that such sudden, heavy rains ended a drought. The other two occurrences were in 1957 and 1919, according to State Climatologist John Neilsen-Gammon.
Things are different this time around because of climate change, experts say. Warmer temperatures not only exacerbate evaporation on land, but also push more water into the atmosphere, which leads to heavier rainfall.
Climate change doesn't cause extreme weather events, but appears to make them worse, said Katharine Hayhoe, an atmospheric scientist at Texas Tech University.
[...]
Another factor in this year's sudden rainfall is El Niño, a weather pattern that isn't fully understood but is connected to increased precipitation.
Ronald Kaiser, chairman of the Texas A&M Water Program, cautioned that the state hasn't escaped the drought yet. He pointed out that while many reservoirs in East Texas are full, those in the west haven't filled up as fast. The same goes for many aquifers that have been slow to replenish.
Jennifer Walker, a water resources coordinator for the Texas Sierra Club, said that once the flood waters recede, many Texans will want to see water-use restrictions rescinded. But she cautioned against a return to normal.
"We have to be efficient with our water supply, regardless if it's raining or not," she said. "I hope people's memories are not short and that people remember that we had four years of drought and maybe (restrictions) should become standard operating procedure in Texas."
Texas storms destroy large number of trees the state can't afford to lose
Tree damage in Oklahoma from a tornado
The storms amounted to a combination hurricane, tsunami, and tornado, the likes of which Texas residents had never seen before except maybe with
Hurricane Ike
in 2008. In fact, much of the damage from flooding looks like a tornado had struck. It will be several weeks before the scope of the damage is tallied. But one consequence of the storm hasn't gotten attention, although it was mentioned in a broadcast aired last night on a local radio station here in Washington, DC (WMAL):
A Texas official said that many priceless trees had been destroyed -- pecan, cypress, and he named one other I don't recall -- many of them "four, five, six hundred years old."
He added that the trees "had withstood thousands of storms" and now they were gone. So by this measure, at least, the storms that struck this weekend in Texas were worse than Hurricane Ike.
I haven't found the source for the official's remarks but a passage in a May 25
AP report
alluded to the widespread damage to trees in Texas:
Hundreds of trees along the Blanco [River] were uprooted or snapped, and they collected in piles of debris that soared 20 feet high.
"We've got trees in the rafters," said Cherri Maley, property manager of a house where the structure's entire rear portion collapsed with the flooding, carrying away furniture.
Because two large Texas cities were in the path of the storms (Houston, America's fourth largest city, and Austin) the national press has concentrated on how the storms have been impacting that state but Oklahoma was also hit hard. On Tuesday the state's governor
issued an emergency declaration
for all 77 of the state's counties; this ahead of applying for federal disaster relief.
I have no idea how the storms, including tornadoes, affected Oklahoma's trees, but these remarks from T
ree Bank Foundation's
project on tree planting suggests the damage will be widespread:
Oklahoma has an average of 53 tornadoes annually. This results in severe damage to local trees which are very hard to replace. In the event of a tornado, the Tree Bank Foundation will raise funds for trees to replace those lost in the storm.
Please join The Tree Bank by assisting our neighbors across storm-ravaged Oklahoma. The funds raised will be used directly in those communities that have suffered damage from the recent storms. The Tree Bank will partner with Keep Oklahoma Beautiful, Oklahoma Forestry Services and the Oklahoma Nursery and Landscape Association to provide trees, planting and maintenance education and volunteers to help plant the trees. The tree planting volunteer day will take place on Saturday, November 8.
I wish very much these worthy people would think to add the year to their announcements. Forgetting to add the year is endemic on the Internet but I'm sure that even if the call was for a previous year, there will be another one for this year. 53 tornadoes annually. You couldn't pay me to live in Oklahoma.
Moving along, this is just one of the ways desertification proceeds on little cat feet. Another way, which I've mentioned before but which bears repeating: first comes the drought, then comes the deluge, then the drought comes back. This means all the lovely green that sprung up during the flooding turns to bone-dry tinder. Then comes the forest fires.
Repeat the cycle, only with each pass topsoil is washed away, trees left standing from the fires are weakened, then entire stands of forest disappear.
That's one way of telling the story of the human race's life.
*******
At this rate they'll need to raise the minimum hourly wage to $100
Titan of Industry: Snapchat Flees to LA
Silicon Valley's Innovation Economy spills into housing market countrywide; gentrification and insane rents follow ....
From
Soaring housing costs forces talent to flee Silicon Valley
by Glenn Kelman, CEO of Redfin, "a next-generation technology-powered real estate broker," for CNBC, May 21, 2015:
Now of course, Silicon Valley isn't going to empty out. Its population remained constant over the last decade and will remain so again in this one. More people will come here, but more will leave, too.
The result will be the Valley-fication of America, a form of gentrification more extreme than most of America has seen before, with high-tech jobs, high incomes and more expensive coffee, yoga studios and -- yes -- houses, too.
From Is rent out of reach? As more Americans become tenants, study shows how 11 big cities stack up; Associated Press via Fox News, May 28, 2015:
NEW YORK – Renters are on the rise in America's biggest cities, but many tenants are scrambling to keep up with growing rent bills and shrinking vacancies, according to a study being released Thursday.
From Boston to Miami, New York to Los Angeles, more than half of tenants are paying what experts consider unaffordable rents, says a report by New York University's Furman Center, which studies real estate and urban policy, and bank Capital One, which is a leading affordable-housing lender and financed the research.
[...]
More passages from Redfin CEO Glenn Kelman's article:
Silicon Valley transplants have become so common that Redfin's Boston agents just this week reported resentment among locals who can't compete.
"My God, they are pouring in," Redfin's Boston broker, Alex Coon, wrote me this morning, "particularly in Cambridge and Somerville."
Read More Silicon Valley real estate reaches bubble levels
The result? According to Matt Zborezny, the Redfin agent for that area, 20 percent above asking price is the new norm.
[...]

Can't afford to stay
Folks are leaving Silicon Valley, mostly because they can't afford to stay. For the first time ever, the median price for a Silicon Valley home just exceeded $1 million.
That's about double what it is in other tech cities, like Boston or Seattle, and triple what it is in aspiring technology hubs, like Portland, Denver or Austin.
[...]
Commercial rents are nearly double
Salaries aren't the only costs that are lower in other places. Silicon Valley Portland, and 50 percent higher than Austin or Seattle. For a 100-person office, the difference is $400,000 a year, lowering operating expenses by about 2 percent; in a typical software company with 15 percent margins, this difference is significant.
[...]
Many high-tech businesses are starting to worry about the rent: When we asked a CBRE broker, Owen Rice, for this data, he wrote back with a funny-that-you-should-ask email, noting that "more and more we are creating multimarket analyses for our clients," including those based in a suddenly more expensive Seattle, as well as the Valley.



Priceless innovation

But what about the original question—whether it's possible to build a technology platform company outside Silicon Valley. A platform company builds technology used by other technology companies, from the iPhone that runs other applications to the Facebook login we use to access other websites, compounding each employee's leverage.
This is why Facebook's market value exceeds $20 million per employee.



These companies don't have to worry about expenses much. As my first mentor in Silicon Valley, Kirill Sheynkman, once explained to me at a French restaurant, the point in an innovation economy isn't to spend less, it's to make more. And for a platform company, the value of being close to the technology companies that build on your platform is priceless.



But as our industry matures, the pressure will be on profits, not just revenues. And few high-tech companies get as much leverage as Facebook from each employee. Even a platform company like

Twitter

is worth about four times less per employee than Facebook.
With less equity to burn, Twitter has had to be the pacesetter in raising San Francisco engineering salaries, which is why its stock is now

under so much earnings pressure

. Only the techiest of tech companies -- and only their tech people -- don't feel the pinch.
[...]
Snapchat CEO Evan Spiegel said that years of near-zero interest rates have created an asset bubble that has led people to make "riskier investments" than they otherwise would.
He added that a correction was inevitable, but wouldn't speculate on timing, other than to say such concerns are "something we factor into our business decisions."
Remarks from the 24-year old Spiegel came in response to a question at Re/code's Code Conference in Rancho Palos Verdes in California.

The founder of the young "ephemeral media" company --which now boasts nearly 100 million daily active users and a valuation of more than $15 billion -- spoke for an hour with Re/code co-executive editors Walt Mossberg and Kara Swisher on topics like the company's growth plans and the lack of diversity in technology.
[...]
Have a nice day. Where's my hoodie?
Wednesday, May 27
Temperatures approach all-time high in India's killer heat wave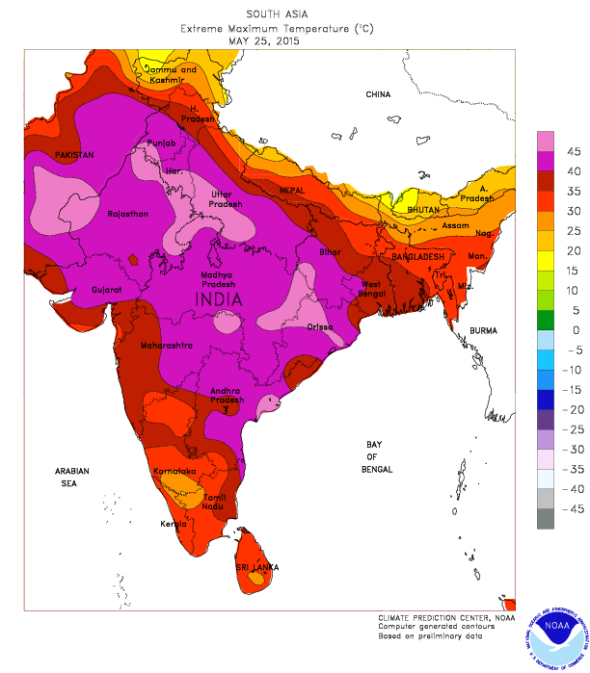 From meteorologist Eric Holthaus's analysis today for Slate
(India's Deadly Heat Wave
). Much of the writing is a stump against global warming, climate change, greenhouse gas emissions, etc., and a discussion of India's electricity as it pertains to electricity. But I found these passages interesting:
Next to parts of the Amazon River basin, coastal India typically experiences the highest heat indexes of anywhere on the planet.
[...]
Conditions like this—horrible heat, and the vast majority of people without access to air conditioning—will continue until the monsoon season arrives in early June. The Indian monsoon is, in my opinion, the most important weather forecast in the world, and the outlook for this year's rains isn't great.
With so many farmers dependent on the rains­—which produce 70 percent of the year's total rainfall in just four months—the monsoon is sometimes called "India's real finance minister."
Though the rains are expected to arrive on time this year, the seasonal total could disappoint for reasons similar to last year's failure: A growing El Niño and an unfavorable distribution of heat in the Indian Ocean could stifle thunderstorms. Should the monsoon's northward progression stall out like last year's, India could have several more weeks of scorching heat to come.
As to Holthaus's diatribe about India's poor dying in the current heat wave, which so far as claimed more 1,100 lives -- has he forgotten that m
ore than
52,000 people died
in Europe's heat wave in 2003?
It was some time after the event before the true number of deaths was properly tallied and published. And an abstract for one study that can be purchased online for 36 bucks suggests the death toll was much higher -- 70,000 -- although I don't know whether the authors were able to demonstrate that the 'additional' deaths were specifically heat-related.
In any case, in that year the continent experienced its highest temperatures in 500 years. Three years later
another killer heat wave struck
much of the European continent; temperatures recorded in June 2006 were the highest on record. The known number of deaths couldn't have been anywhere near even the most conservative 2003 total but I wish you luck if you want to learn from Bing or Google searches or Wikipedia's article on the heat wave what an estimate of the 2006 death total was.
There were very ugly accusations related to the large number of heat-related deaths in 2003, in particular the ones in France -- although whether any or all panned out, I never researched the question because I think it would be virtually impossible to answer.
Anyhow, maybe because of the accusations, some of which if I recall centered around deliberate neglect of the elderly in areas that didn't have much air-conditioning,
Europeans just wanted to move on in the wake of the 2006 heat wave, and not focus overmuch on statistics. Maybe -- maybe -- that explains it.
I'll add that a
heat wave
followed in North America
(July - August 2006), killing at least 225 people in the USA and Canada -- although as Wikipedia's article notes, many heat-related deaths go unreported.
My point to Eric
Holthaus is that all the screaming and yelling about carbon footprints is not going to save lives in India's heat wave this year. It's the same with India's water shortage problems.
There are simple actions that can be taken by Indians to help each other through these crises. If they don't want to take them, if they're waiting for the government to fix it all -- most I can say is that Death doesn't recognize bureaucracy.
The severe heat wave gripping parts of India started gathering force when cyclonic patterns of clouds and winds over the Bay of Bengal drifted away, bringing an abrupt end to pre-monsoon showers.
Although high temperatures are commonplace during the summer season in India between April and June, sporadic rains -- often the result of cyclonic, or low-pressure, systems -- provide temporary relief. But the heat-beating clouds over the Bay of Bengal recently drifted northwest leaving behind an Indian heat wave.
[...]