Saturday, July 21
Did NATO start a ratline to transfer Saudi weapon purchases to terrorists in Syria?
"Adis Ikanovic, managing director of the BNT-TMiH arms factory in Bosnia. Most of his arms exports, he said, went to Saudi Arabia"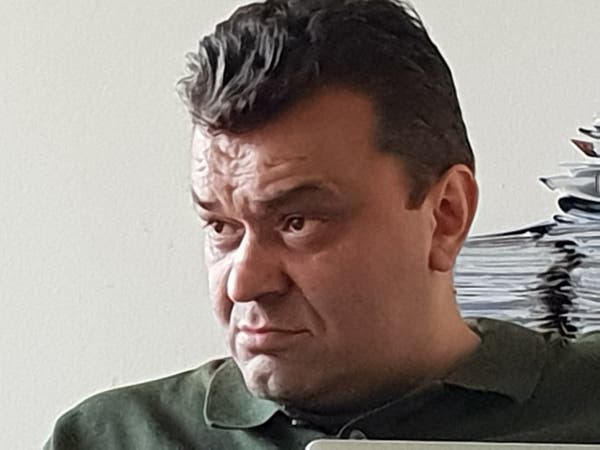 Photo: Nelofer Pazira
I've excerpted the following passages from Robert Fisk's report for the (U.K.) Independent, "A
Bosnian signs off weapons he says are going to Saudi Arabia – but how did his signature turn up in Aleppo?" published July 20, 2018. See the full report for some photographs of the evidence Fisk collected and o
f
Ifet Krnjic; the above photo and caption are also featured in the report.

The lede:
Exclusive

: The documents, some lying amid smashed guns and shrapnel, provided the most intriguing paper trail yet discovered of just who is producing the weapons that have armed the Assad regime's most ferocious Islamist opponents
Excerpts
:
[...]



In the basement of a bombed-out al-Qaeda arms storage building in eastern Aleppo last year, I found a weapons log book from a mortar factory in Bosnia – with the handwritten name of one of their senior officials, Ifet Krnjic, on each page. It was dispatched from the Balkans with a cargo of 500 120mm mortars in January 2016. But now, in the forested heart of central Bosnia, I have found Mr Krnjic, who says his company sent the arms to Saudi Arabia.
Sitting on the lawn of his home south of the weapons-manufacturing town of Novi Travnik, he brings his finger down onto the first page of the log book which I showed him. "This is my signature! Yes, that's me!" Krnjic exclaims loudly. "It's a warranty for the 120mm mortar launcher – this is Nato standard. It [the shipment] went to Saudi Arabia. It was part of a supply of 500 mortars. I remember the Saudi shipment well. They [the Saudis] came to our factory to inspect the weapons at the beginning of 2016."
[...]
Ifet Krnjic's account of the mortar shipment from BNT-TMiH in Bosnia is both precise and detailed.
"When the Saudis came to our factory to inspect at the beginning of 2016, there was a Saudi 'minister'... and some Saudi officers who also came to inspect the weapons before receiving them. The officers wore civilian clothes. The minister was in a robe.
All our production after the [Bosnian] war is under the control of the Americans and Nato who are always coming here… and they know each and every piece of our weapons which go outside our factory."
Krnjic, who lives in the tiny village of Potok Krnjic (Bosnian hamlets sometimes carry the names of extended families) south of Novi Travnik, describes how he recognised Nato officers visiting the plant, one of them "a Canadian officer, a black guy whose name is Stephen".
[Adis] Ikanovic, the BNT-TMiH boss, confirms that all weapons shipments, including those to Saudi Arabia, were checked by the European Union Force Althea (EUFOR), the successor to Nato's SFOR, and set up under the 1995 Dayton accords which ended the Bosnian war.
Ikanovic says an Austrian general visits his factory for inspections, identified to me by other employees as Austrian two star Major General Martin Dorfer, the EUFOR commander.



Krnjic says weapons from the plant are exported by Tuzla airport or through Sarajevo.





The Saudis, Krnjic tells me, "were never complaining because we have had a very good reputation for a long time, not only for our weapons but for who can give the shortest delivery date …

I know I should not say all of this, but Nato and the EU have given us the green light to do this.
[...]
This is astonishing. Not only does Krnjic, the 64-year old newly retired weapons control director of the BNT-TMiH factory at Novi Travnik, acknowledge his signature – but he says he recalls the visits of Saudi officials and military personnel to inspect the mortars before their shipment to Riyadh, and insists all such sales were strictly in accordance with the legal end-user certificates which his company obtained from all customers, stating that the weapons were to be used only by the armed forces of the nations which purchased them.
Five-hundred mortars is a massive shipment of weapons – most European armies don't have that many in their individual inventories – and some of them at least appear to have ended up in the hands of Bashar al-Assad's Islamist Nusrah Front/al-Qaeda enemies in northern Syria within six months of their dispatch from Bosnia 1,200 miles away.
Because the mortars left Bosnia on 15 January 2016 under a BNT-TMiH factory guarantee for 24 months – numbered 779 and with a weapons series number of 3677 – the documents now in

The Independent

's possession must have reached Aleppo by late July of 2016, when Syrian government troops totally surrounded the enclave held by armed factions including Nusrah, Isis and other Islamist groups condemned as "terrorists" by the United States.
[...]
The above excerpts don't cover all the important information in the report.
But I focused on
passages I think raise a question about whether NATO set up a ratline (backchannel 'highway') to transfer large amounts of Saudi-purchased weapons to terrorist groups in Syria.
It seems to me that
Krnjic and
Ikanovic were telling Fisk that
BNT-TMiH
did everything strictly by the book, and if he wanted to know how weapons the company sold to the Saudi regime ended up in a terror group's storage depot, he should contact the Saudis; if that was a brick wall, try NATO and the European Commission. I note there was no mention of the U.S. or 'Washington.'
Fisk reports that staff at the Independent did contact the Saudi regime about his evidence and got stonewalled. As to NATO -- I'd say his published report and the 'companion' one, "
The Syrian war is a 'shame to mankind' says Serbia's top weapons maker – but I found his instruction books in eastern Aleppo," are the best way to contact NATO.
No word back yet it doesn't seem, at least not in public.
********
"Biggest conference of businessmen, investors in Middle East to be held in Syria this month"
Almost 2 million refugees can return to Syria "very soon"
Oumou Sangaré, "Giving Voice to Those Who Often Go Unheard"
Friday, July 20
500 Idlib Regions Join Gov't Peace Plan, Thousands of Idlib Tribal Forces to Coordinate with Syrian Army
Because Saudia doesn't want Lebanon to regain crucial revenue
SYRIA REGAINS CONTROL OF FRONTIER WITH ISRAEL
They also hate Hindus, Buddhists, Sufis, if it's any comfort to Christians
Thursday, July 19
Hatred of Christianity a factor in Western elite's hatred of Putin and today's Russia
Wednesday, July 18
Putting paid to the "Gerasimov Doctrine" Ya mean the Ruskis ain't plotting to undermine us?
If there was a secret deal in Helsinki it was to help Netanyahu save face
US to rest of world: Nobody buys Russian energy, nobody gets hurt
John Bolton: U.S. will leave Syria when pigs fly AND all the cows come home
Yes, why would it be Russia if it was China?
Tuesday, July 17
Trump-Putin Summit: A disaster for those who hate the human race