Saturday: Saudi King Salman's personal bodyguard, shot to death in Jeddah, the summer capital of Saudi Arabia
Sunday: 12-hour fire destroys year-old $7.3 billion high-speed rail station in Jeddah, built to whisk pilgrims to Mecca and Medina
Sunday: Houthis release video of some of the 2,000 government fighters they claim to have captured in Saudi Arabia during a battle in August. No comment yet from the Saudi government.
"US House Democrats have officially begun impeachment proceedings against President Donald Trump on a basis that he unconstitutionally used military and financial pressure on Ukraine to gain advantage over Democratic presidential hopeful Joe Biden. ..."
It is a grotesque irony that Major General Abdulaziz al-Fagham, by all accounts a man of great integrity and unswerving devotion to protecting the Saudi crown, died the way he did -- so much so that many do not believe the official police account that he was shot by a friend in the heat of a personal argument. He must have been assassinated by the Saudi Crown Prince because he knew too many damning secrets or he died protecting the king from an assassin's bullet, so go the interesting rumors.
It is also interesting that the centerpiece of Crown Prince Mohammad bin Salman's railway modernization program has gone up in flames. Here too, many will not believe the official account, whenever it's released, as to the cause of the fire. Must be sabotage, done to make MbS look bad, or it was the Houthis, or Iran, or other enemies of the Saudi state.
As to the Houthi claim that they killed, wounded or captured hundreds of Saudi troops, among them high-ranking officers, and 2,000 mercenaries in the pay of the Saudi government -- well, if the claim is anywhere near true, it wouldn't get more interesting than that, if one follows the Yemen War. Seats of power are now waiting for more evidence than a video to back the claim. But just the claim has been the shot heard 'round the Middle East.
As to the blitz-like rush among Democrats to launch an impeachment inquiry -- here the interesting irony is that President Trump, who survived the machinations of Russiagate, should be blindsided simply because he underestimated the determination of Russia's most powerful enemies to get rid of him. Those enemies live with the very real fear that Trump, returned to office, will undo everything they've worked to achieve against Russia. They had failed to unseat him with Russiagate, but his few thoughtless words to Ukraine's leader gave them a second chance.
So it's come down to Trump's tendency to be oblivious to situations he doesn't consider worthy of note. The tendency was wordlessly pointed out in 2017 by King Salman's bodyguard, none other than
Major General Abdulaziz al-Fagham: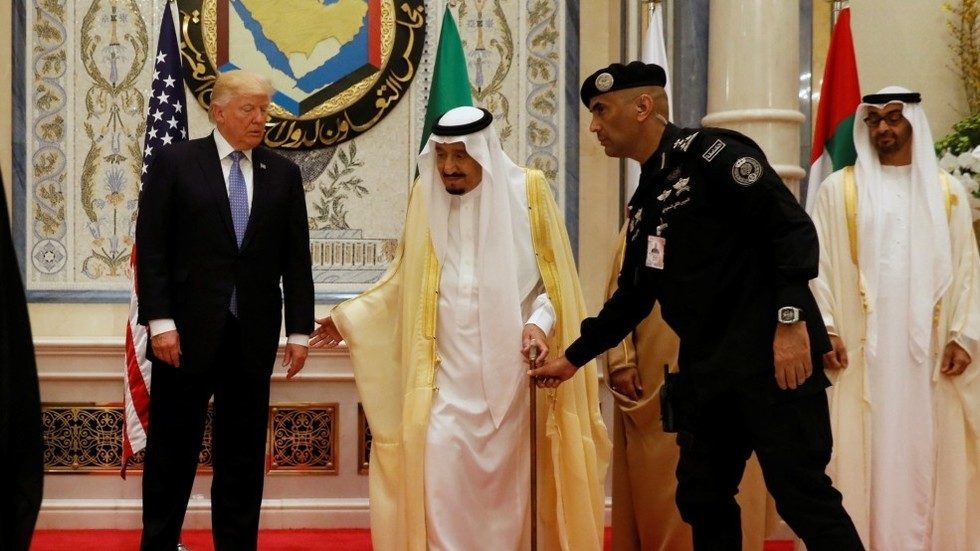 King Salman, who has difficulty walking and standing unaided, was discreetly gesturing for Trump's arm to steady him, but America's President was busy with his own thoughts. He didn't even see the expression on the major general's face. Well, the photo of that highly symbolic tableau has returned to wide circulation because of al-Fagam's untimely death. May he rest in peace.
And may all of us find our way to living in times that are not quite so interesting.
**********