"If that 129.2 degrees reading [in Ahvaz] is accurate, it would arguably tie the hottest temperature ever measured on Earth in modern times."
"In the Persian Gulf city of Jask, Iran, about 800 miles southeast of Ahvaz, the humidity was even more suffocating. The dew point on Wednesday morning hit 91.4 degrees. Dew points above 90 are quite rare."
On Thursday, June 29, the temperature reached 129.2 degrees (53.8C) in the southwestern city of Ahvaz, Iran. The temperature was the hottest in Asia since global temperature recording began in the 1880s. It beat out the 128F temperature in Turbat, Pakistan recorded weeks earlier on May 28, which was among the regions that had set a new
world record
. Doyle Rice at USA Today reported in part yesterday:
[In Ahvaz] The heat index, which also takes humidity into account, hit an incredible 142 degrees.

Fortunately, the weather forecast for Ahvaz on Friday is for "cooler" weather, with a high of only 119 degrees, according to AccuWeather.
The
following temperature map, put together by
Etienne Kapikian, a meteorologist with the French national weather service, was published at Kapikian's Twitter page before temperatures in Iran reached their zenith yesterday according to Weather Underground readings. However, I'm posting the map to show the massive temperature spike in a particular region of Iran/Iraq.
Why was that one region so much hotter than nearby ones? I don't know.
The Washington Post report, below, only mentions that a heat dome had settled over the Middle East.
Maybe significant differences in topography would explain it?
There were two other record-breaking weather events recorded in the Middle East in June -- lowest humidity and hottest overnight low temperature. See the Weather Underground report after the WaPo one.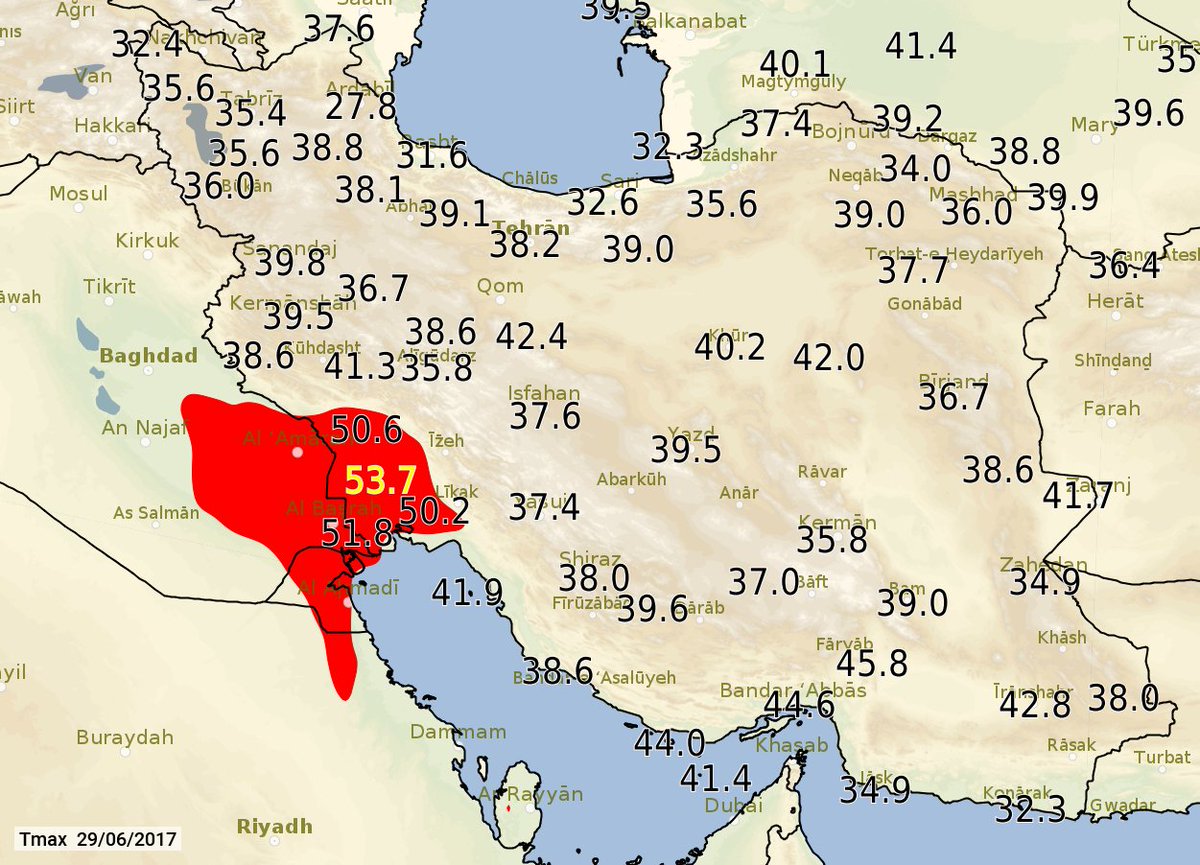 Iranian city soars to record 129 degrees: Near hottest on Earth in modern measurements
By Jason Samenow
June 29 at 3:07 PM
The Washington Post

[See website for graphic showing weather model analysis of Middle East yesterday]
A city in southwest Iran posted the country's hottest temperature ever recorded Thursday afternoon, and may have tied the world record for the most extreme high temperature.
Etienne Kapikian, a forecaster at French meteorological agency MeteoFrance,
posted to Twitter
that the city of Ahvaz soared to "53.7°C" (128.7 degrees Fahrenheit). Kapikian said the temperature is a "new absolute national record of reliable Iranian heat" and that it was the hottest temperature ever recorded in June over mainland Asia. Iran's previous hottest temperature was 127.4.
If that 129.2 degrees reading is accurate, it would arguably tie the hottest temperature ever measured on Earth in modern times.
[see WaPo website for WU printout of readings]
Officially, Death Valley set the record for the hottest temperature ever recorded on Earth on July 10, 1913, soaring to 134 degrees (57 Celsius). But Burt
posted a devastating critique
of that measurement in October 2016, concluding it was "essentially not possible from a meteorological perspective," and that the weather observer committed errors.
For the 129.2 degree-reading Ahvaz posted on Weather Underground to stand and match the highest modern global temperature, it will require review by the World Meteorological Organization.
The scorching temperature reading was brought about by a dome of heat centered over the Middle East.
The excessively hot air over Ahvaz, a city of 1.1 million people, felt even more stifling due to high humidity. As the temperature climbed into the high 120s, the dew point, a measure of humidity, peaked in the low 70s; a high level for the desert location (due to air flow from the Persian Gulf, to the south). The heat index — a measure of how hot it feels factoring in the humidity — exceeded 140 degrees. This combination of heat and humidity was so extreme that it was
beyond levels the heat index was designed to compute
.
These Iranian temperature extremes come just a month after several locations in the Middle East recorded their hottest May temperatures during another exceptional heat wave.
All of these record-breaking temperatures in recent years, including Thursday's reading in Ahvaz as well as those set in Kuwait and Death Valley in 2016 and 2013, represent temperature extremes consistent with what climate scientists expect to see in a warming world.
June 22, 2017, 1:29 AM
Weather Underground

[...]
Above: A screen shot of the observations on June 20, 2017, from Safi-Abad Dezful, Iran, where the temperature hit 46.5°C with a -33.2°C dewpoint at 12 UTC, giving this city of 420,000 in western Iran a ridiculously low relative humidity of 0.36%. Image credit: OGIMET.

On Tuesday afternoon at 12 UTC on June 20, 2017, the temperature at Safi-Abad Dezful, Iran hit 115.7°F (46.5°C) with a -27.8°F (-33.2°C) dewpoint, giving this city of 420,000 in western Iran a ridiculously low relative humidity of 0.36%. At that level of atmospheric moisture, the temperature would have had to plunge 143°F (80°C) in order for the moisture to condense out and form ground-level clouds. If one were to cry in joy (or more likely) in despair at the heat, I doubt those tears would reach your lips!

I asked weather records expert Maximiliano Herrera about the reading, and he stated that he confirmed the validity of the reading with Iranian meteorologist Sabit Siddiqi. This was the lowest humidity in world recorded history that Herrera was aware of; the previous lowest humidity he knew of was in Las Vegas, Nevada: a 0.6% reading on June 27, 2011.
He gave credit to Georgian climatologist Evgeny Gavrilov for calling his attention to the new Iranian low humidity event.

However, Steven D. Hilberg, Senior Climatologist for the U.S. Midwestern Climate Center, wrote me this morning to tell me that on May 4, 2014, Needles, California hit 102°F (38.9°C) with a -36°F (-38°C) dewpoint, which works out to a relative humidity of 0.33%. Given that we can't really measure humidity to a precision of hundreths of a percent, the two readings are pretty much tied for the lowest humidity record. If anyone finds a similar or lower value, please let me know!

Needles, California made another respectable run at the world record for lowest humidity at 12:56 pm PDT, on Wednesday, June 21, 2017, when the temperature hit 119°F (48°C) with a -11°F (-24°C ) dewpoint, for a relative humidity of 0.8%. The preliminary high temperature in Needles on Wednesday topped out at a relatively cool 122°F. The previous day, June 20, 2017, Needles tied their all-time hottest temperature on record: 125°F. We'll have more on the record-smashing Southwest U.S. heat wave in a post later this week.
World record hottest overnight low temperature: 111°F in Oman on June 17

As we reported on Monday, it's been a remarkable few weeks for heat in the Middle East and Southwest Asia, with three nations—Pakistan, Oman and the United Arab Emirates—setting their all-time hottest temperature records between May 28 and June 16, 2017.
To add to the list of extraordinary recent heat events there, we now have a world record for hottest overnight low temperature: a minimum temperature of 111.6°F (44.2°C) recorded on the morning of June 17, 2017 at Khasab, Oman, located on the Persian Gulf.
According to Herrera, the incredible overnight heat was made possible by a strong foehn wind that was blowing downslope from a mountain that Khasab sits at the base of. Descending winds heat up the air by compression as it is forced downward, and many all-time record warm temperatures are set during foehn events.
[...]
Dr. Jeff Masters co-founded Weather Underground in 1995, and flew with the NOAA Hurricane Hunters from 1986-1990.
********