Update Nov 6 - 8:15pm EDT
Here's the latest headlines at Drudge Report on the massacre. The shocker is that the Air Force didn't notify the FBI about the perp's record -- supposedly the omission was because of a filing error.
END UPDATE
Update 11:35pm EDT
Gunman in Sutherland Springs church shooting ID'd as Devin Patrick Kelley, authorities say
26 killed, 20 wounded in mass shooting - KSAT-12 ABC report

Texas Gov. Greg Abbott called the attack the deadliest mass shooting in his state's history. Officials said 23 people were found dead inside the church, two outside, one died after being taken to a hospital.

The shooting suspect has been identified as 26-year-old Devin Patrick Kelley, federal law enforcement sources told CBS News.

On Sunday night, authorities only identified the suspect as a young white male. They said he was seen dressed in all black and tactical gear -- including a "ballistic vest" -- at a local gas station at 11:20 a.m. He then exited his vehicle, crossed the street and began firing an AR-15 style weapon at the church, officials said. The suspect entered the church and continued to fire.

As he exited the church, a local resident grabbed his gun and pursued the suspect, who dropped his weapon and fled the scene.

The suspect was later found dead inside his vehicle. Officials are unsure if he was shot by a resident or suffered a self inflicted gunshot wound, said Freeman Martin, regional director of the Texas Department of Public Safety.

Kevin Jordan, a resident who lives near the church, told CBS affiliate KENS-TV he witnessed the deadly shooting and saw a resident pursue the gunman. "If it wasn't for him, the guy wouldn't have stopped," he said.

Jordan described the resident who confronted the suspect as someone who would do anything for anyone. He said he watched the resident shoot at the suspect while taking cover behind a vehicle.

Video from KENS-TV showed first responders at the scene, located about 30 miles southeast of San Antonio.

Video from KENS-TV showed first responders at the scene, located about 30 miles southeast of San Antonio.

Air Force spokesperson Ann Stefanek said in a statement that Kelley is a former U.S. Air Force member who served from 2010 to 2014. Records confirm Kelley previously served in logistics readiness in New Mexico until his discharge in 2014, Stefanek said.

Kelley was court-martialed in 2012 for two counts of assault on his spouse and assault on their child, Stefanek said. He received a bad conduct discharge and confinement for 12 months.

Officials have not released the names of the 26 people killed, but said they ranged from 5 to 72 years old.

[...]
END UPDATE
Update 5:25pm EDT
The church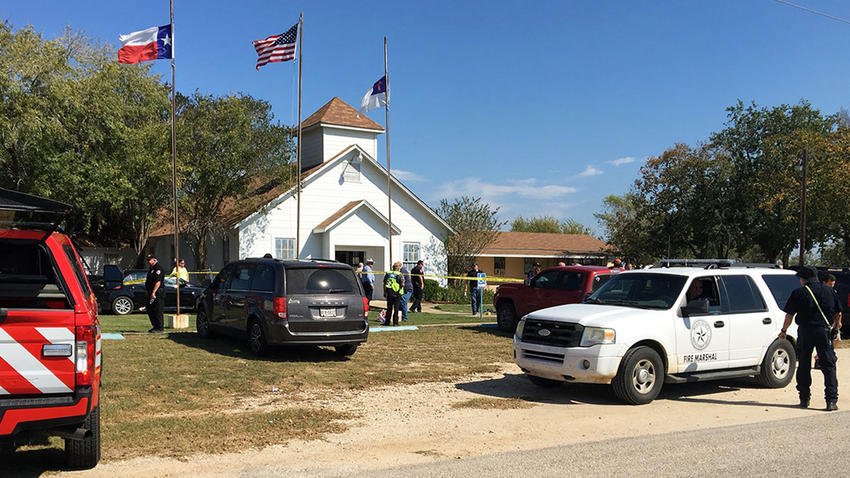 Headline links from Drudge Report
From the Daily Mail report: shooter wore full combat gear.
END UPDATE
Updated 3:03 PM
ABC News KSAT-12 local news station
SUTHERLAND SPRINGS, Texas - At least 27 people have been killed and 30 people have been injured in a mass shooting at a church in Sutherland Springs, Texas.

A witness reported seeing a man walk into First Baptist Church and began shooting around 11:30 a.m. Sunday.

The shooter was killed by police, officials at the scene said.

Some survivors were taken to Brooke Army Medical Center via medical helicopter. Their conditions are not known.

The FBI and the Texas Rangers, as well as agents with the Bureau of Alcohol, Tobacco and Firearms and Explosives, have secured the area around the church and are investigating.

The church is located in the 500 block of 4th Street in the small, south Texas town about 40 miles east of San Antonio.