Soldiers in downtown Harare:
Just think of us as traffic cops. The tank?
The car was in the repair shop
What seems to be the non-coup coup in a nutshell:
93 year old President Mugabe and wife Grace, aka Gucci Grace for her spending habits:
"She's become increasingly more desperate, she knew that once he died she would be kicked out. She had to be installed into some institutional place so that she could seize power."
The man President Mugabe sacked, presumably to make way for Mrs Mugabe.
This annoyed the military.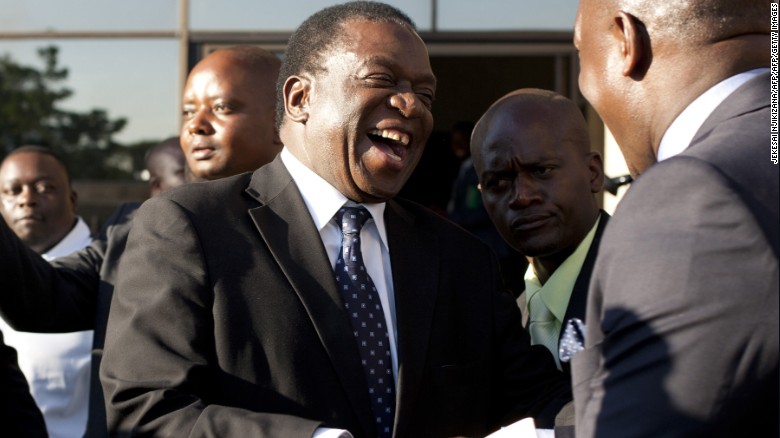 CNN, 3:51 ET, 11/15:
Zimbabwe: Uncertainty over Mugabe's whereabouts as military denies coup

Political turmoil escalated in Zimbabwe overnight, raising the question of whether 93-year-old President Robert Mugabe remains in control of the country he's ruled for almost four decades -- or if he's been overthrown in a military coup.
As soldiers patrolled the streets, a military spokesman, in a live speech at 4 a.m. local time on state broadcaster ZBC, denied the country was in the grip of a coup, and announced Mugabe and his family were "safe."
"To both our people and the world beyond our borders, we wish to make it abundantly clear that this is not a military takeover of government," Maj. Gen. S.B. Moyo said. [see video at CNN of his televised statement]
"What the Zimbabwe Defense Forces is doing is to pacify a degenerating political, social and economic situation in our country, which if not addressed may result in a violent conflict," he said. He urged the public to remain calm but "limit unnecessary movement."
In the hours before the announcement, eyewitnesses reported seeing around 100 troops on the streets of downtown Harare. The sudden appearance of soldiers in the capital comes amid rising political tensions in the wake of Mugabe's shock sacking of his deputy, powerful
Vice President Emmerson Mnangagwa
.
The military has been careful not to call their efforts a coup, but that appears to be what is actually unfolding, observers say.
"This a coup by any other name," Alex Magaisa, a former political aide to ex-Zimbabwean Prime Minister Morgan Tsvangirai, told CNN. "They might be trying to give a fig leaf to the notion that President Mugabe is still the leader. But de facto they are obviously the military force."
A Harare resident, who wished not to be named for security reasons, described the city as "very quiet" Wednesday, though shops were open and buses and taxis appeared to be running normally.
"Many people have just stayed home," she said. Police road blocks were in their usual spots and police were "acting normally."
The resident added that there was a sense of "excitement in the air" and that social media was humming over what might be happening.
Power struggle
Mnangagwa had previously been considered most likely to succeed Mugabe if the president stepped down or died in office. His sudden dismissal cleared the way for 93-year-old Mugabe to appoint his wife, Grace, to the position, prompting widespread discontent among formerly loyalist supporters.
Grace Mugabe has drawn the ire of Zimbabweans for appearing to be out of touch. She's been nicknamed "Gucci Grace"
for her exorbitant shopping sprees abroad,
trips which stand in stark contrast to the lives of those hit hard by the country's massive inflation and debt burdens.
Former deputy Mnangagwa enjoys strong support among the country's military and security establishment. A celebrated freedom fighter in the country's liberation wars, the 75-year-old has since gone into hiding and his whereabouts are unknown.
In the broadcast, Moyo spoke of targeting "criminals" around the president who are "committing crimes that are causing social and economic suffering in the country in order to bring them to justice."
He also said the situation in the country "has moved to another level" and that he wished to assure the nation Mugabe and his family are safe and their security is "guaranteed."
"As soon as we accomplish our mission we expect situation to return to normalcy," Moyo said.
Chris Mutsvanga, a Mnangagwa ally who heads the influential Zimbabwe War Veterans' Association, and called the move a "bloodless coup" in a statement praising the military.
"We salute the patrIotic and gallant forces of the Zimbabwe for once again coming to the decisive rescue of the nation," the statement said. "The populace has long suffered under a self saving dictatorship that had become an oligarch with dynastic delusions."
Mutsvanga's group has been historically loyal to Mugabe but it is fiercely critical of Grace Mugabe, who is younger and does not have any connection to the efforts to liberate Zimbabwe.
'An appropriate response'
The early morning broadcast interruption came less than 48 hours after the nation's army commander, Constantino Chiwenga, held a press conference in which he threatened to intervene should his political allies continue to be sidelined.
State media did not cover the press conference at first, but was re-airing it on ZBC in the early hours of Wednesday, a sign that the military may have taken control of the station.
In response to the conference, Mugabe's political party, Zanu-PF, accused Chiwenga of "treasonable conduct."
Against a background of increasing uncertainty, the United States, Canada and United Kingdom both issued warnings to their citizens inside Zimbabwe.
A US embassy spokesman in Zimbabwe said the embassy would be minimally staffed and closed to the public on Wednesday.
The US State Department is encouraging Americans in the country to "shelter in place until further notice" due to reports of violence and ongoing political unrest, while the UK Foreign Office said it is "monitoring the situation closely" and advised people to avoid demonstrations and rallies.
The Dutch embassy told its citizens in Zimbabwe to stay indoors.
Moyo told members of the Zimbabwe Defense Forces that all leave was canceled and soldiers were expected to return to their barracks immediately and urged the country's other security services to cooperate for "the good of our country."
"Let it be clear that we intend to address the human security threats in our country. Therefore, any provocation will be met with an appropriate response," he said.
Magaisa, the former political aide, said the treatment of those being detained will be telling of what comes next.
"One hopes that Zimbabwe itself does not descend into martial law," he said.
Consolidation of power
Mugabe, the longest serving leader in Africa, came to power in the 1980s after Zimbabwe's liberation. He was initially revered as a Nelson Mandela-like independence advocate.
As that political momentum began to fade, Mugabe moved to quickly consolidate power using a combination of brutality and bribery, according to CNN's Robyn Curnow, who has reported from the region for years.
The tactic has been effective. Mugabe, who has held the presidency for more than two decades, remains the only leader many in the country have ever known.
"There has never been a coup. There has never been an attempted coup. Any threat to his power base has been by democratic opposition," Curnow said.
Many analysts believe that the move by the President to sack his vice president, which gives Grace Mugabe a clearer path to the presidency, was a risky one.
Grace Mugabe is much younger than her husband and does not enjoy popular support, nor does she have the backing of the liberation-era party stalwarts.
"She's become increasingly more desperate, she knew that once he died, she would be kicked out. She had to be installed into some institutional place so that she could seize power," Curnow said.
While Robert Mugabe and Grace Mugabe haven't responded directly to Chiwenga's remarks, the Zanu-PF Youth League, a key ally of Grace Mugabe, slammed what they said was overreach by the military into political issues.
"Defending the revolution and our leader and President is an ideal we live for, and, if need be, is a principle we are prepared to die for," Kudzai Chipanga, Zanu-PF's secretary of youth affairs, told reporters early Tuesday.