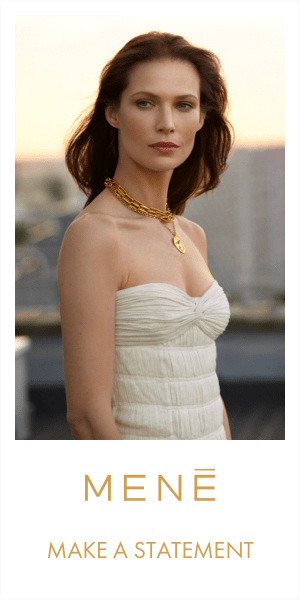 Sputnik and other publications have been showing the ad over and over for weeks now -- almost constantly. I have a vague recollection I first saw the ad in The New York Times, although don't hold me to that.
An intelligent face but so serene she hardly seems to belong in today's world.
An extraordinary photographic tribute to timeless beauty. But there's a story behind the gold jewelry she's wearing.
From Wikipedia's article about the unit of measurement called mene, which gives
Menē Jewelry its own subheader that winds up reading like an advertisement:
In early 2016, noted gold investor Roy Sebag began to study and write about the global jewelry market which contributes the majority of the world's annual gold demand (2,000 tonnes) far exceeding demand for gold investment coins. Following extensive travels to India, Asia, and Southeast Asia, Sebag recognized an opportunity in bringing the ancient tradition for jewelry being a store of enduring value and accessible savings to the West.

In October 2016, Sebag founded Mene Inc. a luxury online jewelry venture along with Diana Widmaier Picasso, the granddaughter of Pablo Picasso. Menē (meh-nay) derives its name from the ancient Mesopotamian unit of measurement, the Mene (unit) reflected 567 grams of pure gold and was one of the earliest written words for money.
Menē designs, manufactures, and markets timeless 24 karat gold jewelry under the brand name Menē. The company retails its jewelry direct-to-consumer through a transparent and empowering online shopping experience. Through Mene.com, customers can buy, sell, and exchange their jewelry by weight at the prevailing daily price for gold as quoted on the international bullion markets. ...
Interestingly, the article also mentions:
The ancient Greek goddess Selene was also known by the ancient Greek term for moon "Mene". She was the goddess of the moon denoting the calendar or passage of time.
Come to think of it, the woman in the ad does rather evoke a goddess.