Monday, August 14
Drainage system in New Orleans was "never fully operational"
"Landrieu said he now believes that practically every facet of the Sewerage & Water Board's complex pumping system was in some way deficient or compromised"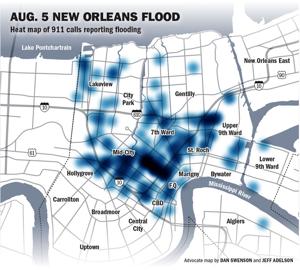 Map from The New Orleans Advocate report below
This latest shocking news is beyond the pale. Given that about half of New Orleans is below sea level, the situation is so serious that the flooding there on August 5 is actually a blessing. It brought out the truth about the drainage system, which had been hidden for so long. Better to learn the truth now than when a Category 3 or higher category hurricane would directly strike New Orleans.
And no, Katrina was not a direct hit. The hurricane veered as it was coming ashore and its center was southeast of the city limits. The flooding in New Orleans associated with Katrina was from failures of structures meant to protect the city from a 'storm surge' -- tsunami-like flooding -- in the wake of a hurricane:
In the City of New Orleans, the storm surge caused approximately 23 breaches in drainage canal and navigational canal levees and floodwalls. The failures of structures are considered by experts to be the worst engineering disaster in the history of the United States. [Wikipedia]
Landrieu: New Orleans drainage system never fully operational; city 'vulnerable' for next two weeks
As New Orleans residents continue to fret about the risk of facing the height of hurricane season with a severely compromised drainage system, Mayor Mitch Landrieu acknowledged Sunday that the system has "never been fully operational."
Moreover, it could take as long as two weeks to "stabilize" the crippled system with emergency generators and other fixes, Landrieu said at a morning news conference, making large swaths of the city even "more vulnerable" than usual to a heavy rain or tropical storm.
Landrieu said his assessment was based in part on a review of logs released Friday that seemed to reveal previously unacknowledged gaps in the operation of New Orleans' complex pumping system on Aug. 5, when water filled the streets in several east bank neighborhoods, damaging cars, residences and businesses.
Among other things, the logs revealed that some pumps in inundated areas were not turned on for hours after the flooding began — a problem that was not among those admitted by Sewerage & Water Board officials at a City Council meeting Tuesday. At that meeting, officials conceded for the first time that the drainage system operated well below its capacity during the Aug. 5 flood because of out-of-service pumps and power shortages.
Landrieu said the logs also showed that one of the problems plaguing Lakeview that day was that an employee was at another pumping station when the water began to rise and because of the flooding could not get to the inundated neighborhood in time to flip the switch.
"I cannot make good decisions unless I have information that I can trust," a visibly agitated Landrieu said Sunday. "It's been a very frustrating and angering situation for us, and of course I know for all of the people of New Orleans."
At a news conference a day earlier, Landrieu had declined to discuss the logs from the pumping stations, saying he would wait for the results of an "after-action report" before making judgments. It was not clear what prompted his change of heart.
On Sunday, Landrieu said he now believes that practically every facet of the Sewerage & Water Board's complex pumping system was in some way deficient or compromised, based on a preliminary review of how power is generated, how well the pumps are working and how much manpower is needed to keep the system operating at full capacity.
The mayor also reiterated that the city has brought in additional workers and equipment "to fix what's broken." The temporary hires include contractors, investigators and technical experts.
A total of 103 of the city's 120 pumps are now operational, the mayor said. He has tapped five contractors to assess the remaining 17 for emergency repairs.
According to the S&WB, 11 of the 17 damaged pumps would be used to deal with storm water.
But Landrieu acknowledged there could be other issues that would diminish the capacity of some of the 103 pumps that are considered to be in working order. To that end, third-party inspectors will be scrutinizing the "true capacity" of those pumps, he said.
There is much more in the report, and all worth study. Also see The Advocate site for a video
of Landrieu's press conference.