Sunday, November 1
Triumph in Vienna
Vienna meeting participants: Russia, the US, Saudi Arabia, Turkey, Iraq, Italy, Egypt, Great Britain, Germany, Lebanon, Qatar, Iran, France, China, the UAE, Jordan, Oman, the EU and the UN.
Seven hours in the shark tank, although some reports say it lasted eight hours. Then there was the joint press conference afterward and probably a dinner. I'll bet they practically had to practically carry Lavrov and Kerry back to their hotel rooms when that very long day was finally ended. Herding sharks is exhausting work.
Did the October 30 meeting really make headway on resolving the crisis in Syria? Yes.
T
here is a beautiful photograph of Kerry holding aloft the joint statement at the end of the meeting that says it all. However,
the press reports didn't explain the import of what happened.
What happened is that through sheer dint of effort, Sergey Lavrov and John Kerry got all the foreign governments instigating in Syria
to sign a statement committing themselves to defeating Islamic State and all other terrorist groups in Syria.
If you ask, Isn't the USA one of the instigators? -- why yes, but that's part of the triumph. If you want an idea of what Kerry was up against:
just moments before he went into the meeting someone at State or the White House informed him that the White House was about to announce to the world that the U.S. was sending Special Forces into Syria.
In other words, he went into the meeting with certain knowledge that his efforts were being sabotaged by his own employer -- not the first time this has happened. The other time had to do with his efforts with Lavrov to defuse the crisis in Ukraine; Victoria Nuland at State went over Kerry's head and poured more fuel on the flames in Kiev, despite the fact that he is the Secretary of State.
But by gum, a joint declaration was got together at the Syria summit, and Kerry signed it on behalf of the government of the United States of America.
The next day -- yesterday -- Kerry announced that the deployment of U.S. forces to Syria was not against the Syrian government. From Sputnik:
Secretary of State John Kerry said that President Obama is sending US special forces to Syria to help take down Islamic State (ISIL) militants, not to overthrow the government of Syrian President Bashar Assad, RIA Novosti reported.
Meanwhile, over in Bahrain, Deputy Secretary of State Antony Blinken was announcing a pledge of $100 million to "civil" groups in Syria: From the Associated Press:
Funds will support local and provincial councils, civil society activists, emergency services and other needs.
Pardon AP's cynicism but their headline flatly states the money is going to groups opposing the present administration in Syria.
So is the triumph in Vienna hollow? Once all the ink was dry on the joint statement, the instigators had as much pledged in writing to stop using terrorist groups in their proxy wars in Syria. That won't stop all the instigators, not at this moment. But from here onward they must execute fancy and fancier steps to avoid getting caught red-handed. That is indeed a triumph.
Remember what's been going on in Syria is a hallmark of standard late-twentieth century warfare that carried over into this one: the supplanting of outright invasion of a country for invasion by proxy war and instigation.
The joint statement to emerge from the Vienna summit was the opening move in a struggle to bring this kind of warfare to an end -- a struggle clearly articulated by Russian President Vladimir Putin during his address at the United Nations.
Helping Putin make his point, and helping Kerry and Lavrov at the summit, is the hard lesson taught by Islamic State. All instigators now understand that in this era nonstate actors can quickly become as powerful as governments. And that they can do it more easily when they ride on the back of proxy wars.
There were other, smaller, triumphs at the summit, which of course wasn't called a summit so as not to give Russia too much weight. T
he flags of all the countries represented at the summit were flanked by an American flag on each end of the flag lineup, meaning it was an American-led summit or er, "multilateral meeting."
(If someone at the Kremlin complained about this to Lavrov, I'm sure he would have said that if the Americans wanted 10 U.S. flags flanking the other flags to give them 10, and that the idea was to
move forward
.)
And there was hard work during the summit to establish a framework for moving forward. To show how busy everyone was, only cheese danishes were available along with the coffee. This, in the pastry capital of the world. But it's hard to eat a chocolate strawberry whipped cream confection without using a fork and full concentration, else risk filling and flaky dough landing on your chin and tie. You can eat a cheese danish with one hand and keep scribbling with the other.
T
here could be more frameworking next week, if a report is correct that
Syrian government officials and leaders of Syrian opposition groups are scheduled to attend a meeting in Vienna on Monday.
See also McClatchy's insightful
October 30 report
asking why no Syrians were invited to the summit.
Russia's government has been reaching out like mad to opposition groups during the past month, and with approval from Syria's government (although the unicorn still hasn't been found; i.e., commanders of the Free Syrian Army), and talking every day with Kurdish reps and whatever shows up calling itself a Syrian opposition group.
There is even an odd story of a Nusra Front rep(s) showing up, offering to help Syria's Army fight Islamic State. This brought a snort that Qaeda, Inc., seeing which way the wind was blowing in Syria, is trying to jockey for a seat at the table.
(All that news from various Sputnik reports during the past week.)
The next big meeting in Vienna about the Syria crisis is to occur in about two weeks but side meetings, which started October 23, will be ongoing until then.
Granted, some points in the joint statement smack of yet more attempts to inch toward totalitarian world government. But given that Russia is standing there saying no, no, no, I don't think we need lose sleep over whether the International Community will be running the show in the country. And it was crucial to get all the players, including the U.N., to agree on a framework.
Vienna talks: 19 global powers to work to establish nationwide Syria ceasefire
Published time: 30 Oct, 2015 17:30; Edited time: 30 Oct, 2015 18:35
Russian Ministry of Foreign Affairs
Joint statement adopted on the results of multilateral meeting on Syria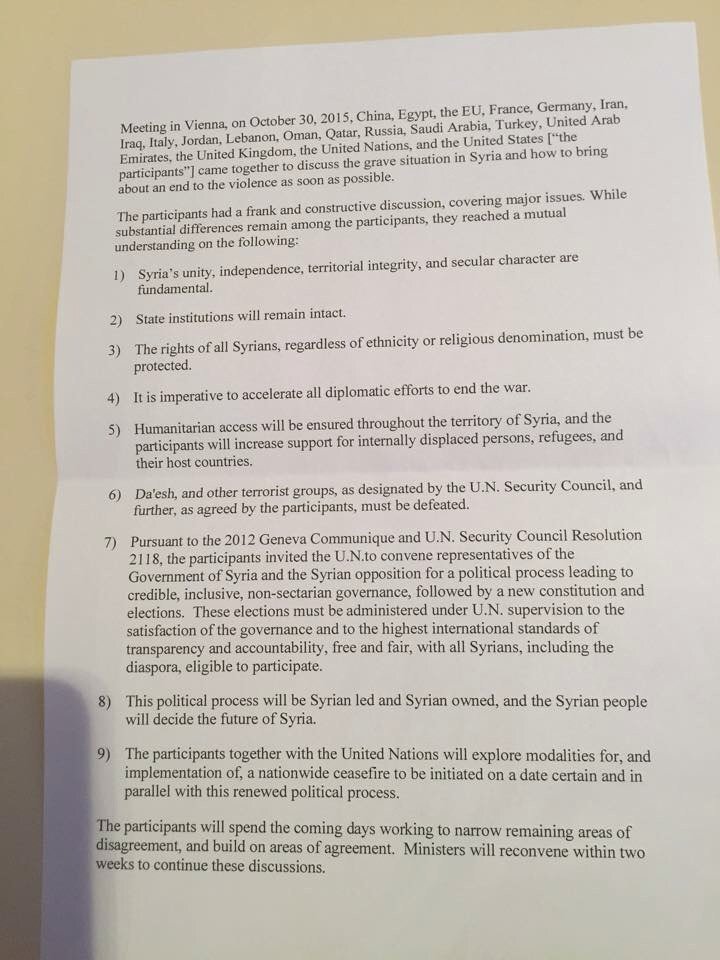 The 19 global and regional powers who have gathered in Vienna have agreed to work towards setting up a nationwide ceasefire in Syria, according to the joint statement.

Still, terrorists must not be given a chance to seize power in the country, Russian FM Sergey Lavrov said during a press conference, adding that this understanding is shared by all 19 parties attending the talks.

The truce is not going to be applicable to Islamic State extremists and other terrorists, Lavrov said. A comprehensive list of terror groups operating in Syria will be defined during a separate meeting.

Participants of the Vienna talks agreed on the necessity to work on a new constitution in Syria and to hold elections that should be administered by the UN, Lavrov said. State institutions are to remain intact.

Meanwhile, the truce is to be followed by the formation of a transitional government. Earlier reports said that the ceasefire should be achieved within four to six months, but the Russian FM did not confirm the timetable.

The UN is calling for all the countries that have influence on the Syrian government and opposition to try and put them at a negotiating table, the United Nations' special envoy for Syria, Staffan de Mistura said.

Humanitarian organizations should be given access to all territories in Syria, participants of the talks pointed out. [Wishful thinking at this point because it would mean no-fly zones everywhere. And Blue Helmuts to guard the NGOs because the Syrian Army is a little busy these days.]

Should Assad go?

The fate of Bashar Assad remained a stumbling block throughout the seven hour meeting.

The US and its allies including Saudi Arabia believe that the Syrian president, whose term expires in 2021, must resign. There is "no way Assad can unite and govern Syria," US Secretary of State John Kerry said.

The two countries do not demand the immediate resignation as a precondition for peace process anymore, saying Assad can stay in power for months during the period of transition, but insist he must step down when it draws to a close.

At the same time, Russia's Lavrov again stressed that it is up to the Syrian people to make such decisions.

"The Syrian people should define the future of their country including Assad's fate," Russia's FM added.

As the meeting in Vienna wrapped up it remained unclear how a truce and the transitional period are going to be implemented, how long the latter will last, and whether the parties in the Syrian conflict are ready to accept it - as neither Damascus nor the opposition took part in the negotiations. The next round of Vienna talks is scheduled to take place in two weeks.