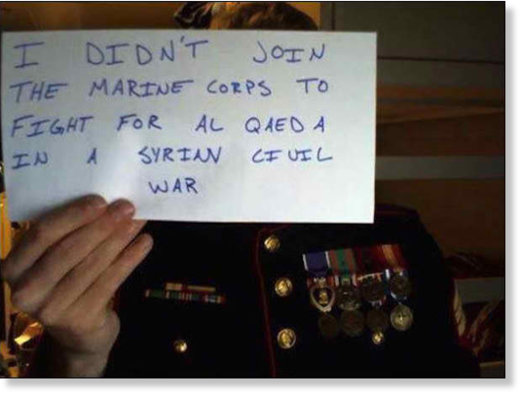 The uncredited photograph is from Dean Parker's take at Russia Insider on Jack Murphy's mind-blowing 7,000 word article for SOFREP,
US Special Forces sabotage White House policy gone disastrously wrong with covert ops in Syria.
Murphy's report, published in September 2016, as was Parker's, should be required reading for anyone trying to understand the U.S. involvement in Syria.
However, Murphy, "
a
n eight year Army Special Operations veteran who served as a Sniper and Team Leader in 3rd Ranger Battalion and as a Senior Weapons Sergeant on a Military Free Fall team in 5th Special Forces Group," was writing as a U.S. Special Forces insider for Special Forces insiders. (SOFREP is a news and intelligence source for Special Operations veterans.) Parker's discussion of the report, although it skirts a considerable amount of Murphy's material, allows outsiders to get their toes wet without taking away from the allover point -- aptly conveyed in the photo Parker found to illustrate his article and in these two quotes from Murphy's writing:
"Nobody believes in it. You're like, 'Fuck this,'" a former Green Beret says of America's covert and clandestine programs to train and arm Syrian militias. "Everyone on the ground knows they are jihadis. No one on the ground believes in this mission or this effort, and they know they are just training the next generation of jihadis, so they are sabotaging it by saying, 'Fuck it, who cares?'"
While the games continue on, morale sinks for the Special Forces men in Turkey. Often disguised in Turkish military uniform, one of the Green Berets described his job as, "Sitting in the back room, drinking chai while watching the Turks train future terrorists."
Has morale improved since 2016? Unlikely given that American Special Forces are still ordered to train "jihadis" in Syria. But the saboteurs are in the position of the genie in Disney's Aladdin, who had no choice but to serve the evil magician once the magician gained control of the lamp, although he served the magician's orders poorly as his protest. The Special Forces continue to carry out orders, no matter how poorly, no matter how much they despise them and the ones who give the orders. They're good soldiers, after all, and the first rule for good soldiers is to carry out an order.
But what do such orders say about the civilian rulers of the American military?
********