Tuesday, May 26
Kayaking in downtown Houston: When cities aren't ready for rain
Prologue
From
Harris County declared disaster area as death toll rises, city swamped
, Chron, Updated May 26 9:48 PM:
With the water receding and more rains predicted, Karen Othon, spokeswoman for the Texas Department of Transportation Houston office, said road work remained a top priority.
"Crews will be out clearing debris on roadways and the inlets, as debris flowed by the water into the drains," Othon said. "This will be a continuing process over the next few days."
Those inlets are critical to keep many low-lying areas of the Houston freeway network open.
"The sun is shining out here right now and the city is slowly getting back to normal, but this is a little bit of a situation of a tale of two cities," Parker said. "Much of Houston was unaffected by the weather, but the parts that were affected by the weather were very severely hit. We've had 10 days, two weeks, of steady rain. The grounds were completely saturated and there's really been no place for the water to go."
Does the part about clogged drains ring a bell? Think back....
*****
Wait a minute; that's not Houston; that's
Sao Paulo
. Okay; lemme try again.

No wait, that's Riyadh. Well, at least this resident was
having fun
in the desert city's freaky 2013 flood:
Here we are; this is Houston today:
They weren't the only kayakers out and about in the floodwaters and of course not all were joyriders; some were helping with rescues. The ones above were photographed by David J. Phillip for Associated Press. It's #8 in
SF Gate's photo gallery
of 55 pictures relating to the flooding in Texas today and yesterday. But an
AP/SF 'live blogging'
on the Texas flooding carried this warning:
3:20 p.m. CDT
A North Texas man has drowned when water being released from a dam overtook his kayak.
Chad Lorance with the Tarrant Regional Water District said Tuesday that 29-year-old Joshua Reed of Fort Worth was on the water with others when they disregarded signs Saturday and entered a restricted part of the Trinity River adjacent to the main dam for Eagle Mountain Lake.
Lorance says water was being released from the dam to prevent the lake from overflowing from recent rains.
'The Tarrant County medical examiner's office says Reed died of accidental drowning.
Reed's body was recovered Sunday. He is among the nine weather-related deaths over the weekend in Texas.
The mention of dam water being released to protect a lake brings me to many questions, questions about dams and reservoirs and modern cities (Houston is America's fourth largest city) and the 7,300+ dams in Texas, 60 percent of them privately owned.
There is no blame, no attempt at fault-finding in the questions; it was a very bad storm that struck central Texas, and it was as cruel to the rural regions as the cities and towns. But I have no answers for any of my questions, and the attempt to find answers could take years of research.
Yet I will tell you that a week before the storms first struck I stumbled across a photo essay about the rainiest place on earth. The 18 photos are works of art. They were
first published in The Atlantic
August 22, 2014 under the title
Meghalaya: The Wettest Place on Earth
with this introduction by Alan Taylor:
Photographer Amos Chapple returns to our site once once again, bringing amazing images from the state of Meghalaya, India, reportedly the rainiest spot on Earth. The village of Mawsynram in Meghalaya receives 467 inches of rain per year. Laborers who work outdoors often wear full-body umbrellas made from bamboo and banana leaf.
One of the most fascinating and beautiful features in the region are the "living bridges" spanning rain-soaked valleys. For centuries, locals have been training the roots of rubber trees to grow into natural bridges, far outlasting man-made wooden structures that rot in just a few years. The bridges are self-strengthening, becoming more substantial over time, as the root systems grow.
The photos aren't meant to be copied but two months later Chapple allowed
the Guardian to publish them
(in smaller versions than shown at the Atlantic), and the ones published at that site are, so I can show you a couple. First the Guardian's introduction:
Perched atop a ridge in the Khasi Hills of India's north-east, Mawsynram has the highest average rainfall – 467in (11.86 metres) of rain per year – thanks to summer air currents gathering moisture over the floodplains of Bangladesh. When the clouds hit the steep hills of Meghalaya they are compressed to the point where they can no longer hold their moisture. The end result is near constant rain.
The village of Mawsynram, seen from above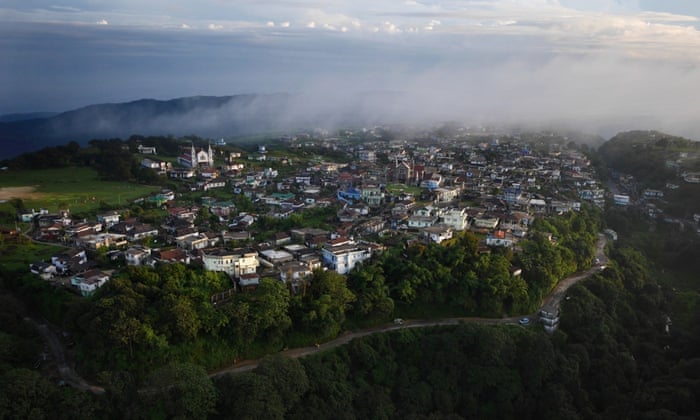 Clouds curl over the eastern edge of Mawsynram village, where cliffs drop almost vertically to the floodplains below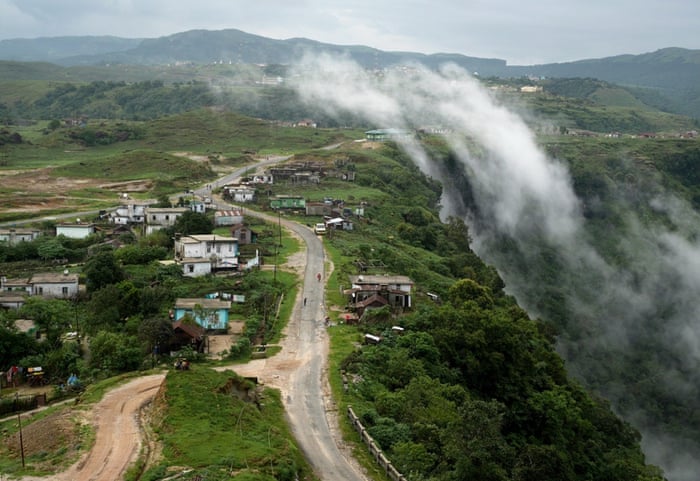 Neither photograph quite conveys the magical aspect of Mawsynram, which Chapple captures in other photographs, and which call to mind imagery in
The Lord of the Rings
and
Lost Horizon
. But from these two you can see that while the village may be the rainiest place on earth it's not really the wettest, if one thinks in terms of flooding. It's the land below the village that floods despite the near-constant rain in Mawsynram.
Although there are 'natural' reasons for this, Chapple's pictures of the rubber tree bridges and wearable 'umbrellas' convey that the people in the region created ways to live life in the rain. But you can also see from the second photograph in particular that they don't have a whole lot of paving in Mawsynram.
So while those in the highly variable climates of, say, the United States, can't evolve a way of living in harmony with Nature that covers all bases, I think Mawsynram has some valuable lessons to teach.
While the modern big city requires miles and miles of streets, sidewalks, plazas, and highway overpasses, it's written nowhere today that the paving for these has to be virtually impermeable to the rains. As I noted in
Optical Illusion in Sao Paulo
, no small part of the catastrophic flooding in that city is simply rainfall that can't soak in -- and then the water, wiith no place to go, collects debris that clogs storm drains, creating even worse flooding.
That's surely the same for virtually all other flood-prone modern cities. Which, it turns out,
isn't a good thing
for precious underground water resources because they need to be recharged by rainfall.
Permeable paving
(aka porous asphalt and concrete) isn't in a pie-in-the-sky idea; it's part of New York City's
Green Infrastructure Plan
(PDF), and not too long ago all paving -- brick and cobblestone -- were of course permeable constructions. As to whether modern buildings would be negatively impacted by large amounts of rain sinking into the ground around their foundations, I don't know. But I figure if engineers can make a river run uphill, as they did in California, there would be workarounds to any such problem.
What we can't keep doing in this age of megapopulations is expecting the vagaries of extreme weather to conform to ideas of modernity created in an intellectual vacuum that excluded Nature.
********