In a local market in Yangon, Myanmar, a vendor using her smartphone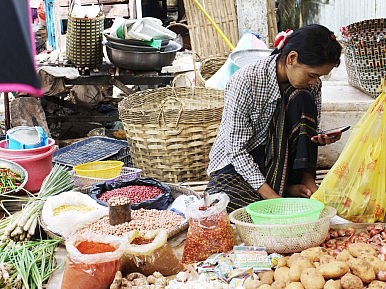 Photo from
Poppy McPherson
's June 02, 2015 report for The Diplomat,
There's an App For That (in Myanmar)
: "Emerging from years of censorship to capitalize on growing demand for local apps, developers jump straight to mobile."
It's a bumpy ride, of course; this is Myanmar we're talking about:
[...] Due to remaining international sanctions, Google still stops locals from downloading paid Myanmar apps from its store, which is also incompatible with many of the Chinese smartphone models that wind up in the country. On top of that, most people in the country are still unbanked, meaning they do not have bank accounts.
Developers have employed a number of hacks to get around the problem, including selling USB sticks with the app installed and collaboration with telcos, though the latter has led to the big firms taking most of the revenues.
MYSQUAR, an entertainment platform for Myanmar set to list on London's AIM stock exchange later this year, sent a team of students to convince phone shops to install their free local-language messaging service, MyChat. "It's somewhat of a Myanmar-centric solution," said Daniel Campbell, the firm's general manager.
Even when developers do manage to distribute their product, there's the threat of rampant piracy.
Everything in our country is limiting our creativity," said Htoo Myint Naung.
But he's made a career out of coming up with solutions. "Engineering has always been my hobby, but the real thing that triggers me is the problems ..."
[...]
With all the problems they're on their way and there's no turning back. .
********