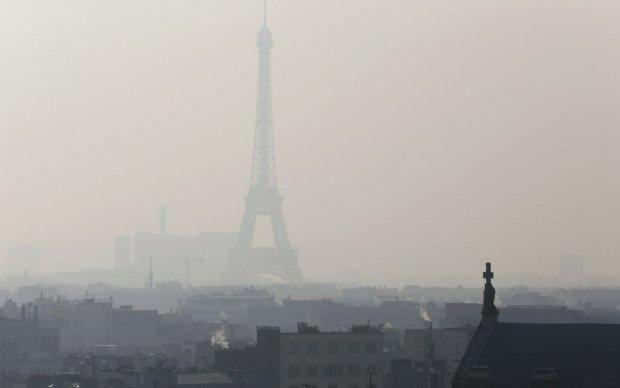 Toxic smog smothers the City of Lights, cuts Paris traffic in half
(March 22, 2015) Heavy clouds of smog have cast a gloomy shadow over Paris, leaving the city of lights nearly unrecognizable -- and almost uninhabitable. Images of the Eiffel Tower show the iconic structure shrouded in a thick, dark haze. Air pollution has become a growing concern across the French capital and parts of northern France since last week. ...

Smog has been so severe that officials have ordered driving restrictions throughout the city. Cars are only permitted to drive on certain days of the week, based on their licence plate numbers. Speed restrictions are also being enforced in order to lessen harmful emissions, limiting drivers to traveling no more than 20 km/h on city streets. Public transportation is free in an effort to discourage Parisians from driving.

The recent spike is a result of changing weather patterns, mainly areas of high pressure and sinking winds that tend to trap pollutants at lower levels in the atmosphere.

Emissions from vehicle traffic, local industry and farms are also partially to blame. ...

The pollution affecting the City of Light isn't a unique problem for Europeans.

On Thursday, London residents woke up to find a thick blanket of smog covering their city. ... London has a recurring issues with pollution. Pollution in the capital often exceeds EU limits, with the high level of diesel powered cars and buses and the city's narrow streets often leading to poor air quality," Weather Network UK meteorologist Chris Burton explains. ...