"A car bomb was detonated near the Kabul airport when a convoy said to be carrying government officials was travelling through, Khaama Press reported."
Taliban have claimed responsibility for the attack; see AP report below.
The blast struck near the entrance of Kabul's international airport during the peak lunchtime period, officials said
Photo:
SHAH MARAI / AFP - Getty Images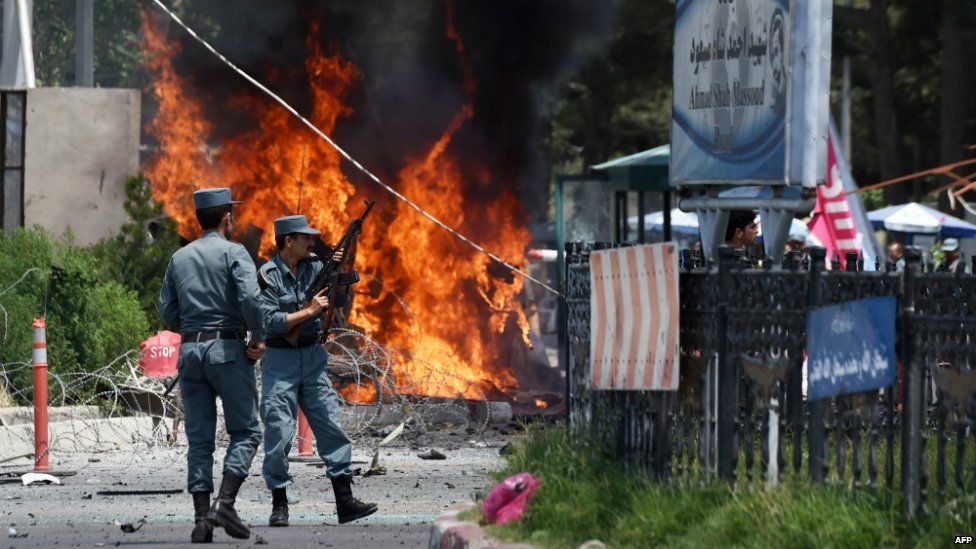 REUTERS/AHMAD MASOOD
Reports below from BBC, IB Times (compilation of Afghan media reports), Reuters, Bloomberg Business, Associated Press
UPDATE (6:25 AM EDT)
Associated Press
Aug. 10, 2015 | 5:30 a.m. EDT
Suicide car bomb near airport in Afghan capital kills 5, wounds 16
KABUL, Afghanistan (AP) — A suicide car bombing at a busy roundabout near the entrance to Kabul's international airport on Monday killed at least five people and wounded 16, officials said.

The Kabul provincial police chief, Abdul Rahman Rahimi, told The Associated Press that a car packed with explosives blew up at the busy intersection. He also confirmed the latest casualty figures.

A huge plume of black smoke rose above the city after the midday blast, as police, soldiers and ambulances rushed to the site, which is usually thronging with pedestrians and vehicles.

Taliban spokesman Zabihullah Mujahid said on Twitter that the militant group was behind the attack. He said it was aimed at "foreigners."

The charred remains of a car lay on its side near the roundabout. Nearby shops were destroyed and the windows of a wedding hall were shattered, witnesses said.

The entrance to the airport is often clogged with traffic, as vehicles must stop at a number of checkpoints.
A suicide car bomber struck the entrance to the international airport in Afghanistan's capital of Kabul, leaving flights suspended as police survey the damage.
The blast occurred in a "very crowded area" where many Afghans were waiting in vehicles before a police checkpoint, Interior Ministry deputy spokesman Najib Danish said by phone. The explosion killed or injured Afghan civilians and police, he said, without providing further details. [See Reuters report below, for initial casualty figures.]


A thick plume of smoke rose from the front gate of Kabul International Airport following the explosion, television footage showed. Police blocked roads leading to the airport and took away damaged cars from the scene, the images showed.
All flights have been suspended, One TV channel reported, citing unidentified sources. No group immediately claimed responsibility for the incident.
A second suicide bomb on Monday also caused casualties in southern Helmand province, Danish said.
UPDATE (5:30 AM EDT)
Mon Aug 10, 2015 4:58am EDT


Car bomb explodes near Kabul airport


By SAYED HASSIB reporting from Kabul
Reuters
A car bomb exploded near the entrance to Kabul airport on Monday, killing at least four people and wounding 17, days after a series of suicide attacks in the Afghan capital killed dozens and wounded hundreds.

There was no immediate claim of responsibility for the attack in a crowded area outside an airport checkpoint, but a security official said it appeared to be aimed at two armored cars, although it was not clear who was in the vehicles.

The tangled, flaming wreckage of one of the cars lay on its side, as dozens of fire fighters and police gathered.
Four civilians were killed, and 17 people wounded, including a woman and a child, said Wahidullah Mayar, a spokesman for the public health ministry.

Kabul was already on high alert following last week's attacks which killed at least 50 civilians and security forces personnel in the worst violence in the Afghan capital in year

[...]

(Reporting by Mirwais Harooni and Sayed Hassib)
[END REPORT]
UPDATE (4:50 AM EDT)
Updated: August 10, 2015 13:32 IST
IB Times (India)
A bomb blast ripped across the entrance of the Hamid Karzai International Airport in Kabul at around noon
local time
on Monday, and several casualties have been reported.
A car bomb was detonated near the Kabul airport when a convoy said to be carrying
government officials
was travelling through,
Khaama Press
reported.
The blast hit Afghanistan's capital
city
days after deadly terror attacks in Kabul had killed scores of civilians and security officials.
Afghanistan's
Interior
Ministry
has confirmed that several civilians and security officials have been killed,
TOLO News
reported.
The Afghan health ministry has said that at least seven civilians, including a child, have been injured in the Kabul airport attack,
Pajhwok Afghan News
reported.
No one has claimed the attack though the blame is usually put on the Taliban, which has unleashed a deadly wave of attacks in the country.
Images of the deadly suicide attack outside the Kabul airport showed massive destruction.
***
Afghanistan: Blast reported near Kabul airport
August 10, 2015
BBC [this is the earliest report; it's been updated since it was first published]
Police in Afghanistan's capital say a suicide bomber has attacked a checkpoint near the entrance to Kabul's international airport.

Local media reports say casualties are expected and but no official figures have been released yet.

The attack appeared to target a convoy of armoured cars, according to security officials at the scene.
The incident is the latest in a series of deadly attacks in Kabul in the past few days.

[...]