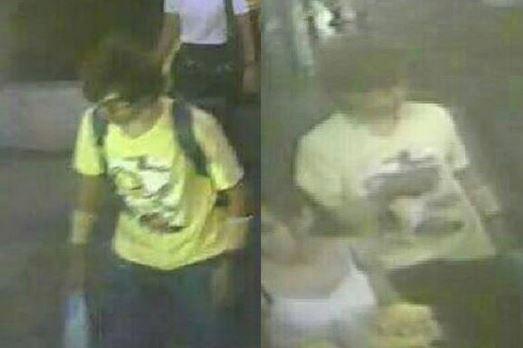 Via Channel News Asia: JUST IN: Thai police confirm explosion at Bangkok's Taksin Bridge. No casualties reported
bit.ly/1IYLYom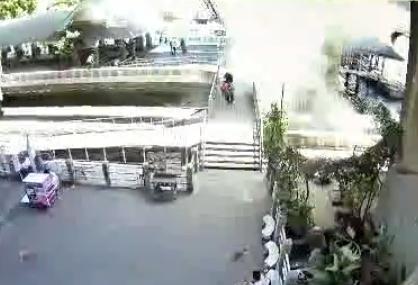 Re the explosion today - From USA TODAY report 5:56 AM EDT:
[...]
Police Senior Sgt. Maj. Worapong Boonthawee told the Associated Press that an explosive device was thrown from a bridge on Tuesday afternoon and blew up at a ferry pier after falling into the river below. He said nobody was killed or injured. No person or group has claimed responsibility for either blast.
Prime Minister Prayuth Chan-ocha said "some suspects" were seen in security-camera footage. The prime minister described the incident as the worst attack in the country's history.
"(In the past) there have been minor bombs or just noise, but this time they aimed for innocent lives. They want to destroy our economy, our tourism," he said. according to the AP.
He said he believed Facebook messages apparently warning of an imminent danger to Bangkok before the blast came from an "anti-government group" based in the northeast of the country, Agence France-Presse reported.
[...]
Both images are from Twitter posts featured in TIME magazine's article
Thai Police Identify Suspect in Bangkok Bombing, but Motive Remains Unknown
by Nash Jenkins; August 18, 2015 - 4:05 AM EDT:
Thai junta chief Prayuth Chan-ocha said Tuesday that authorities had tentatively identified a suspect in connection to Monday night's bomb blast at a shrine in central Bangkok that killed at least 20 people — including several tourists — and injured 140 others.
Prayuth referred to a man possibly linked to an "antigovernment group based in Thailand's northeast," citing CCTV footage from the blast site, Agence France-Presse reported.
[...]
Boy, Tony Cartalucci's gonna blow a gasket. He's already furious at the BBC for the way it's reported on the bombing.
See also this
Associated Press
report for background on earlier bombings in Bangkok and for yet more speculation about motivation for yesterday's bombing.
Well, I've been up all night, just as I was up all night watching for news on the string of Kabul bombings little more than a week ago. Afghan time. Thai time. Time for Pundita to hit the sack. See you tomorrow or tonight or whenever.
********