August 6 BBC headline: India captures 'Pakistan' militant after Kashmir attack.

Now given that the militant freely admitted his Pakistani nationality, and gave his name and the name of his hometown in Pakistan and name of his Pakistan-based terror group, and did all this as soon as he was captured and a press microphone was put before him, why would the Beeb put his nationality in quotes in a headline about a terrorist attack -- or rather what the BBC report clearly insinuates is only a purported terrorist attack?
Never mind; it's a rhetorical question that I believe has no answer beyond what the British government at its highest level really thinks of India and Indians.
Moving along, I'm wondering whether the BBC might care to file a second report or least update its August 6 headline, given that in the interim a respectable Indian newspaper interviewed the Pakistani who freely admitted that he is the "unfortunate father" of the terrorist, and that a respectable Indian TV station traveled to the terrorist's town and located his exact address and produced a video of the terrorist's street and town, which as the Beeb can see by looking at a map is actually in Pakistan.
As to the fate
of the unfortunate father after he talked to the Hindustan Times, his phone service has been disconnected. Perhaps the BBC can send a reporter to investigate.
This is the Home in Pakistan of Captured Terrorist Naved
Updated: August 08, 2015 08:19 IST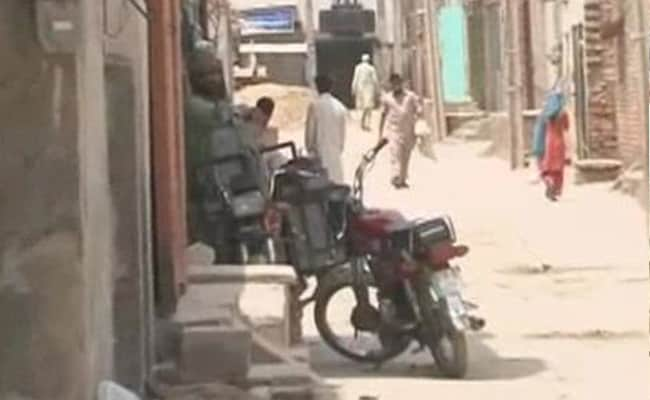 The street in Faisalabad in Pakistan where the family of Mohammad Naved, the terrorist captured alive in India, still live.
[See the website for the video. There's a pause of a few seconds in the video after the intro before the rather nervous Indian reporting live from Faisalabad appears on camera; as he explains he doesn't feel terribly safe at the moment.]
FAISALABAD: Mohammad Yakub and two of his sons live in a house at the end of street number 3, Rafique Colony, in Pakistan's Faisalabad, confirm neighbours. His third son is Mohammad Naved, they say.
Mohammad Naved is the Pakistani terrorist caught on Wednesday after he attacked a Border Security Force or BSF bus in Udhampur in Jammu and Kashmir.
His home - the terrorist told his interrogators where he lives - is deep inside Ghulam Mohammadabad in the old part of Faislabad. His family is nowhere to be seen and the street is very silent, people watchful.
"Why are you here? What are you doing with that?" asks a resident on seeing the camera.
Islamabad has denied that Naved is a Pakistani citizen. But Mohammad Yakub said in an interview to newspaper Hindustan Times that he is the "unfortunate father" of the terrorist captured in India on Wednesday.
"I'll be killed, Lashkar and the Pakistani army are after us," the father was quoted by the newspaper as saying on the phone.
Naved, 22, has told investigators that he was trained at a Lashkar-e-Taiba camp in Pakistan before he entered India 45 days ago.
He said he has two brothers and a sister. One of the brothers, he said, is a lecturer while the other runs a hosiery business. Neighbours in Faislabad confirmed that.
Naved was captured after he attacked a BSF convoy along with another terrorist, who was shot dead. He escaped into a village and took three men hostage, but they later over-powered him and handed him over to the police.
"We have said many a times that making immediate accusations on Pakistan is not correct. These things should be based on facts. We expect that whenever Pakistan is being accused of something, it will be accompanied with correct evidence," Pakistan Foreign Office Spokesperson Syed Qazi Khalilullah said about the terrorist on Thursday.
[END REPORT]
********