A firefighting aircraft attempts to douse the forest fire in Carros near Nice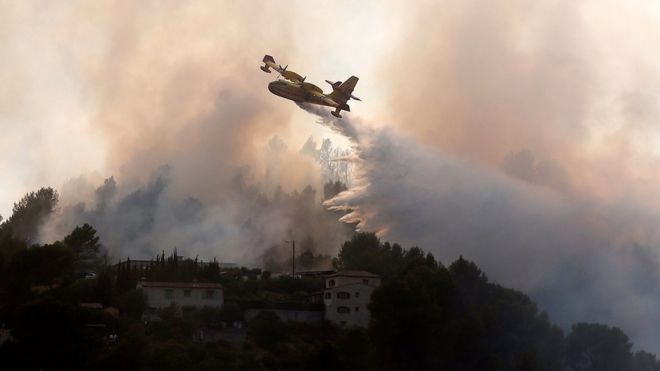 Photo: EPA via BBC
Biguglia, on Corsica's north-eastern coast, was badly hit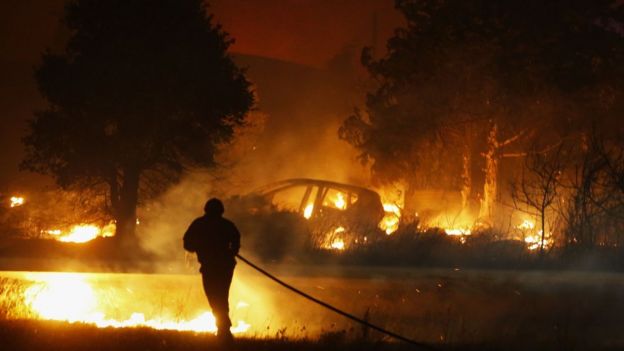 Photo: AFP/Getty Images via BBC
BBC
2 hours ago
[See website for additional photos]
Unusually hot, dry and windy weather in south-east France has contributed to the spread of forest fires across the region.

The island of Corsica, the town of Carros, close to Nice, and Saint-Tropez were among the areas badly hit on Monday.

Hundreds of homes were evacuated as a precaution.

"It's a very dangerous day," Michel Bernier, of France's civil defence forces, told AFP news agency.

"And the fight is going to be very, very long tonight," he added as firefighters worked into Tuesday.

[END BBC REPORT]
Huge forest fires force French Riviera residents to flee villas ...
23:07 - July 24, 2017 - updated July 25 - 03:09
A huge
fire
has hit the French Riviera with the blaze forcing residents to flee
homes
in the Saint Tropez region.
Photos shared on social media show large plumes of smoke above the hills above the posh beach resort region.
One resident, Paul Adieannsens, tweeted: "Big fire in La Croix Valmer.
"Just made it to escape from our house!"
The location of the fire has been described as southeast of the main St Tropez township near the town of Ramatuelle.
Water-bombing helicopters were said to be urgently flying over the area in a bid to put the flames out.
"Mega fire close to St. Tropez," Mirjam vanden Broeke tweeted.
"With a lot of wind at the moment, so things seem pretty bad out there."
Video report 7/24 posted at YouTube
includes estimates of area burned so far
The wildfires started in the region a week ago:
July 18, 2017 - 4:12 AM ET
Jean-Gabriel Delacroy of the Alpes-Maritime regional administration said Tuesday that the fire near Nice is "under control" but not yet over after breaking out Monday night.
Speaking on broadcaster Francetvinfo, Delacroy said three firefighters were lightly injured in the blaze, which consumed 120 hectares (about 300 acres) of forest and reached the town of Castagniers, inland from Nice. No homes have been hurt so far, he said.
Whipped up by Mediterranean winds, fires in recent days have also hit Provence and Corsica during the high summer tourist season.