Friday, November 25
Wildfires rage in parched Israeli coastal city and Peru's high country
July 2015: municipal workers battle wildfire in Athens, Greece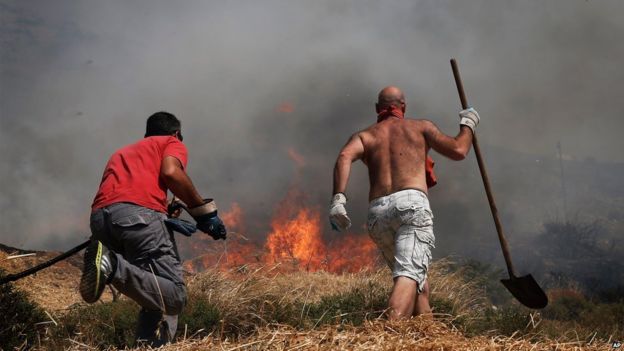 "In August, biologists and environmentalists from around the world warned the presidents of Peru, Brazil and Bolivia about the dangers of devastating fires in what they said might be the region's worst drought in at least half a century."
" ... since this morning, the fire has been quickly spreading through the northern neighborhoods of Haifa. This is a city next to the Mediterranean Sea. It's also right next to forests. And it's unseasonably dry here and also very windy, so the fire is spreading fast."
Seven American Appalachian states are not the only drought-stricken region of the world experiencing wildfire conflagrations at this time. In the case of Israel some fires may be due to arson, as they are in the Appalachians. Such events are being called "terrorism" by Israeli officials (see second report, below). But the biggest terror is that during an extended dry period it doesn't take arson to set off huge wildfires that race through thousands of acres like a runaway freight train.
The likely cause of the wildfire outbreak in Peru, while not arson in the technical sense, is just as bad as arson under the present circumstances. It's the slash-and-burn method used by farmers there since ancient times for land clearing. Clearly the Andean farmers didn't understand what climatologists had realized: the rain pattern in their region changed.
(The same lack of awareness happened in Siberia a year or two ago, with devastating consequences.)
The same would be true for Haifa, Israel's third-largest city, which has a
Mediterranean climate. (Tiny Israel actually has two climates.) No matter how dry it gets in that kind of climate, historically there's just enough rain to prevent vegetation from completely drying out. This spares the regions from devastating wildfires.
However, increasingly, extended droughts in a region mean it can become completely parched before rains appear. (Californians have learned the lesson the hard way during their years-long drought in parts of the state).
So even if the change in the rain pattern is only temporary, the process of desertification leaps ahead in the wake of large-scale wildfires in drought-plagued regions.
This sets in motion an ever-quickening vicious cycle that inexorably leads to a change in a micro-climate, leading to longer droughts, leading to more wildfires, leading to faster desertification.
But at least the wildfires in Peru and the seven U.S. states are happening in regions with sparse human populations. The nightmare scenario in Israel the past few days is that the wildfires invaded a large city. The same happened in Greece just last year.
PERU
November 24, 2016 - 9:18pm EST
Wildfires tear across drought-stricken parts of Peru
Reuters
Wildfires have torn through more than 22,000 hectares (54,363 acres) of forest, protected areas and farmland in drought-stricken parts of Peru as the Andean country suffers one of its driest periods in years, authorities said on Thursday.

The spate of wildfires in the past week was likely started by accident after peasant farmers burned fields to prepare them for planting, said Edgar Ortega with Peru's Civil Defense Institute.
Strong winds fanned the flames that quickly crossed the Andean regions of Cajamarca and Lambayeque in northern Peru, which are experiencing prolonged droughts, Ortega said.

Fires have been contained in five nature reserves, including the Laquipampa Wildlife Refuge that is home to the protected spectacled bear, the inspiration for the Paddington Bear character in English children's literature, said Cecilia Cabello with Peru's protected areas agency Sernanp.

The charred remains of spectacled bears and other wildlife have been found in some areas, said Cabello.

Peru is experiencing one of its driest years in two decades, according to Peru's forest service Serfor.

In September, wildfires along the Ene River in a southern Amazonian region destroyed some 20,000 hectares (49,421 acres) of rainforest.

Less rain due to climate change and last year's El Nino weather pattern have made the Amazon drier than usual, scientists have said.

In August, biologists and environmentalists from around the world warned the presidents of Peru, Brazil and Bolivia about the dangers of devastating fires in what they said might be the region's worst drought in at least half a century.

"One of the most worrisome signs of global climate change is an increase in the frequency of severe droughts in the Andean-Amazonian region," they said in an open letter delivered by the NGO Pronaturaleza. "Preventing a potentially extensive emergency is a million times preferable to having to confront it."

Peru's military has deployed planes and helicopters to douse the flames with water, but firefighting has been constrained by high altitudes and difficult geography in some Andean provinces.

"In some areas the fires are contained but still not extinguished," Ortega told a news conference, adding that some hot spots are still expanding.

No one had died in the fires and no evacuations have been ordered, Ortega said.

(Reporting by Teresa Cespedes; Writing and Additional Reporting by Mitra Taj; Editing by Sandra Maler)
ISRAEL
November 24, 2016 - 4:29pm EST
NPR
Tens of thousands of people in the Israeli [port] city of Haifa are evacuating their homes as military reservists, police, firefighters and even allied nations join forces to battle a wildfire threatening Israel's third largest city.
ARI SHAPIRO, HOST, "All Things Considered" NPR show:
Israel's third-largest city is on fire. In Haifa, tens of thousands of people have evacuated their homes. Military reservists, police and firefighters are performing search and rescue operations. Other countries have even sent aircraft to help. Political leaders say this could be politically motivated arson. NPR's Daniel Estrin is on the line from Jerusalem.

Describe the scene in Haifa for us. How is the fire affecting the city?

ESTRIN: Well, since this morning, the fire has been quickly spreading through the northern neighborhoods of Haifa. This is a city next to the Mediterranean Sea. It's also right next to forests. And it's unseasonably dry here and also very windy, so the fire is spreading fast.

Homes have been engulfed in the flames. At least 60,000 or so people have been evacuated from the city. Roads have been clogged with cars leaving the city. At least one prison has been evacuated, and universities have also been evacuated, and military reservists have been called up, even some residents trying to put the fires out by connecting hoses from their apartment buildings. But so far there haven't been any serious injuries.

SHAPIRO: Tell us more about the belief that this might have been caused by politically motivated arson.

ESTRIN: Right. Well, the Israeli authorities are still trying to figure out exactly what caused the fires. There have actually been a number of fires in the city, and authorities say they suspect that some of them were due to negligence, like someone tossing a cigarette, and some of them were likely politically motivated arson, a kind of anti-Israel attack. You know, we've seen over the last year a number of Palestinian knife stabbings and other kinds of attacks on Israelis, and the suspicion is that this might be another kind of attack. Israeli Prime Minister Benjamin Netanyahu called it today a terror.

It could have been that some of the fires began accidentally and then arsonists joined. But there is a hashtag in Arabic that's been trending on Twitter - #israelisburning - kind of celebrating the fires because it's not just in Haifa. There have been fires throughout the country for the last three days.

SHAPIRO: There is an international effort to put out the fires, a pretty broad one. Tell us about that.

ESTRIN: Israel has gotten help from a number of countries - Greece, Italy, Croatia, Russia, Cyprus also. They've all sent firefighting airplanes, which will dump large amounts of water on the flames. And Turkey has also offered to send a large firefighting plane, and that's interesting because Turkey and Israel formally reconciled this summer and they normalized relations after six years of a soured relationship. So at least 10 firefighting airplanes are being sent here from all those countries. And it's significant because it's not that often that you see that kind of international support for Israel.

SHAPIRO: NPR's Daniel Estrin speaking with us from Jerusalem on the fires raging in Israel and the international response to them. Thanks a lot.

[...]