UPDATE
Below I wrote "None of the shelters, it seems, turns away any evacuee who brings a pet." To correct the record, that wasn't the case at first at Houston's George R. Brown Convention Center, which is being used as a shelter for flood evacuees. Reuters reported (T
exans refuse to leave pets behind as they flee Harvey):
[On Sunday night] Dozens of people with dogs arrived only to be told they could not bring them inside or that animal services were not available to care for their pets.

That included Rosana Nagera, 27, who took shifts with her husband in the rain with their shivering dog.
The snafu, however, was quickly sorted out:
On Monday morning pets were welcomed in a designated area at the facility, where dogs nestled next to owners on cots. Red Cross officials said evacuees with pets are welcome at its shelters, and animals are typically housed in cages on site or accommodated by partner organizations.
END UPDATE
This morning my muscles felt as if I'd been on my feet all day yesterday moving furniture, even though all I did for the most part was stay glued to YouTube to watch Houston Fox26 coverage of rescue efforts in the TV station's viewing area.
Unlike actual TV, which has advertising and station breaks, YouTube streaming
was total immersion hour after hour. I think t
he effect this had on me was as if I was in Houston watching the reporting. Maybe that explains the sore muscles -- sort of unconsciously reliving memories of watching local TV coverage of bad storms where I live, in the Greater Washington, DC region.
I am not sure I want to repeat the YouTube experience.
Yet I am glad I watched the coverage.
I'd never seen anything like it, with people from as far away as Louisiana piloting every kind of small boat to rescue people stranded in Houston and close nearby.
The only comparable situation I know about was the Dunkirk evacuation operation during World War II, the part carried out by volunteers manning their own boats.
In Houston, however, the improvised rescue armada is augmented by an equally random collection of high-water vehicles. This reminds me of the desperate race in Mad Max 2 to outrun a vicious gang. As long as it can float or drive through several feet of water without stalling it's being used as a rescue vehicle in Houston -- everything from tractors to dump trucks to furniture moving trucks to monster military contraptions.
By last night things had gotten into a routine. First rescuers, either volunteer or official, locate people who need to be evacuated (sometimes relying on the Zello app). Then they drive a high-water vehicle or boat to the address. If there isn't enough room in the conveyance for everyone, some of the rescuers lead the remaining evacuees on foot through the floodwaters to the nearest temporary patch of dry land, such as under a highway overpass.
Then more high-water vehicles and/or boats show up to take the evacuees to a staging area, say the parking lot of a shopping mall. Then buses arrive and drive a group of evacuees to a shelter.
By yesterday there were already scores of shelters set up, some completely makeshift. The owner of two large furniture stores hauled mattresses from his company's warehouse and converted the stores to shelters.
None of the shelters, it seems, turns away any evacuee who brings a pet.
One shelter dedicated a room for the animals. So there's a Noah's Ark aspect to the place, with the rain pelting the windows and floodwaters rising nearby as the assortment of pets -- pigs, parrots, dogs, cats, you name it -- beds down together for the night.
Indeed the whole situation evokes the story of Noah's Ark, as people carry animals through rain and rising waters to find refuge.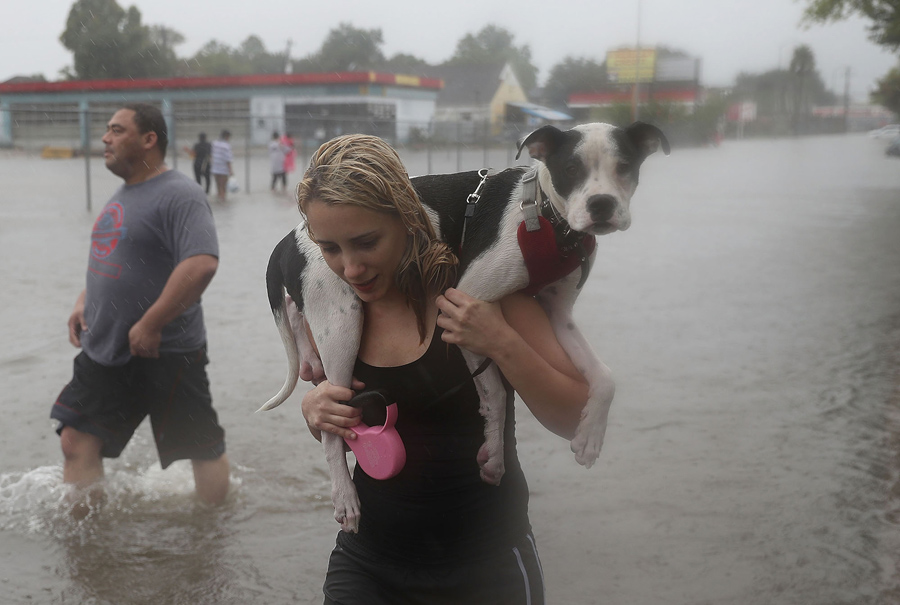 Dunkirk, Mad Max 2, and Noah's Ark. Now there's a metaphor for our times, if only I could figure it out.
Anyhow, Bravo! the hardy people of Southeast Texas, and everyone who's helping them. Bravo the staff and reporters at Fox26 Houston! And yes, Bravo YouTube [reaching for the muscle rub].
https://www.youtube.com/watch?v=oDtD-2-5zOs
The Photographs:
Top: Adrees Latif for Reuters
August 28 -- evacuations along Tidwell Road in east Houston
Middle: Reuters; possibly Adrees Latif was the photographer
Last: Joe Raedle for Getty Images
"Naomi Coto carries Simba on her shoulders as they evacuate their home in Houston."
********