The actual headline is Syria conflict: Russia strikes "undermining peace talks".
The report is two days old (Feb 5) -- ancient news in the 24/7 news-sphere -- but it is featured at the top of Google News "Syria" section under the headline about cookies as of this time, 4:43 AM EST, and has been shown in that manner at least since I first saw it a couple hours ago.
Just a glitch, perhaps, but one I'd never seen before at Google News, so I read the report to see if there was anything in it that might possibly offend the White House and then scored it by plus or minus depending on how I think the White House would see it.
On the minus side there is a map graphic, showing at a glance the great amount of work Russia bombers/cruise missiles have been doing in Syria and how very little the USA has been doing. It's the clearest graphic of the type I've seen published in a mainstream news report: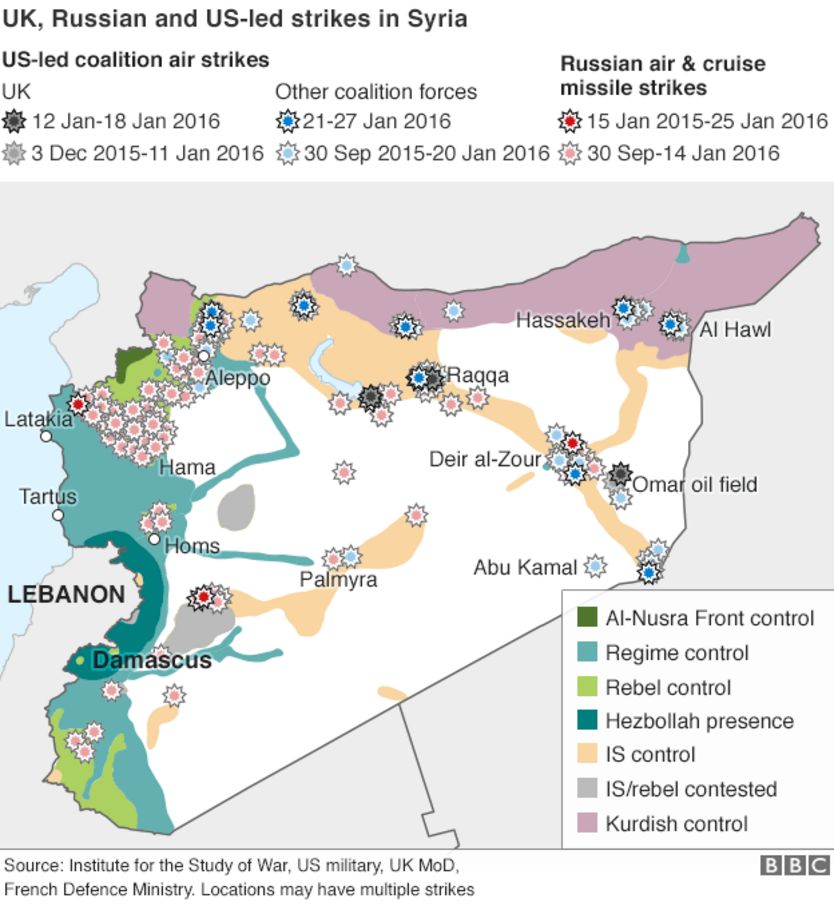 And there is this bit of mutiny against the NATO alliance, which is definitely a minus:
On Thursday, Turkey warned up to 70,000 people might be heading to its border from Aleppo, but on Friday a BBC correspondent at the border town of Kilis saw no indication yet of large numbers of refugees.
However, the Beeb dutifully reports remarks by NATO's chief against Russia and sarcastically frames the Russian reply, which is a plus:
Russian air strikes in Syria are "undermining" efforts to find a political solution to the war, Nato's secretary general has said.
Jens Stoltenberg said the raids were mainly targeting the Syrian opposition.
Moscow insists it is battling "terrorism".
This week, fledgling peace talks were suspended as Syrian government forces, backed by the Russian military, launched a fresh offensive against rebels in Aleppo.
Thousands of civilians are reported to be fleeing Syria's largest city.
"The intense Russian air strikes mainly targeting opposition groups in Syria are undermining the efforts to find a political solution to the conflict," Mr Stoltenberg said.
He said the air strikes posed a particular problem for Nato member Turkey, which is already embroiled in a row with Russia after Turkey shot down a Russian jet it accused of violating its airspace.
Increased Russian activity "creates risks and heightens tensions and is of course a challenge for Nato", Mr Stoltenberg said.
[...]
To return to the minus column, the report outlines some of the great gains made by the Russian-backed Syrian Army coalition in recent days:
The Syrian government is reported to have made further gains on the ground on Friday, recapturing the town of Ratyan, north of Aleppo.
Earlier in the week, it claimed a major victory by breaking the rebel siege of two towns in Aleppo province, severing an opposition supply line from Turkey to Aleppo city.
In the plus column the BBC report doesn't mention that breaking the sieges freed about 60,000 Syrians. And it quotes the opposition and a friend to the opposition:
A rebel commander fighting under the Free Syrian Army told Reuters the northern countryside in Aleppo province was "totally encircled, and the humanitarian situation is very difficult".
"It feels like a siege of Aleppo is about to begin," said a spokesman for aid group Mercy Corps, David Evans, who said the main humanitarian route was cut off.
Back in the minus column the reporter names the aid group, allowing any alert reader to learn within less than 30 seconds that one of the donors to Mercy Corps is George Soros' Open Society Institute, which also funds the White Helmets -- caught red-handed a few months ago by the Twittersphere fabricating evidence against the Russian airstrikes in Syria.
If Mercy Corps bristles that they have a large number of donors in addition to Open Society -- Soros personally and his Open Society are infamous for funding ngos across the world that support American regime-change initiatives; this should be a red flag to any organization that claims to be strictly humanitarian.
Mercy Corps should be doubly wary that Soros personally or his Open Society funds the White Helmets, which is in Syria to give medical aid not only to 'opposition' fighters but reportedly also wounded fighters for Jabhat al-Nusra, labeled a terrorist organization by the United States in December 2012 and for good reasons.)
So how does it add up? At this point I'm willing to give Google or should I say Alphabet the benefit of the doubt and chalk up the odd cookies headline to machine error. I won't be so understanding if I see it happen again with a mainstream report about Russia in Syria that on balance the White House would frown upon.
********