02:23 - 16.07.2016 (updated 02:34 - 16.07.2016)
According to the Istanbul governor, the military coup attempt has been suppressed.

The commander of Istanbul's 3rd Corps has reportedly issued a televised order for all troops to return to barracks.

State television channel TRT reports that four soldiers have been arrested for the coup attempt, including one who was high-ranked.

Several servicemen have been injured and killed, according to Special Forces Command commander Major General Zekai Aksakalli.

Anadolu news agency reported earlier that 17 police officers were killed during clashes.

"A small number of servicemen supported the coup. We shall take the situation under control shortly. There are deceased and injured among our servicemen," he said as part of an NTV broadcast.

The Alliance for Shared Values (AfSV), a non-profit group linked to Turkish opposition cleric Fethullah Gulen, issued a statement condemning the attempt.

"We condemn any military intervention in [the] domestic politics of Turkey," the statement reads.

DETAILS TO FOLLOW

[END SPUTNIK REPORT]
RT report: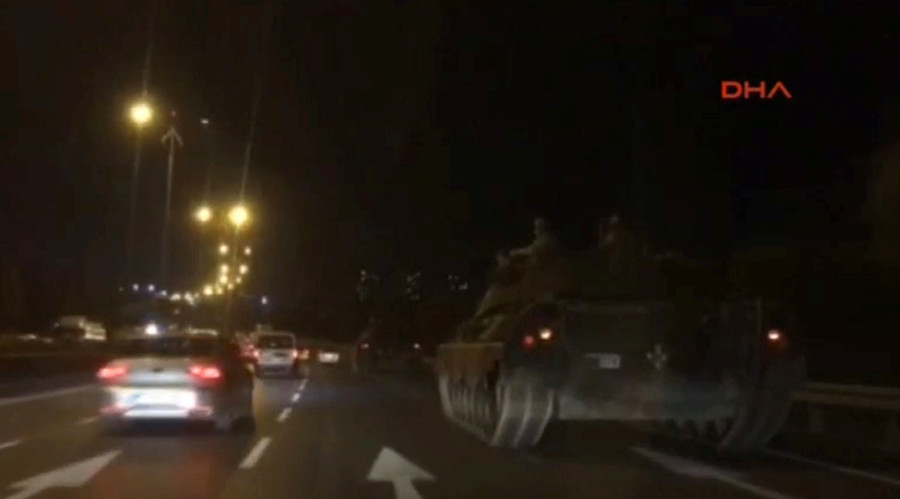 A Turkish F-16 fighter jet has reportedly shot down a military helicopter used by the pro-coup faction of the Turkish army, local broadcaster NTV reported, as reports suggested the capital of Ankara descended into chaotic clashes involving civilians and military.

FOLLOW LIVE UPDATES
FARS News report
Jul 16, 2016 - 2:12
More Updates with Latest Quotes from Iranian officials:
Turkish Military Attempts Coup, Claims Government Takeover
TEHRAN (FNA)- The Turkish army attempted a coup on Friday night, although there are sharply conflicting statements about who is now in control of the country.

"Some people illegally undertook an illegal action outside of the chain of command," Prime Minister Binali Yildirim said in comments broadcast on NTV, a private television channel. "The government elected by the people remains in charge. This government will only go when the people say so."

"Those who have committed this crime will pay a heavy price," he stressed, and claimed, "Turkey is not a third-world country and this nation has paid a heavy price to portray its present image."

Government officials said the army factions that have staged the coup are receiving orders from Islamist opposition leader Fetullah Gulen who is in exile in the US. Hundreds of Gulen's followers in the army, police and judiciary were arrested and jailed last year.
Prosecutors in Turkey's capital announced on Wednesday that "Ankara has prepared a file for extraditing the US-based preacher Gulen, who is accused of leading a terrorist organization, as well as trying to infiltrate and overthrow the elected government".

Fetullah Gulen and his supporters issued a statement to "condemn the coup" in an apparent attempt to distance himself from government accusations.

Several army chief commanders and the Kurdish minority have also both condemned the coup attempt.

Shortly after Mr. Yildirim spoke, the Turkish military issued a statement, according to the news agency DHA, claiming it had had taken control of the country.

"Turkish armed forces seized the rule of the country completely with the aim of reinstalling the constitutional order, democracy, human rights and freedoms, to make rule of law pervade again, to re-establish the ruined public order," the statement quoted by DHA said. "All the international agreements and promises are valid. We hope our good relations with all global countries goes on."

Turkey is a NATO member, which has been convulsed by military takeovers at least three times over the past half-century.

Turkish President Recep Tayyip Erdogan appeared on a TV channel via Skype connection at around 1:30 am (local time), saying that he is not in Ankara and will soon come back to the capital.

The whereabouts of President Erdogan, the Islamist politician who has dominated politics in Turkey for many years and sought to establish a firm control over the military, is not immediately clear. He is not in the capital but there were conflicting accounts about whether he is in the country.

Ilnur Cevik, an aide to Mr. Erdogan, was reached by telephone Friday night and said he would not discuss where the president is because, "these lines are being listened to."

Mr. Cevik said he heard reports that clashes were underway in Ankara near headquarters of Turkey's intelligence agency. "We're not really sure what's going on but there seems to be an uprising in the military."

Different factions of the armed forces and armed people are out in the streets of Istanbul and Ankara, while some are said to be supporters of the government.

The state-run Anadolu News Agency said hostages had been taken at military headquarters in Ankara, the capital, including the chief of staff.

Military forces shut two bridges over the Bosporus in Istanbul, and fighter jets were seen flying over Istanbul and Ankara, the capital. The main airport in Istanbul was reported to have halted flights.

Sporadic shootings are heard in Ankara. The Turkish media say army helicopters are hovering above the capital and shooting those who have breached the army-declared martial law and curfew ban.
The state-news agency said one of the helicopters has opened fire at the country's Intelligence Agency headquarters. Tanks and army vehicles are patrolling in the streets of both Istanbul and Ankara.
Eyewitnesses reported a loud blast in the capital, saying that tanks and army personnel carriers are around the parliament building and the state-run TV.

World leaders across the globe are awake tonight like journalists.

In Tehran, the Supreme National Security Council convened in an urgent meeting minutes ago and ordered the armed forces to seal off the border with Turkey.

Iranian Air Force fighter jets are patrolling the country's Northwestern skies near the border with Turkey.

Iran's aviation organization also halted all flights to various destinations in Turkey for an unspecified period.

Iran's top security official Rear Admiral Ali Shamkhani said "we believe instability in Turkey is disturbing people's insecurity; we are precisely monitoring and protecting our borders".

Iran's Foreign Minister Mohammad Javad Zarif twitted his "deep concerns" over the status quo in neighboring Turkey just a few minutes ago.

Russian President Vladimir Putin, the White House, EU foreign policy chief Federica Mogherini, German government spokesperson, UK's newly appointed foreign secretary Buris Johnson and the rotating presidency of the European Union have all expressed serious concerns, saying that they are watching developments in Turkey.

Bulgaria also cautioned that it has taken military precautions at its common border with Turkey.

In Damascus, people have taken out to the streets in celebration of Erdogan's overthrow, shouting joy and support for President Bashar Al-Assad.

Meantime, there are conflicting reports about President Erdogan who urged his people to take to the streets in support of the government. The number of protesters who are coming to the streets in Istanbul in defiance of the army curfew ban is on the increase, specially after other government officials, including the justice minister, requested the nation to show their opposition to the coup.

Some European and Turkish media outlets claim that the President has demanded Germany for political asylum.

Euronews live report from Istanbul shows tens of unarmed pro-government protesters in the streets, while coup forces are firing warning shots. As the number of pro-government protesters is on the increase in Istanbul, Ankara and other cities across the country, gunfire is heard towards protesters on Istanbul bridges.

Internet connections are too slow in many parts of Turkey, and social networks are almost all down.

There are also reports on Gunfire at Istanbul's Ataturk International Airport after hundreds of people gathered there in a show of support for the government.

Turkey's state-news agency Anadolu confirmed injury of, at least, 8 pro-government forces in clashes with the coup supporters at Istanbul's Taksim square, while 17 policemen and special forces were killed in clashes in Ankara. Clashes are also underway at the presidential palace.

CNN Turk said an air force F16 fighter jet has shot down a military helicopter of the pro-coup forces that was firing at the Intelligence Agency headquarters in Ankara.

Eye witnesses reported two blasts near the parliament building. One of the explosions, they said, pertained to the downed helicopter.

As the number of pro-government protesters is growing into thousands in Istanbul and Ankara, police and special units came in control of several government buildings.

Turkey's NTV showed the capture of more than a dozen coup forces by the police.

While brief clashes are underway between the pro-coup forces and demonstrators in Istanbul, Turkey's TRT television network was taken back from the military forces by unarmed protesters.

The coup attempt now seems to end up in complete failure in coming hours.
[END FARS REPORT]
********