The port was
ordered closed
September 19, 8am local time, as precaution against gale-force winds from Hurricane Maria. At 11:01 last night The Associated Press reported that the port has been reopened, allowing large amounts of aid to arrive in Puerto Rico by ship. In the following excerpts from the report I've omitted reporting about other aspects of the crisis in Puerto Rico in order to focus on the aid delivery situation:
Aid begins to flow to hurricane-hit Puerto Rico
T
he opening of the island's main port in the capital allowed 11 ships to bring in 1.6 million gallons of water, 23,000 cots, dozens of generators and food. Dozens more shipments are expected in upcoming days.

The federal aid effort is racing to stem a growing humanitarian crisis in towns left without fresh water, fuel, electricity or phone service. Officials with the Federal Emergency Management Agency, which is in charge of the relief effort, said they would take satellite phones to all of Puerto Rico's towns and cities, more than half of which were cut off following Maria's devastating crossing of Puerto Rico on Wednesday.
Rossello and other officials praised the federal government for planning its response in detail before the storm hit, a contrast with what Puerto Rico has long seen as the neglect of 3.4 million Americans living in a territory without a vote in Congress or the electoral college.

"This is the first time we get this type of federal coordination," said Resident Commission Jenniffer Gonzalez, Puerto Rico's non-voting representative in Washington.
Officials said 1,360 of the island's 1,600 cellphone towers were downed, and 85 percent of above-ground and underground phone and internet cables were knocked out. With roads blocked and phones dead, officials said, the situation may worsen.

[...]

Across Puerto Rico more than 15,000 people are in shelters, including some 2,000 rescued from the north coastal town of Toa Baja. Many Puerto Ricans planned to head to the mainland to temporarily escape the devastation.
[END REPORT]
From FEMA Twitter page, posted at 5:04pm Sept 22 showing U.S. aid deliveries to U.S. Virgin Islands and Puerto Rico, which of course was prior to the San Juan port reopening: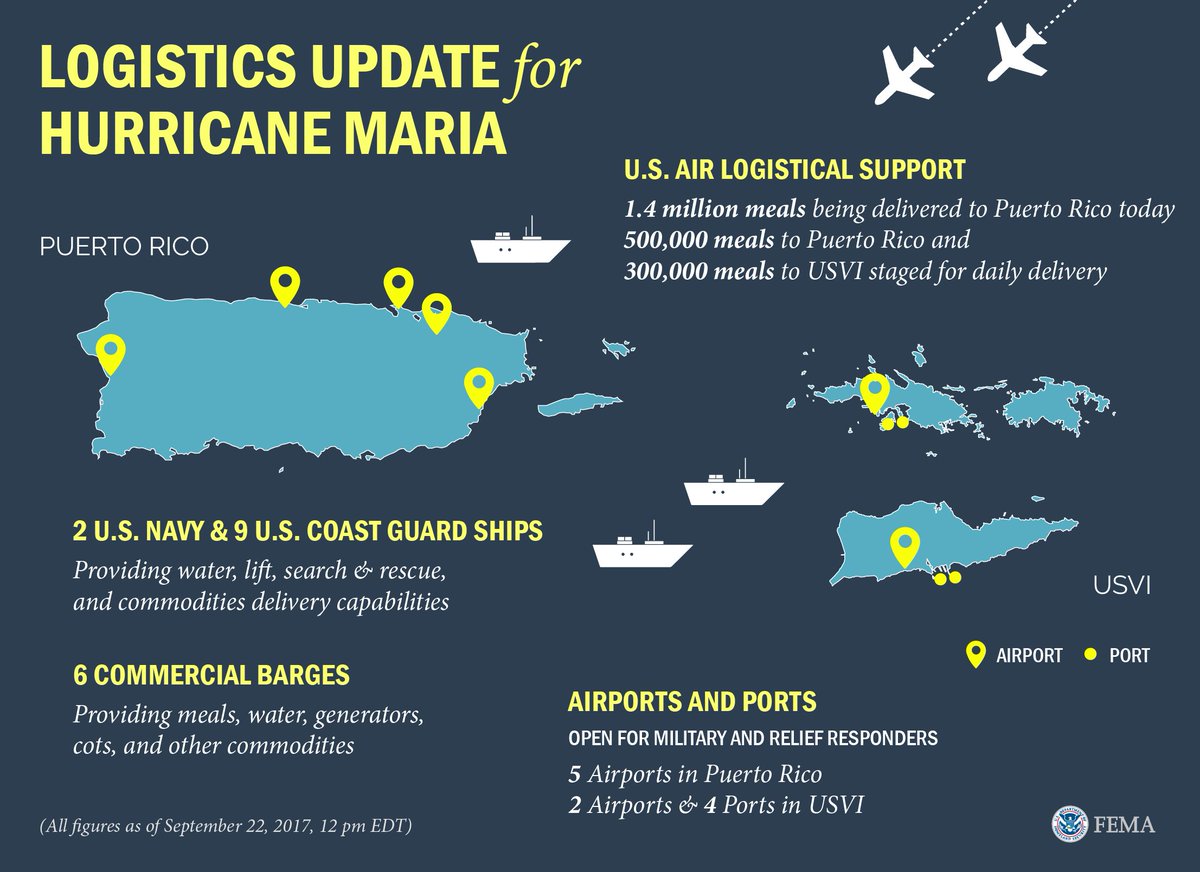 ********