The high is your brain saying, 'You're poisoning me, you idiot.'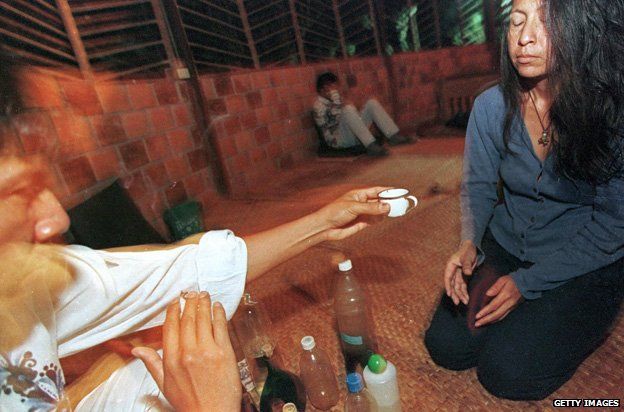 J
une 06, Daily Caller: Number Of Toddlers Being Exposed To Marijuana Skyrockets
July 10, NBC4: Washington, D.C. Cracks Down on Synthetic Drugs 'Ravaging' Neighborhoods
In one week in D.C., police say, a woman abandoned a baby in a stroller alongside a busy D.C. street -- and a young man who had been in college just a year ago stabbed a passenger on a Metro train 30 to 40 times. The two crimes were tied together by the drug police believe the suspects may have been using: synthetic marijuana.
July 04, Record Net: Heroin in the heartland: Small-town America at epicenter of epidemic
July 07, Live Science: Painkiller Abuse Tied to Skyrocketing Heroin Use in US
People who are addicted to opioids are 40 times more likely than others to abuse heroin, making the abuse of prescription opioid painkillers the strongest risk factor for heroin use, according to a new report.
July 07, USA TODAY: Heroin use surges, addicting more women and middle-class
July 07, ABC News: Heroin-Related Deaths Quadruple As Drug Epidemic Continues to Impact U.S.
June 26, Bloomberg Business: New UN Report Shows Marijuana Potency is Getting Stronger and Cocaine is in a Bear Market
The UN was a little out of the loop about cocaine:
July 12, The Guardian: Huge Bangladesh cocaine seizure points to growing south Asia drug route:
The seizures point to south Asia's role as a possible transhipment hub, as highly organised gangs, possibly from Latin America, look to hide their tracks to US and European markets by taking advantage of soft security at the region's ports. ...
"This is a huge wake-up call," said Cristina Albertin, the south Asia representative for the United Nation's Office on Drugs and Crime (UNODC), referring to the Bangladesh bust. ...
June 27, South China Morning Post: Crystal meth - Hong Kong in denial over drug epidemic
July 8, London Free Press: London, Ontario tops province in crystal meth charges
July 08, Live Science: Short Trip? More People 'Microdosing' on Psychedelic Drugs
October 14, 2014, Scientific American; Julia Calderone:
The Rise of All-Purpose Antidepressants
Doctors are increasingly prescribing SSRIs to treat more than just depression
Antidepressant use among Americans is skyrocketing. Adults in the U.S. consumed four times more antidepressants in the late 2000s than they did in the early 1990s. As the third most frequently taken medication in the U.S., researchers estimate that 8 to 10 percent of the population is taking an antidepressant.
But this spike does not necessarily signify a depression epidemic. Through the early 2000s pharmaceutical companies were aggressively testing selective serotonin reuptake inhibitors (SSRIs), the dominant class of depression drug, for a variety of disorders -- the timeline below shows the rapid expansion of FDA-approved uses.
As the drugs' patents expired, companies stopped funding studies for official approval. Yet doctors have continued to prescribe them for more ailments. One motivating factor is that SSRIs are a fairly safe option for altering brain chemistry. Because we know so little about mental illness, many clinicians reason, we might as well try the pills already on the shelf.
Doctors commonly use antidepressants to treat many maladies they are not approved for. In fact, studies show that between 25 and 60 percent of prescribed antidepressants are actually used to treat nonpsychological conditions. ...
July 12, Fox6 WBRC: Study: More babies born with drug dependency
According to a study by the New England Journal of Medicine, more and more of these drug-dependent babies are being treated at neonatal intensive care units in the U.S.
Alabama is among the states with the highest rates of babies hospitalized because of the pain they endure after birth. They are suffering through the pain of drug withdrawal.
In most cases, the mothers were addicted to pain pills or heroin during pregnancy.
In the neonatal ICU
The Dark Side of Ayahuasca
March 2013
Men's Journal

Kyle Nolan spent the summer of 2011 talking up a documentary called 'Stepping Into the Fire,' about the mind-expanding potential of ayahuasca. The film tells the story of a hard-driving derivatives trader and ex-Marine named Roberto Velez, who, in his words, turned his back on the "greed, power, and vice" of Wall Street after taking ayahuasca with a Peruvian shaman.

The film is a slick promotion for the hallucinogenic tea that's widely embraced as a spirit cure, and for the Shimbre Shamanic Center, the ayahuasca lodge Velez built for his guru, a potbellied medicine man called Master Mancoluto. The film's message is that we Westerners have lost our way and that the ayahuasca brew (which is illegal in the United States because it contains the psychedelic compound DMT) can set us straight.

Last August, 18-year-old Nolan left his California home and boarded a plane to the Amazon for a 10-day, $1,200 stay at Shimbre in Peru's Amazon basin with Mancoluto – who is pitched in Shimbre's promotional materials as a man to help ayahuasca recruits "open their minds to deeper realities, develop their intuitive capabilities, and unlock untapped potential."

But when Nolan – who was neither "flaky" nor "unreliable," says his father, Sean – didn't show up on his return flight home, his mother, Ingeborg Oswald, and his triplet sister, Marion, went to Peru to find him. Initially, Mancoluto, whose real name is José Pineda Vargas, told them Kyle had packed his bags and walked off without a word. The shaman even joined Oswald on television pleading for help in finding her son, but the police in Peru remained suspicious.

Under pressure, Mancoluto admitted that Nolan had died after an ayahuasca session and that his body had been buried at the edge of the property. The official cause of death has not yet been determined.

Pilgrims like Nolan are flocking to the Amazon in search of ayahuasca, either to expand their spiritual horizons or to cure alcoholism, depression, and even cancer, but what many of them find is a nightmare.

Still, the airport in Iquitos is buzzing with ayahuasca tourism. Vans from shamanic lodges pick up psychedelic pilgrims from around the world, while taxi drivers peddle access to Indian medicine men. "It reminds me of how they sell cocaine and marijuana in Amsterdam," one local said. "Here, it's shamans and ayahuasca."
Velez, whose inspirational ayahuasca story was the focus of the film that sparked Kyle Nolan's interest, is no longer an advocate.