"Scientists and civil society activists are asking why"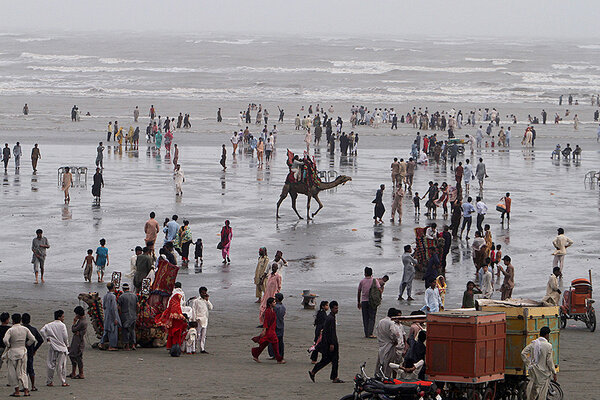 People visit Clinfton beach, during a hot summer's day in Karachi, Pakistan, Sunday, July 5, 2015
PHOTO: Fareed Khan/AP
Is the ascension of India and Pakistan to the Shanghai organization a genuinely important development? Some analysts interviewed by VOA think it is. I think multilateral organizations of all kinds, including NATO, are now in the same position as the United Nations: members are pursing so many agendas that international and regional relations now resemble a giant game of Twister.
India, Pakistan Set for Full Membership in Shanghai Group
Anjana Pasricha
July 07, 2015 - 9:50 AM
VOA (Voice of America)
(NEW DELHI) India and Pakistan are set to become ful members of the Shanghai Cooperation Organization (SCO) — a regional security group that comprises Russia, China and four Central Asian republics. Analysts say that the group's expansion to include South Asia does not come without implications.
The process of the regional rivals joining the SCO is expected to begin in the remote Russian city of Ufa later this week, when both Indian Prime Minister Narendra Modi and his Pakistani counterpart, Nawaz Sharif, attend the group's 15th meeting.
India applied to become a full member of the SCO last year, while Pakistan's request has been pending for years. Both countries are currently observers.
Besides Russia and China, SCO's members are the former Soviet republics of Tajikistan, Uzbekistan, Kazakhstan and Kyrgyzstan.
Analysts say expanding membership of SCO to India and Pakistan will recast the group as a more significant regional group by taking the spotlight away from it as an organization led by Russia and China.
Adding balance
Manoj Joshi, a political analyst at the Observer Research Foundation in New Delhi, notes the peculiarity of India's inclusion.
"Actually, in a peculiar way, the Indian membership will actually balance the group. If China and Russia are seen as kind of anti-American, India has got good ties with the United States. In that sense India's presence will add clout [to the SCO and] will balance out any kind of anti-Americanism that may be there in the SCO," says Joshi.
China's Vice Foreign Minister, Cheng Guoping, says the admission of India and Pakistan will play an important role in SCO's development.
While some analysts like Joshi view the SCO as a talking shop, others say the ambitious China-led group wants to be a regional counterweight to Western alliances.
India's quest for SCO's membership is driven by its aim to increase engagement with the resource- and energy-rich Central Asian republics, where China already has a huge presence.
[...]
Lot's more in the report. See also: China is building two untested nuclear reactors on Pakistan's coast, July 6; Christian Science Monitor: "Pakistan has agreed to the construction of two nuclear reactors in Karachi, a coastal city in a tsunami-prone zone. After the 2011 Fukushima disaster in Japan, scientists and civil society activists are asking why."
********