The Canadian province of British Columbia has also been hit with wildfires, the worst in a decade; as of July 14 more than 1,100 wildfires had been started this year -- a third of them human-caused. But by last weekend cooler weather and some rain had helped the firefighters. The premiers of British Columbia and Saskatchewan are now calling for a country-wide approach to fighting forest fires. Good idea.
The Puntzi Lake forest fire, British Columbia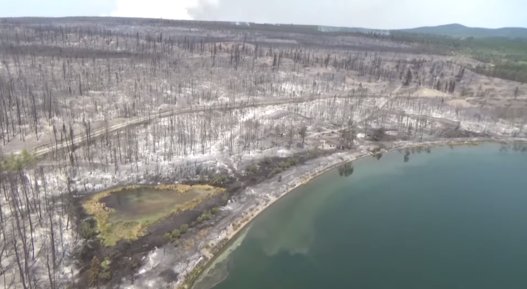 Damage from the Puntzi Lake fire, which grew six times in size to about 80 square kilometres in just one weekend. Other photos.
Saskatchewan is a prairie province in Canada, which has a total area of 651,900 square kilometres and a land area of 592,534 square kilometres, the remainder being water area.
Capital: Regina.
Wikipedia
Burned forest north of Prince Albert, Sask. (Liam Richards/Pool)
By the numbers: northern Sask. forest fires, July 17
25 fires put out; active fires down to 112
CBC News
Posted: Jul 17, 2015 12:23 PM CT Last Updated: Jul 17, 2015 12:23 PM CT
Wildfire numbers:
25:
Wildfires put out since Thursday, July 16.
5:
New wildfires since Thursday, July 16.
112:
Active wildfires burning as of 11:00 a.m. CST, July 16.
636:
Saskatchewan wildfires to date.
8,748:
Evacuees in care of and receiving support from the Ministry of Social Services.
4,310:
Evacuees staying in Prince Albert.
35,129:
Population of Prince Albert, as of 2011 Canada Census data.
11:
Communities with fully lifted evacuation orders.
10:
Communities with partially lifted evacuation orders.
1,600:
People involved in fire fighting efforts in Saskatchewan.
119:
Military personnel from other provinces and the United States fighting Saskatchewan wildfires.
105,000 hectares:
Size of the Philion fire now burning, uncontained, north and east of Weyakwin.
14,500 hectares:
Size of Regina