The Christian Science Monitor and CNN reported July 18 on the situation
Gridlocked I-15 at Cajon Pass as fast-moving wildfire approached on July 17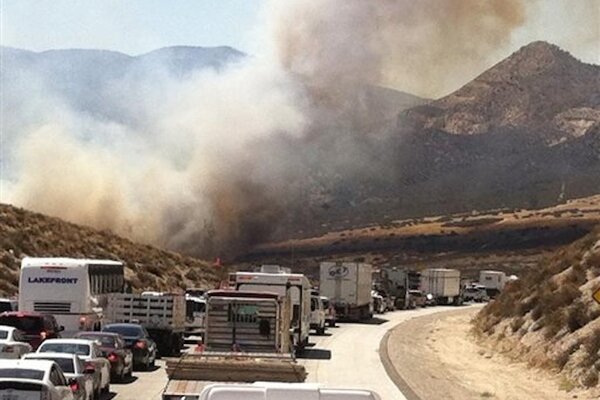 Arsenio Alcantar/AP
S

outhern California wildfires: Why drones are a problem



Five drones flying over a wildfire in Southern California prompted fire officials to delay initial efforts to use aircraft to suppress the fire Friday.
By Sara Aridi, StaffJuly 18, 2015
The Christian Science Monitor
Motorists in Southern California watched (and some fled) as a massive wildfire swiftly burned through Interstate 15 in the mountainous Cajon Pass on Friday. ... The fire started at 2:30 pm on Friday and spread across 3,500 acres, requiring about 1,000 firefighters to suppress the flames. ...
When fire officials initially rushed to contain the blaze, air support was stymied by aerial gawkers. After spotting five drones in the area, they were forced to halt flights by aircraft sent to extinguish the flames. At least 20 cars were destroyed in the fire.

The incident was the fourth time in a span of a month that a drone hindered efforts to contain a wildfire in Southern California, U.S. Forest Service spokesman Lee Beyer told the Associated Press. Officials grounded the firefighting planes for 26 minutes out of fear the planes would collide with the drones, ABC News reports.
[...]
California has been facing a severe drought, creating a greater risk of wildfires. Lawmakers are no longer willing to accept the delays drones cause in firefighters' efforts.
"As soon as we see drones, we shut down all of our aircraft for the safety reasons," said Mr. Beyer. "If a drone got sucked into a wing or a propeller, that could have some serious impacts."
The San Bernardino County Board will deliberate how to crack down on drone operators who may endanger the county's citizens and public safety officials during its next meeting on July 28, reports the Sun Bernardino Sun.

It will also discuss how it can enforce existing laws on illegal drone use and possibly offer rewards for information that would help identify and convict illegal drone operators who disrupt firefighters and police during emergencies.
Similar efforts sprung up after the San Bernardino Mountains Lake Fire spread across nearly 30,000 acres in late June. According to Southern California's The Desert Sun, the wildfire grew significantly after officials spotted a drone in the area and were forced to ground their aircraft for several hours, allowing flames to spread.
In response, California Rep. Paul Cook, (R) of Apple Valley, introduced the Wildfire Airspace Protection Act of 2015 on July 10. The act would make it a federal offense to launch a drone that interferes with fighting wildfires on federal land.

"I couldn't believe it when I heard that aerial firefighting was brought to a grinding halt because a reckless individual decided to fly a drone over the Lake Fire," Representative Cook wrote in his statement. "Not only did it put the lives of aerial firefighters in jeopardy, but the loss of air support for fire crews allowed the wildfire to spread."
If the bill were to pass, it would exempt firefighters and other first responders who use drones for aerial firefighting. But anyone convicted under the act would face a fine and up to five years of prison, reads Cook's statement.

Cook announced the federal bill as two state legislators launched a plan to criminalize drone use over a wildfire in California, the San Bernardino Sun reports.

Assemblyman Mike Gatto (D) of Glendale) and Sen. Ted Gaines (R) of El Dorado introduced Senate Bill 167 to toughen the current state law banning efforts that interfere with firefighters doing their jobs.
The current fine for the misdemeanor is $1,000 [the FAA can impose stiffer fines; see the CNN report, below], but the proposed law would charge offenders much more for interfering, and would also consider jail time when a drone is used without permission.

"[Firefighters] are risking their lives," Assemblyman Gatto said. "Just because you have access to an expensive toy that can fly in a dangerous area doesn't mean you should do it. If these folks are callous enough to risk others for the thrill of flying into a public safety emergency, we have to make sure we send a signal that our society won't put up with it."
[...]
The CNN report, filed by Michael Martinez, Paul Vercammen and Ben Brumfield,
adds these details:
Phelan, California (CNN) Of all the elements they must battle in a wildfire, firefighters face a new foe: drones operated by enthusiasts who presumably take close-up video of the disaster.
Five such "unmanned aircraft systems" prevented California firefighters from dispatching helicopters with water buckets for up to 20 minutes over a wildfire that roared Friday onto a Los Angeles area freeway that leads to Las Vegas.
Helicopters couldn't drop water because five drones hovered over the blaze, creating hazards in smoky winds for a deadly midair disaster, officials said.
[...]
Drones hovering over wildfires is a new trend in California, and on Saturday, fire officials condemned the operators of "hobby drones," as officials labeled them. It was unclear Saturday whether authorities would launch an investigation into the five drones.
"Fortunately, there were no injuries or fatalities to report, but the 15 to 20 minutes that those helicopters were grounded meant that 15 to 20 minutes were lost that could have led to another water drop cycle, and that would have created a much safer environment and we would not have seen as many citizens running for their lives," said spokesman Eric Sherwin of the San Bernardino County Fire Department.
The drones got away, and firefighters resumed their water drops by chopper.
"We can't confirm who was running drones, and we did not collect any of the drones because our focus was on fighting the fire," Sherwin added.
Firefighters disdain drones buzzing over their work sites. At a national level, how to regulate drones and their flight paths are an ongoing controversy, especially as private industry pushes the Federal Aviation Administration for more freedom to use drones in commerce.
"Please stop flying hobby drones in the area," U.S. Forest Service spokeswoman Gerrelaine Alcordo said about the wildfire site. "We can't risk the choppers colliding with them. We could have loss of life."
The FAA has placed temporary flight restrictions around the wildfires, which means the unmanned aircraft should not fly there without agency approval, spokesman Ian Gregor told CNN by email.
He said the FAA promotes voluntary compliance. However, the agency could impose civil fines ranging from $1,000 to $25,000 if someone operates a drone in a dangerous manner or continues to operate one illegally after being contacted by the FAA, he said.

One motorist's encounter

As she sat in her family's car, Neha Shresha saw the wildfire race toward her and other traffic on the freeway.
A long, orange wall of flame with black smoke billowing high above it was about to sweep over Interstate 15, where their car was trapped in gridlock near the El Cajon Pass.
There was no driving anywhere, not even off the road.
[...]
That was the plight for several trapped motorists. It is amazing no one was killed, but from an earlier report I posted on the fire, quick thinking by one firefighter -- whose own life was also in danger -- probably saved lives.
See the KTLA 5 TV website for updates on the fire, which is called the North Fire. As of the last report, posted 3:15 PM July 18, the fire was still only 5 percent contained but firefighting efforts had been helped by light rain.
7:35 AM EDT Update: CTV News is also carrying this AP report, posted at 7:14 AM EDT July 19, on the North Fire:
Rain calms California wildfire that jumped highway
LOS ANGELES -- A rare summer storm helped firefighters advance on a wildfire that swept across a California highway, torching vehicles and sending people running for their lives before it burned property in a desert town.
Light rain and moist air dampened the blaze Saturday in the mountainous Cajon Pass 88 kilometres northeast of Los Angeles, the main route connecting Southern California and Las Vegas.
"The weather really helped," U.S. Forest Service spokesman Travis Mason said.
The fire Friday afternoon began below the elevated lanes of Interstate 15.
Pushed by 64 kph winds, it raced up a hill and onto the traffic-clogged freeway, trapping hundreds of people amid a cauldron of smoke, flames and ash. Drivers and passengers abandoned their cars as flames hopscotched down the freeway, destroying 20 vehicles, several of which exploded in fireballs.
[...]
As firefighters gained control of the freeway, the flames spread to the rural community of Baldy Mesa, destroying three homes and 44 vehicles and forcing residents to flee. Evacuation orders were lifted Saturday afternoon.
In all, the fire burned about 22 square kilometres.
California is in the midst of severe drought and wildfires are common but it's very unusual to have vehicles on a highway caught in the flames.
[END REPORT]