UPDATE - 12:50 AM EST 11/128
The unverified report I mention in this post pertains to Ramadi, not Raqqa. My error. See Sputnik's 11/27 report, Love Thy Enemy? US Plot to Evacuate Top Jihadis From Ramadi Uncovered, which quotes a report at FARS, still unconfirmed.
********
Fish lunch for SDF, some guy named Idriss Nassan gleefully tweeted yesterday afternoon, "That's because they're [at] Tishrin dam," and posted this pix of the militia's makeshift kitchen.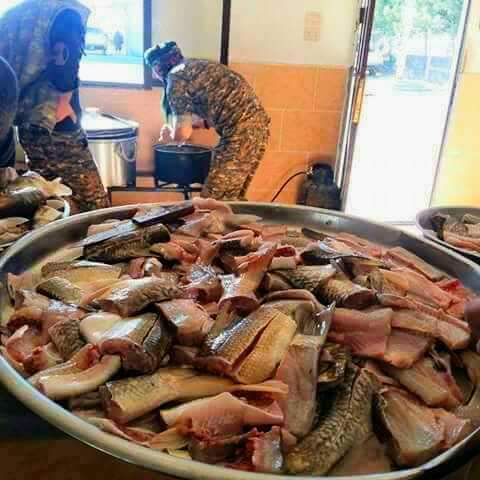 The Tishrin dam on the Euphrates was taken from Daesh militants after heavy ground fighting and with the help of US-led coalition airstrikes, the online statement by Col. Sharvan Darwish reads.

As a consequence, a strategic supply route connecting Daesh-held Jarabulus, which sits on the Turkish border, and the de-facto capital Raqqa has been cut and anti-terrorist forces have gained a foothold on the right bank of the Euphrates.
"A massive operation by the Syrian Democratic Forces (SDF) started officially on December 23," Col. Darwish explained. "It has since enabled joint Kurdish, Arab and Assyrian Christian units to free more than 50 villages, canals and river crossings."



The current campaign is the second phase of the military operation by the SDF against Daesh mujahedeen, which began in the northwestern province of Hasakah on the Iraqi border in late October.
Sputnik also posted a cool 2 minute video with some English subtitles, replete with jazzy music score, which was obviously U.S.-produced, of the militia's onslaught against Islamic State. For the sensitive souls, there's no gore. And actually you don't see any IS fighters. They might not have fought long before scooting.
But now young hotheads will be seeing that the hip place to be isn't with IS -- which, by the way, is whining again. Please please help us please we need everybody to help us fight to the death.
Yeah, right. They want chumps to man the machine gun nests while they sneak out of Raqqa through the tunnels. Or according to one unverified report, get transported out by unknown people who may or may not be associated with the U.S. command.
If the report is true, the Americans could be responding to a Saudi request. Please please don't let all those IS fighters get killed, please we need cannon fodder in Yemen. That would be
Airlift of Evil redux. But I don't think the Syrian command would care; they just want them out of Syria.
Oh well, here's the video.