At close of Vienna Summit, November 14, 2015
"New elections to be held in Syria in 18 months"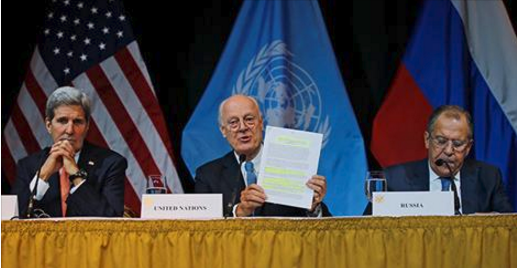 U.S. Secretary of State John Kerry's embassy to Moscow, December 15, 2015
Kerry receiving a gold star from Putin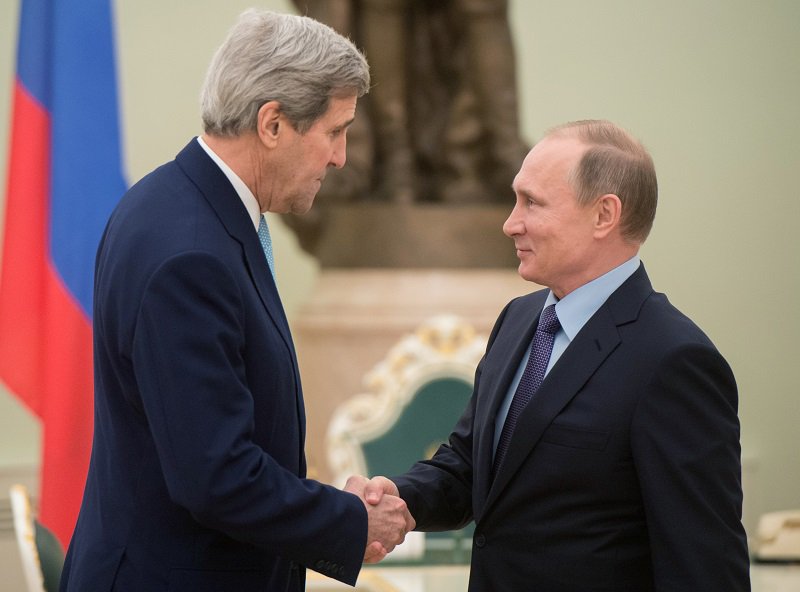 U.N. Security Council, December 18, 2015, SecState John Kerry chairing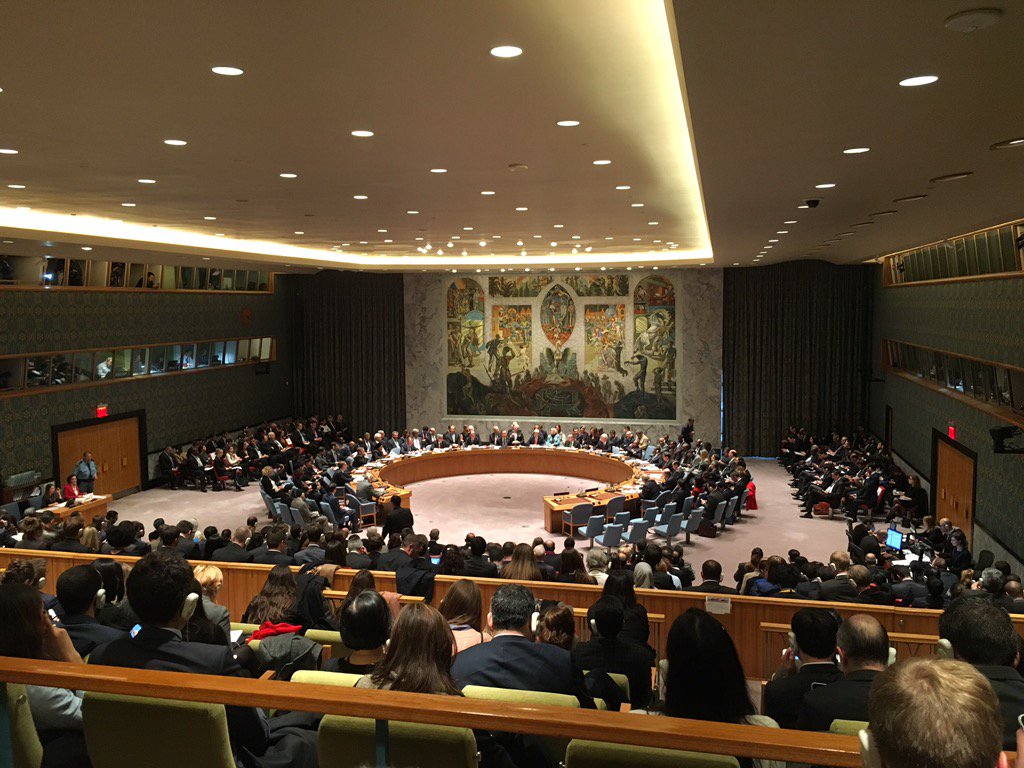 Even a week ago observers were saying it couldn't be done. Well, it's done. Much work ahead but the path has been hacked out through dense jungle.
Thank you, President Putin, Messrs. Lavrov and Kerry. And thanks to the Russian military and Syria's military, which is making the most out of help the Russians have given them.
I will close by quoting stern words from Russian Foreign Minister Lavrov.
Syria Should Remain a United, Multi-Confessional State
0:46 19.12.2015 (updated 01:18 19.12.2015)
As the United Nations Security Council passes a resolution to end the five-year civil war in Syria, Russian Foreign Minister Sergei Lavrov praised the agreement, while stressing the role of the Syrian people in determining their own future.

During the UN Security Council meeting in which the 15 member voted unanimously to approve new draft resolution for ending the Syrian conflict, Lavrov praised the agreement's potential for creating an opportunity to create a united anti-terrorism front.

"Today's unanimous vote in the Council should pave the way for the formation of a broad front against terrorism on the basis of the UN Charter, with the support of all on Earth who are opposed to terrorism, including the army of Syria, the Kurdish militia, and the armed forces of the Syrian patriotic opposition," Lavrov said.
"The air force of the Russian Federation, at the request of the legitimate government of the Syrian Arab Republic, is contributing to the completion of this task."

"It is important that today the UN Security Council once again confirmed the necessity of respecting the sovereignty of the Syrian Arab Republic," he added.

Lavrov also stressed that everyone shares the belief that terrorists should play no role in the peace talks, saying that "all are united in their belief that terrorists of all kinds have no place at the negotiation table, neither do those who allow a military solution."

The lead role in mediating the peace process will be overseen by UN Special Envoy Staffan de Mistura. Lavrov said that Russia is prepared to organize a meeting to assist in that effort.

The resolution also demands that all parties allow the distribution of humanitarian aid.

"The resolution stresses the need to provide humanitarian assistance to the Syrian people," Lavrov said. "It must be provided in strict accordance with the guidelines of the United Nations, enshrined in General Assembly resolutions and the decisions of the Security Council, including the principle of the consent of the host government."

[...]

*******